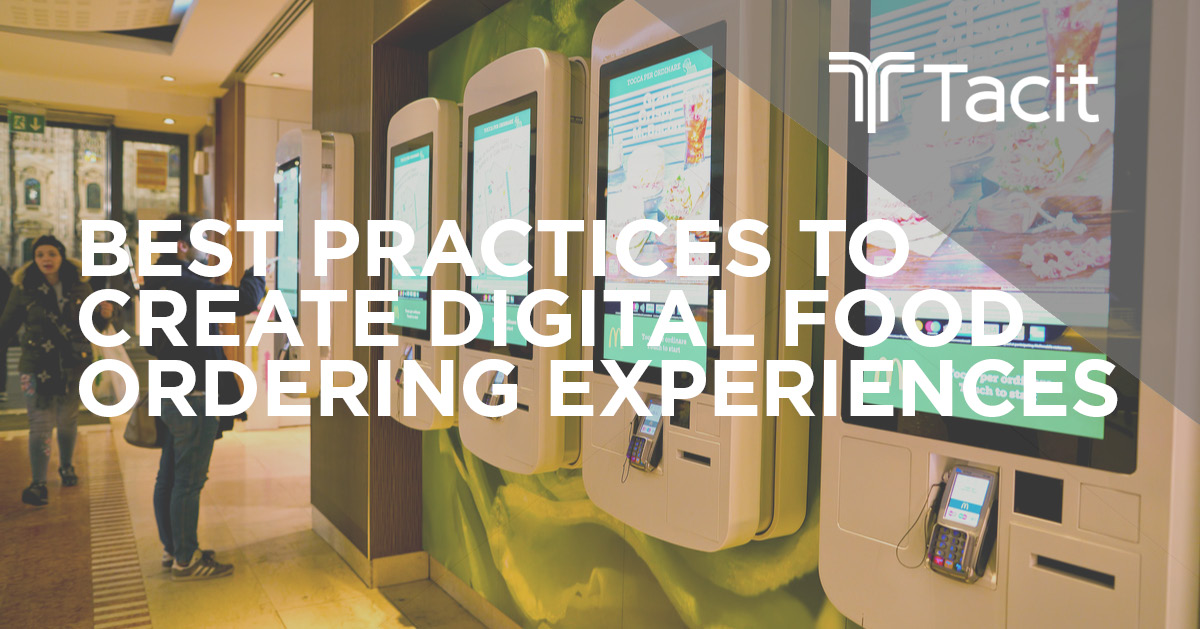 13 Jun

10 Best Practices to Create Digital Food Ordering Experiences From Best-in-Class Operators

Restaurant operators are experiencing increased pressure to offer better customer experiences, and takeout is chief among these experiences. According to a respondent in a recent market research study conducted by Tacit:

"Over the last ten years [takeout has] gone from 12% to 20%. Over the last two years, it's gone from16% to 20%. Moreover, it's where we see the biggest growth in our business. However, the way consumers get takeout has evolved as well. In fact, 35% of our takeout business is delivery, three years ago [it was] 0%."

At the same time, restaurants face mounting problems due to delivery, including the inability to handle increased order volume, problems using non-integrated solutions and difficulties in managing workflows. The wrong technology, partner and process will contribute to significant problems in customer ordering experiences, explains QSR magazine. To create positive digital food ordering experiences, restaurants need to follow a few best practices.
1. Develop Digital Food Ordering Experiences Based on Consumer-Centric Processes
Consumers have also changed their views on convenience. Visiting a location to pick up an order or wait in the drive-thru is too much for today's consumers. Further from the Tacit market research study as stated by an operator: "I mean the consumer today is looking for convenience. They're more inclined, I think in their busy lives, to want food delivered to their homes. We see that as a shift in consumer preferences."
2. Integrate Ordering Channels Into the Point-of-Sale System; Apply Data
All ordering channels should be integrated with the point-of-sale system to ensure the restaurant does not overlook an order, which is especially true for companies entering the realm of third-party delivery. Third-party services generate plenty of data, but the only way to gain a 360-degree view of data and its implications is to compare to overall sales. Instead of doing it manually, restaurants should integrate delivery service, like UberEats, with the point-of-sale system to automate and optimize reporting and application of data.
3. Redesign and Renovate Restaurant Interior and Exterior to Enable Delivery Pickup
A big problem with today's demand for delivery lies in the congestion within the kitchen and store, as well as the management of delivery orders. Existing facilities are ill-equipped to handle the congestion added from drivers entering and picking up orders. It may be necessary to install a driver-only entry and exit to reduce the congestion created for the restaurant host.
Further, delivery shelves and automated processes should be designed to avoid any wait time for drivers. Driver delays amount to dissatisfied customers. The same applies to the devices used to manage delivery orders; an integrated omnichannel food ordering approach which unifies disparate channels, such as third-party delivery, your own app, or aggregators, allow operators to get out of "Tablet Hell" and reduce the number of devices in the kitchen, further streamlining business. The unified approach allows the kitchen to accommodate increased order volume. In other words, adjust staff levels based on data collected between the point-of-sale system and the various digital ordering channels.
4. Remember Traditional Ordering Styles, Including Phone Orders
There will always be consumers that wish to order via the phone, and unmanaged telephones have the same effect as not offering delivery at all. Consider implementing cloud-based phone routing systems to ensure each call is answered and addressed. Cloud-based services also exist to power automated phone routing as well.
5. Create an All-Inclusive Omnichannel Ordering Options
An all-inclusive experience means consumers need the option to order food through your website, app, and third-party services. More importantly, the menu should include all possible food items, as well as the ability to customize orders. The menu must be consistent across all channels.
6. Remember to Maintain Food Safety, Read Temperature, During Delivery
Maintaining the temperature of food reduces the risk of foodborne illness, but it also possesses value in digital food ordering experiences. Cold food loses the appeal if it was supposed to be hot and customers will have varying levels of what they consider hot. Make sure food stays at the proper temperature by equipping delivery drivers with insulated bags and carriers to keep hot food hot and cold food cold.
7. Track Driver Performance and Delivery Time
Tacking driver performance and delivery time helps restaurants manage contracts with third-party service providers. This level of accountability is also valuable to consumers that come to expect delivery from their favorite services within reasonable timeframes.
8. Ensure Clear, Consistent Communication With Drivers and Customers
Clear, consistent communication is key to getting each order right. Even though the system may be integrated and automatically route orders to the kitchen, it is still the responsibility of your staff to check each order for accuracy and expedite food as it is prepared. The same level of communication needs to exist with drivers and customers too, including ingredient lists and calorie counts within the menu and more.
9. Maintain Brand Image and Voice Across All Channels
Maintaining brand voice and integrity in the development of digital kitchens is paramount for Marketing Executives to keep top of mind. As explained by Restaurant Dive, some restaurants have risen that do not have a physical, dine-in location. The only way to purchase a meal is through a delivery app. These locations have significant advantages over traditional restaurants, including the complete devotion of resources to preparing food for delivery, decreased cost of corporate real estate, if any, and immediate access via the app. With these virtual kitchens growing in number, their only visible difference is their brand image and voice via the app. Thus, existing restaurants that cater to both in-store and delivery customers must ensure their brand remains consistent, regardless of ordering channel and use of third-party apps.
10. Never Force Customers to Download Your App for Delivery Service
One piece of the puzzle remains. It might be easier only to offer delivery through your business app, but that dramatically increases the risk to your business. Customers want convenience. As another respondent to the Tacit market research study remarked, "From a consumer standpoint, consumers don't carry all [restaurants'] apps on their phones. They probably have one that they use, so we felt that if we added at least a second one, we'd be broadening our sales potential." The key to success lies in making that second app a third-delivery service that's well-known, such as UberEats, GrubHub, or DoorDash.
Solve the Challenge of Delivery Digital Food Ordering Experiences With the Right Partner
Digital food ordering experiences are unlike any in-store experience or in-store delivery team experience. When the only delivery options were pizza or Chinese food, it was easy to blame the store and correct the issue. Now customers retain that expectation for the restaurant, and delivery depends on the quality and timeliness of third-party app drivers and standards. Avoid the challenges of offering an omnichannel digital food ordering experience by implementing best-in-class practices as well as using the Tacit middleware integration platform to connect disparate food ordering channels into your POS. Unified systems thru integration will streamline interactions with third-party delivery service providers, aggregators, your own app and website, and any and all possible off-premise or on-premise food ordering channel to ensure each order's accuracy and timely delivery. Learn more by contacting Tacit online today.