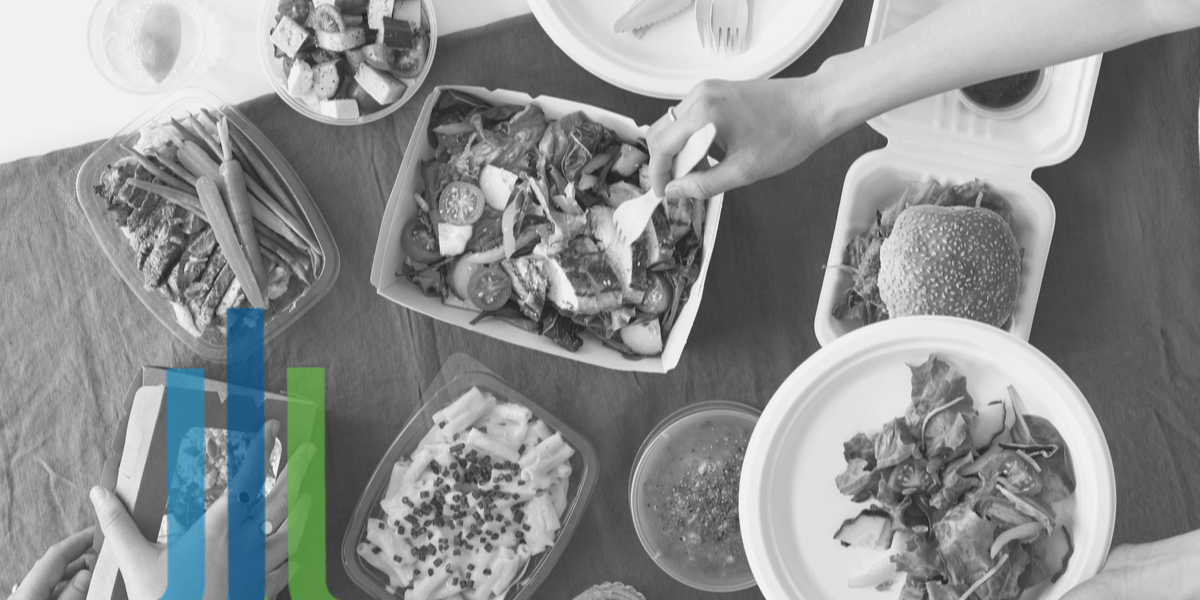 07 Jul

What Is White-Label Third-Party Delivery in Foodservice?

As online ordering services have evolved, the need to expand and offer delivery to customers is an increasingly hot topic among restaurateurs and foodservice operators. In many cases, the need to offer delivery conjures ideas of building an in-house team. In others, the idea of offering ordering and delivery via a third-party app, such as DoorDash, SkipTheDishes and UberEats, might seem best. However, there's another option that's frequently overlooked—white-label delivery.

With a projected increase in smartphone food delivery app users of nearly 10 percent between 2018 and 2023, eMarketer reports, not taking advantage of this resource would be nonsensical. Customers are clamoring for more food delivery options. Food delivery services have experienced 500 percent growth in rates since March 2020, and despite the vaccine rollout, concerns over contactless experiences remain. Yes, customers are returning to their favorite restaurants. However, there are many people who are still unvaccinated, are related to those who are unvaccinated, or who simply prefer the convenience of delivery. Meanwhile, off-premise dining has skyrocketed across all restaurant types this past year, according to QSR Magazine:
Family dining: 49%
Casual dining: 52%
Fine dining: 54%
Quick service: 35%
Fast casual: 45%
Coffee and snack: 27%
Launching a delivery program can seem overwhelming and confusing. By the same token, white-label delivery can be confusing too. It's ultimately a delivery made by a third party, serving as an extension of your brand. It's a delivery arranged using an app that has your brand and is customized with details of your location and menu. It's a single place to order from your brand and only your brand. And that's where a real advantage can be found.
White-Label Delivery Is the Ability to Deliver-as-a-Service for Foodservice Operators
White-label delivery is best defined as providing delivery-as-a-service. This is a familiar concept in the world of online retail. Many companies choose to leverage carriers to fulfill orders, and their systems are fully integrated to where the customer can see instantly the total shipping cost, time of delivery, and other details at the time of checkout.
The same process occurs within white-label delivery. However, it involves using a third-party platform that looks and feels like it was built in-house. It creates a seamless experience for customers, and it provides a turnkey solution for deliveries. Moreover, white-label delivery also helps to overcome a few of the top barriers to implementing an in-house delivery service by offering these core digital food ordering and management functions. But first, it is important to understand the pros and cons of in-house versus third-party solutions.
In-house delivery comes with a few drawbacks, including:
Excessive startup costs for launching an in house delivery service.
Full ownership of the customer experience, including complete responsibility for bad experiences.
Limited visibility of your brand to customers using third-party apps.
At the same time, offering an in house solution offers several marked advantages:
Complete control over the full order and delivery experience.
Maintaining ownership of all profits.
Now it can seem like a mix of in house and white-label solutions are best, but even third parties carry some disadvantages, including:
Inability to hold drivers accountable and a loss of control.
Exuberant commission fees.
Loss of communication with customers.
Then again, third-party solutions' advantages are nearly the direct opposite of the drawbacks to launching an in-house solution:
Lower startup costs.
Ability to partially shift ownership of negative experiences to delivery providers.
Connecting with customers that prefer to order via a third party.
Regardless of which option is chosen, it must carry these core characteristics:
Hiring and managing drivers, as well as setting delivery geofences to offer such delivery.
An intuitive user experience that's designed to work within your kitchen workflow or POS systems.
Creating a digital and branded space for ordering from your establishment.
Immediate PCI compliance, a must to accept card payments from customers.
Adjusting the online menu and service offering on the fly to account for limited pantry items or other adverse events, such as driver shortages.
White-Label Services Versus Outsourcing to a 3rd-Party Delivery Apps
The simple truth is that a white-label app is ready to roll on day one. It's already pre-configured and requires minimal setup to launch within your brand. And that all comes together at a fraction of the cost of building an in-house delivery service. But let's discuss the elephant in the room: becoming another name on one of the preeminent ordering and delivery services.
While these brand aggregators for foodservice, like UberEats, are helpful for discovery, they limit your ability to create an immersive experience for customers. They will see your competitors side-by-side, which may create a risk that they might choose one of your competitors instead.
Even worse, customers that use third-party apps may not necessarily be indicative of your overarching brand. It all depends on how your brand is ranked by the user, such as a Mexican food establishment compared with an Italian restaurant. Rather than limiting your position to those characteristics, a branded white-label service puts your business front and center. This is the ultimate realized potential: white-label delivery and ordering eliminate that concern. And it does it all by using the same technology that powers third-party ordering and delivery services, putting it all in one branded digital format.
As such, it's easier to take advantage of white-label delivery on your website or by simply following a guided tutorial to create your branded shop for the app. Rather than wasting in-house resources to create a digital footprint, the white-label app does it all for you. And your team can focus more on what they love: serving customers and keeping the food rolling out of the kitchen.
Additional Benefits of White-Label Food Ordering Fulfillment
Choosing white-label delivery is an option for those who do not wish to devote resources to in-house delivery programs. However, it comes with significant advantages for all companies, including those that may wish to eliminate in-house delivery services in favor of white-label services. Specifically, white-label delivery offers several core benefits, including:
Ownership of the entire customer journey and customer data, a feature that is rarely associated with third-party ordering marketplaces.
Advanced customization of promotions, menu layout, delivery service fees, details, and more.
Real-time order tracking to keep customers informed.
Integration with your in-house loyalty program to ensure customers continue to earn and redeem rewards.
Less risk, as your company is not liable for drivers.
Lower cost by putting the financials all into one cost for the delivery-as-a-service, which may be scaled as order volumes fluctuate.
Faster time to implementation by eliminating much of the legwork needed to design, launch, and manage a delivery app or team of workers.
Added support to manage workflows with embedded analytics to track delivery successes and failures.
While that list of benefits is not comprehensive, it is anything but a list of reasons to choose white-label over listing your brand on a third-party marketplace like DoorDash, SkipTheDishes or UberEats. Those food ordering systems and marketplaces are other revenue streams that businesses can and should leverage to maximize profit margins.
The key to success is in using both those marketplaces and creating a branded, immersive ordering and delivery experience via white-label at the same time. By tapping all possible channels, including that outside of your brand, it will be easier to scale your operation and deliver wherever customers choose to order.
Reap the Rewards of Omnichannel Ordering Through a White-Label Provider With the Right Technology Partner
As demand continues to grow for online restaurant ordering, white-label solutions are the best option for restaurateurs looking to maintain brand individuality and avoid the risks of losing customers to a different restaurant advertised within a third-party delivery app. Additionally, the benefits of white-label delivery are simply too great to ignore, and restaurateurs should seriously consider this option prior to launching an in-house delivery service. Visit Tacit online to get started with your new white-label ordering and delivery service today.