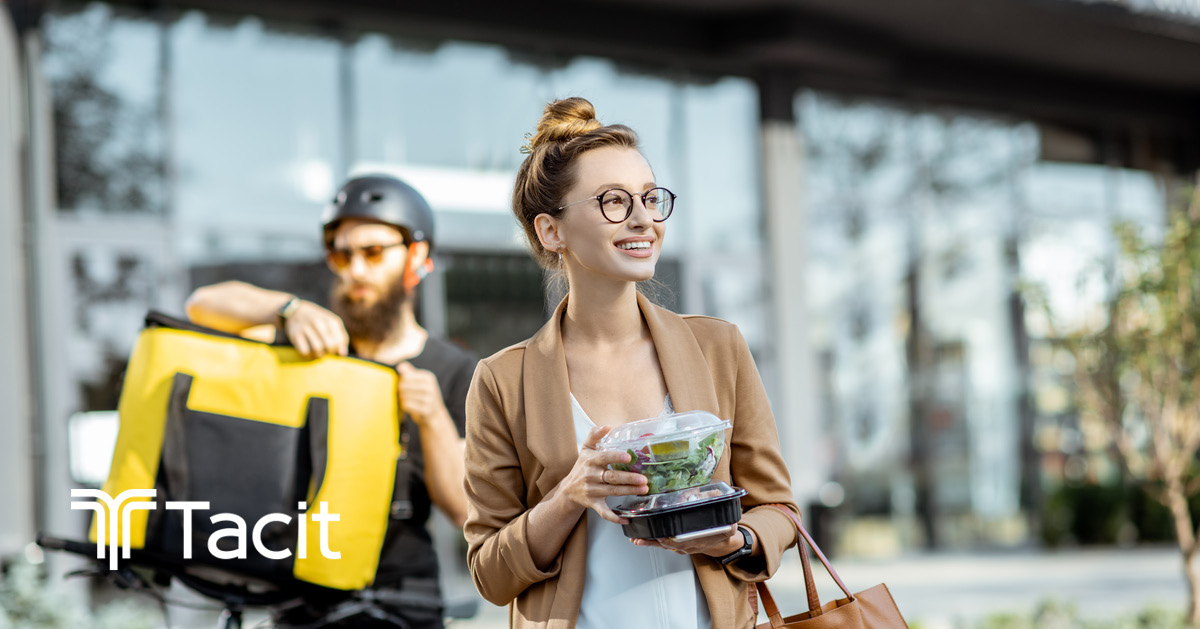 12 Dec

Building the Business Case for Restaurant Delivery via Third-Party & Other Digital Ordering Channels

The business case for restaurant delivery is simple. Online orders grew by 300% in 2019. Restaurant delivery through third-party delivery services will grow to the same size by 2023, says QSR magazine. Restaurants are seeing a higher preference for online orders among their customers, and online ordering can enable growth. The decision comes down to offering in-house delivery or outsourcing to a third-party service provider, such as UberEats or GrubHub. Yet, restaurateurs continue to worry about the costs of third-party delivery services and digital ordering. To clear the air, let's go back to how restaurateurs should approach the topic and build the business case for restaurant delivery across all channels.
Recognize the Value of Restaurant Delivery
Restaurant delivery is here to stay. Major third-party delivery for restaurants platforms have raised billions of dollars in recent years, and Uber's total value has risen to $71.5 billion to date. The introduction of third-party delivery apps has been a game-changer for the industry, and global online food ordering is expanding at a rate of 23% per year. As online orders increase, demand for delivery will increase as well. In fact, "[researchers reviewed and analyzed] more than 3 billion messages delivered across on-demand for delivery apps worldwide [collected from 2018]." This indicates the segment for third-party delivery is growing at an astounding rate, including attracting the attention of those who have yet to order.
Assess the State of Your Restaurant(s)
Next, restaurateurs need to assess the state of the restaurant, reviewing the state of their current POS, operation and available capacity. The strong growth of online ordering will naturally lead to increased demand on your existing restaurant. If the restaurant cannot handle increased productivity and demands, opening the door to third-party delivery will become almost impossible.
Review Available Service Providers in Your Area
The next step in building the business case goes back to understanding the costs associated with outsourcing to a third-party. This depends on which service providers are available for each area. Restaurateurs should review the costs and commissions charged by these providers and their available APIs or other platforms for use.
The following list reviews some of the most prominent delivery app partners and how they can improve a restaurant's digital ordering capabilities:
DoorDash

– Offers the "DoorDash Delight" scoring system which incorporates food quality, restaurant popularity, delivery time, and customer satisfaction to recommend restaurants to users. Fees vary for each establishment but cover the cost of the meal, taxes, delivery fee, and optional tip. Available in more than 1,200 U.S. cities.

GrubHub

allows users to search for local restaurants by cuisine type or food type. GrubHub is available in more than 900 cities nationwide. While the app is free to use, restaurants may charge a delivery fee and impose a minimum order.

Postmates

not only delivers food, but it also delivers anything from anywhere, including alcohol. Users will pay a fee for each delivery and often incur an additional delivery fee during peak hours. Heavy users, however, may purchase "Plus Unlimited" for a monthly fee of $10 that allows unlimited use of the app for select stores and restaurants for every purchase more than $25. The app is available in more than 90 U.S. cities.

Seamless

lives up to its name, offering the user thousands of restaurant menus with exclusive in-app discounts. The customer pays no delivery fee but may encounter minimum order amounts. This app is currently available in 600 cities in the U.S.

UberEats

is a different app than Uber but shares the same features including estimated delivery time and cashless transactions. UberEats is available around the globe and charges a flat $5 fee.

Yelp Eat 24

has the most robust restaurant rating system of all the delivery apps as it has utilized years of restaurant ratings from its web service. Available in more than 1,500 cities nationwide, the app is free to use although restaurants usually add a delivery fee and have a minimum order in place.
Consider In-House Delivery Options
Any restaurant could theoretically take advantage of online ordering and fulfill order delivery requests in-house. However, restaurateurs should also consider the direct and indirect costs associated with offering delivery. For example, the restaurant will have a degree of liability over delivery service drivers employed by the restaurant itself.
Document the Costs of In-House Versus Outsourced Delivery
Restaurateurs must then consider the costs of in-house versus outsourced delivery. Furthermore, restaurateurs should not avoid the topic of one or the other. Instead, a combined approach of both in-house delivery and outsourcing options may be ideal. It all depends on the costs and how far the restaurant is willing to go.
Take Advantage of an Omnichannel Ordering Approach in Building the Business Case
Omnichannel ordering is about more than just ordering via an app. Customers want options, including the ability to order via website, social media, apps, tableside kiosks, kiosks located in major shopping centers, and more. Omnichannel ordering is about ordering from anywhere, and restaurateurs need to understand the value of omnichannel in building more online orders.
Consider the Costs of Implementation and Integration
The costs of implementation are simple, but the costs of integration can be significant. Integration costs will be higher for organizations operating in running older POS systems. However, the advent of APIs and advanced platforms can allow restaurateurs to take advantage of integrating third-party delivery services to the POS without the steep coding knowledge necessary to integrate systems traditionally.
Determine Training Requirements and How the Company Will Proceed
Any plan for building the business case for investing in outsourced delivery or online ordering must also include a review of the training requirements and needs for launch.
Assume the Highest Cost for Third-Party and In-House Deliveries, Creating a Safety Net for Planning Returns
Restaurateur should also build a safety net for the costs of offering delivery in online ordering. While technology partners, like Tacit, can work to create custom online ordering solutions, restaurateurs should always be mindful of profitability. Instead of focusing on a specific cost, restaurateurs should build a safety net into the planned implementation cost, allowing for flexibility with plans and avoiding unnecessary disruptions due to budgeting issues.
Collect and Apply Data to Understand Operations
Since the business case for omnichannel ordering is an ever evolving animal, restaurateurs should also collect and apply data to understand operations. Data is power in today's world, and restaurateurs that apply data can understand more about what customers expect, how they received food, what their preferences are when they want to order online, and much more. In addition, as restaurants begin to embrace the notion of third-party delivery, the restaurant must understand that any problem will get blamed on the restaurant, not the delivery service provider. Restaurateurs must find a way to fill complaints and handle reputation management.
Never Stop Building the Business Case by Making It the Cornerstone of Your Online Ordering Strategy
The business case for restaurant delivery is not a static venture. It is an evolving strategy that will leverage technology to engage customers, drive sales, boost profitability, keep costs under control, and continue to meet guest expectations. In a sense, the business case alone is a symbiote to the marketing and online ordering strategy. So, restaurateurs should start building it now by following these tips and applying them to all management activities. Visit Tacit online now.