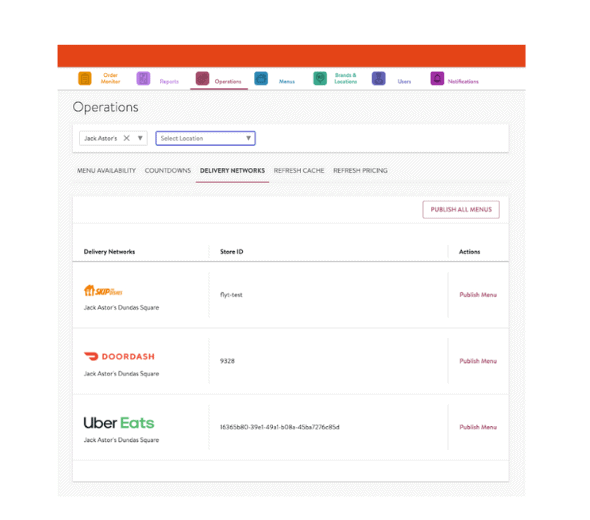 25 Mar

Add Delivery Networks and Easily Update Delivery Menus
DELIVERY MARKETPLACE INTEGRATION
Our ordering platform is integrated with leading third-party delivery marketplaces such as Uber Eats, DoorDash and SkipTheDishes. This integration enables operators to capture and manage delivery orders in Maegan back-office. You can auto accept orders and synchronize menus across all three delivery networks.
DELIVERY MARKETPLACE IN MAEGAN BACK-OFFICE
Ensure the location is setup in Brands and Locations
Go to

Operations Tab

Select a

Brand

Select a

Location

Click on SET UP DELIVERY NETWORK

Select Language

for the location
Enter the

Tax Rate

for the location
Select Delivery Networks (Checkbox)

UberEats – enter UberEats ID (usually alphanumeric)
DoorDash – the Tacit store ID will be automatically appear. If desired turn-on Auto-accept
SkipTheDishes – the External ID will automatically appear. If desired, turn on Auto-accept

Click SAVE CHANGES
Once you have set up the delivery network(s), you can move forward with arranging the staging and launch with your project manager.
Please note: Additional coordination between each client, Tacit and delivery network is still required to bring the locations live. This feature only allows users to complete the back-office setup.
Update Menu Across All Delivery Networks
Logout of the back-off and log back-in
Go to 

Operations Tab

Select a 

Brand

Click on 

Delivery Networks

 tab
Publish Menus

 Click 

PUBLISH ALL MENUS

 to update menus across ALL delivery networks.
* Menus are published with a throttling mechanism so it may take a few minutes on UberEats / DoorDash for the export to take effect. On DoorDash the updates will be impacted by items in queue