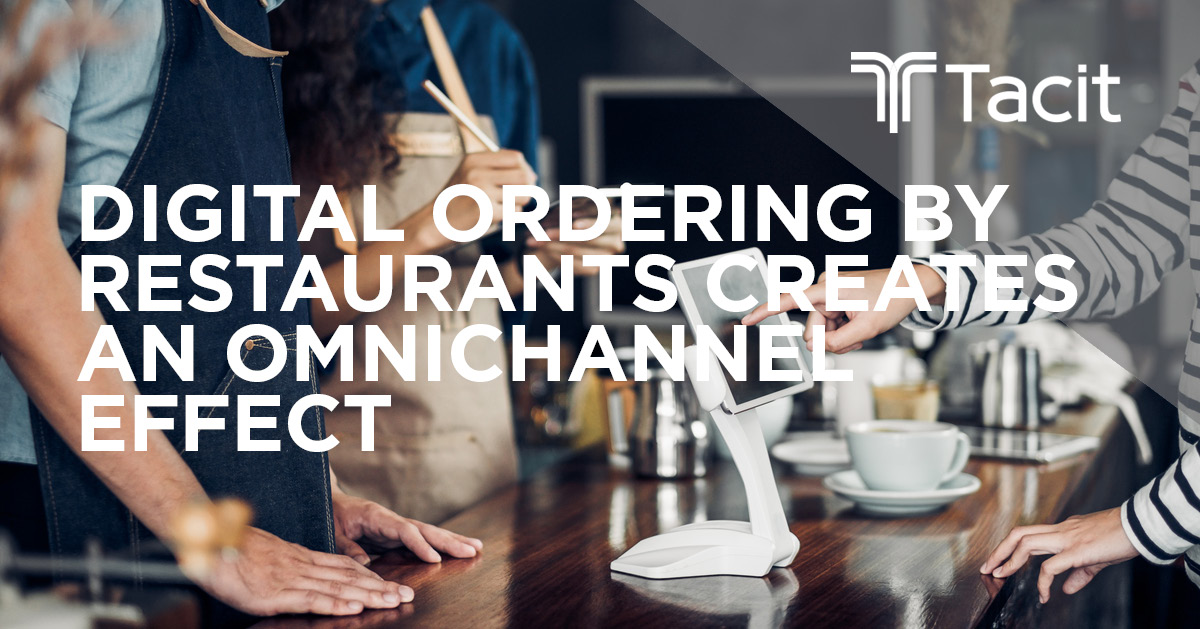 16 Jul

How Digital Ordering by Restaurants Creates an Omnichannel Effect That Is Impacting Restaurant Operations

The use of digital ordering by restaurants comes as an expected evolution of the industry. For decades, brick-and-mortar retailers have worked to revise and define the best practices for embracing an omnichannel experience for customers. Since the rise of the internet, customers have enjoyed the flexibility to order their favorite products from online platforms, by telephone, and by visiting a brick-and-mortar location. However, retailers had overlooked a grand opportunity to collect data and improve customer experiences; they sought to blend the experiences into one shopping journey. The same evolution is now occurring within the restaurant industry, and digital ordering by restaurants is contributing to the implementation of an omnichannel effect that will create a unified dining experience, regardless of where customers eat.
Why Do Some Restaurant Operators Hold out on Digital Ordering?
Some restaurant operators have decided to skip over the implementation of online ordering capabilities. These organizations and operators fear the challenges that accompany the implementation of online ordering capability. More staff will be necessary. More orders may contribute to a higher risk of error during preparation. Foods must be kept at proper temperatures, and restaurant operators must manage third-party delivery service drivers, despite these drivers being employees of an organization outside of your company. However, the benefits of online ordering by restaurants are too great to ignore.
Omnichannel Digital Ordering by Restaurants Offers the Ability to Order Across Any a Channel
The most significant promise of an omnichannel effect in the restaurant industry is the ability to order foods regardless of location and without any unnecessary delays. People order food because they want to eat. As more companies allow workers to work remotely, they may order thru off-premise channels instead of the traditional on-premise dining with co-workers on a lunch break. Therefore, it makes sense that the restaurant industry must evolve its practices to survive in this new digital, omnichannel food ordering environment. Customers can order their favorite foods across any potential channel, including browser-based platforms on a computer, smartphone apps, by telephone and even with cloud services, such as Twitter and social media platforms.
Customers Enjoy Seamless Experiences, Leveraging Mobile, Web and In-Person Technology to Complete Their Purchase
Another issue with omnichannel influence in the restaurant industry goes back to the ability to order across any channel. Although customers may enjoy the perks of ordering through Twitter, they want to review their past purchase history from an online ordering platform too, and re-order with a click of a button. As a result, the information gathered from the channel used today needs to be reflected in a different channel that the customer may want to use in the future.
The Blending of In-House and Third-Party Services Maximizes Access to Favorite Foods and Restaurant
Omnichannel ordering will require companies to invest in third-party delivery service apps. Now, some debate exists over whether it is best to offer in-house delivery or use third-party delivery services, such as UberEats, but limiting your organization to one venue or capability effectively lowers the value of an omnichannel experience. What happens if the customer is outside of your brick-and-mortar locations delivery service area? Traditional practices would dictate that the customer cannot order your food. However, the rise of third-party delivery service apps allows customers to order beyond your current service area to order meals, paying extra to a third-party delivery service provider for what they want. It's a simple principle; customers are willing to pay more for what they want, not just what is available.
Mobile Apps Enable Mobile Payments for Customers on the Go
The introduction of mobile apps for restaurant ordering is a real game-changer. Mobile apps give customers a completely immersive experience that builds your brand's value and ensures optimum levels of customer service. Unfortunately, customers may not want to download their top 100 favorite restaurant apps, so businesses must rethink their strategies to still offer branded apps for those that are the most loyal customers while taking advantage of customers that simply do not have available space on their phones. Even if customers do not download your restaurant-branded app, it is still important to allow customers the ability to accept mobile payments, as explained by GatherHere.com, including those within your app and online wallets.
It Reduces Delays and Congestion Within Brick-And-Mortar Locations
Digital ordering by restaurants also effectively reduces the delays in ordering and can mitigate the congestion of your brick-and-mortar locations. Customers can reserve tables, place orders in advance, and order their favorite foods or beverages for takeout. Depending on the time of day, such as during peak time operations, this capability can dramatically improve the restaurant kitchen workflows, helping your staff continuously improve without sacrificing quality or quantity.
More Data Empowers Restaurant Operators to Make Informed Decisions, Including Marketing, Launching of New Dishes and More
Bridging the divide in omnichannel throughout the restaurant industry will contribute to more data capture opportunities and value in your company. Instead of leaving things to chance in helping customers enjoy the latest dish restaurant researchers have crafted, let the data do the talking for you. Give customers feedback, and ensure customers are excited when you do launch a new product that will blend the omnichannel experience and develop a winning relationship between your online ordering capabilities and your customer base.
Embrace Omnichannel Driven, Digital Ordering by Restaurants With a Dedicated Partner
Omnichannel-driven, data-based restaurant operations are the most significant trend in the industry. Since implementing omnichannel capabilities can be a significant challenge for companies that are just beginning or do not see the value within the change of operational standards, more companies opt to partner with a third-party expert, such as Tacit. Learn more about what you're restaurants need to succeed by visiting Tacit online now.