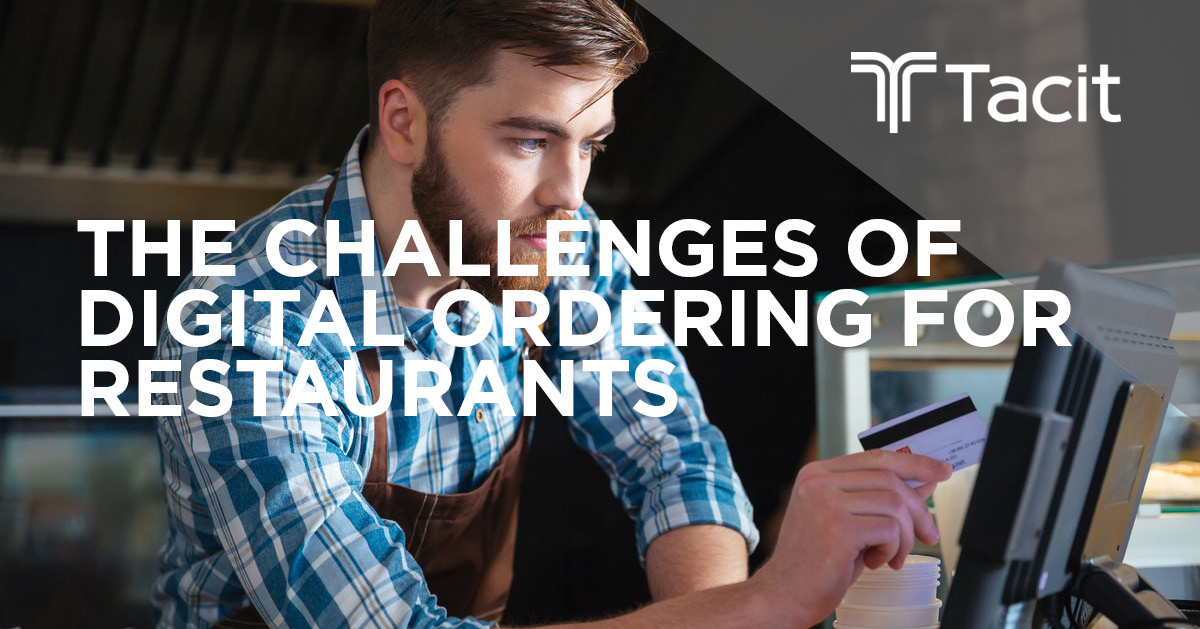 11 Jul

The Challenges of Digital Ordering for Restaurants

All industries face uncertainty as new processes and capabilities become evident. In the restaurant industry, the challenges of digital ordering are expanding. Restaurants cannot merely begin offering delivery service without detracting from existing operations, at least not without hiring additional staff reflecting an increased cost for the company, but it would be impractical to eliminate online ordering. Instead of throwing in the towel, especially as the industry accelerates in growth, as reported by QSR magazine, restaurant operators need to understand the challenges of digital ordering for restaurants and how to overcome them.
Consumers Have Limited Stone Space for Branded Apps
The biggest challenges of digital ordering for restaurants derive from a problem that is actually outside the control of the company. Customer's smartphones have a limited memory bank, so even if your company implements a stellar online platform, you still need the customer. The customer must visit the appropriate store and download the app, and even then, the risk of deleting the app remains. Now, some customers will have their favorite brands and keep those apps on their phone, but the average customer only has between three and four restaurant apps downloaded, and fortunately, one of those is likely a third-party delivery service, such as UberEats or DoorDash.
Challenges of Digital Ordering for Restaurants Include a Loss of Control Over Third-Party Service
Speaking of UberEats and third-party delivery service providers, the next challenge is about third-party delivery drivers. Once an order leaves your store, you lose control over the experience. However, customers will still blame your business if something goes wrong. Mitigate these losses is to ensure clear, concise communication with delivery service drivers. You can clear some of the confusion, keeping you more strategic and focused on proactive communications when you integrate between your point-of-sale system and third-party platforms so that orders flow from third-party ordering channels right into your POS giving you full visibility.
Missed Opportunities in Data Use May Arise
Another challenge only arises when businesses begin to experience lower-than-expected profitability from online ordering. Online ordering generates data that can be used to improve and refine customer experiences, but this data remains meaningless when not analyzed and appropriately applied. Data insights can help restaurant managers understand where customers order, why they order, and why they are not increasing order frequency. These missed opportunities are essentially money left on the table.
Lack of Consistency Across Order Channeling Results in Errors
In today's world, it is conceivable for customers to order and place multiple requests through web-based platforms and websites, smartphone apps, telephones, and even cloud services. These types of digital food ordering occur all while customers still visit your brick-and-mortar locations for a dine-in experience. A lack of consistency between these ordering channels will result in customer anger. Prices should remain consistent, the menu must reflect the current offers at each location, and every interaction with customers must still build brand value.
Subpar, If Any, Integration Between In-House and Third-Party Service Fuels Problems
Integration is another source of strife for restaurant operators. The challenges of digital ordering for restaurants often arise from this problem. When systems are disconnected, errors occur. Orders may need to be reentered into the point-of-sale system, and delivery drivers may possess the wrong address. Every action is an opportunity to wow or alienate a customer.
Higher Labor Costs Arise From Increased Order Volume
Other challenges still exist, such as having enough staff to handle the increased order volume due to offering online ordering. More customers and visitors to your brick-and-mortar locations, even when those individuals are delivery service drivers, will give the appearance that your restaurant is crowded and incapable of serving a customer in a reasonable timeframe. This same issue appeared with Starbucks and Chipotle when those organization launched online ordering capabilities. Customers did not want to skip the line, so the companies needed to redesign their interiors to make sure customers knew whom to speak with and when they could "skip" the line.
Overcome the Challenges of Digital Ordering for Restaurants With the Right Partner and Technology Solutions Provider
It is possible to overcome the challenges of digital ordering for restaurants by gaining increased control over your online ordering capabilities and maximizing efficiency through integration between platforms. Since this can be a massive undertaking for restaurants, which may be small or mid-sized businesses, more organizations are turning to third-party solutions and platform integrators, including Tacit. Get these food technology capabilities and processes to work in your facility to rise above these challenges by choosing Tacit for your partner. Learn how to get started by visiting Tacit online today.