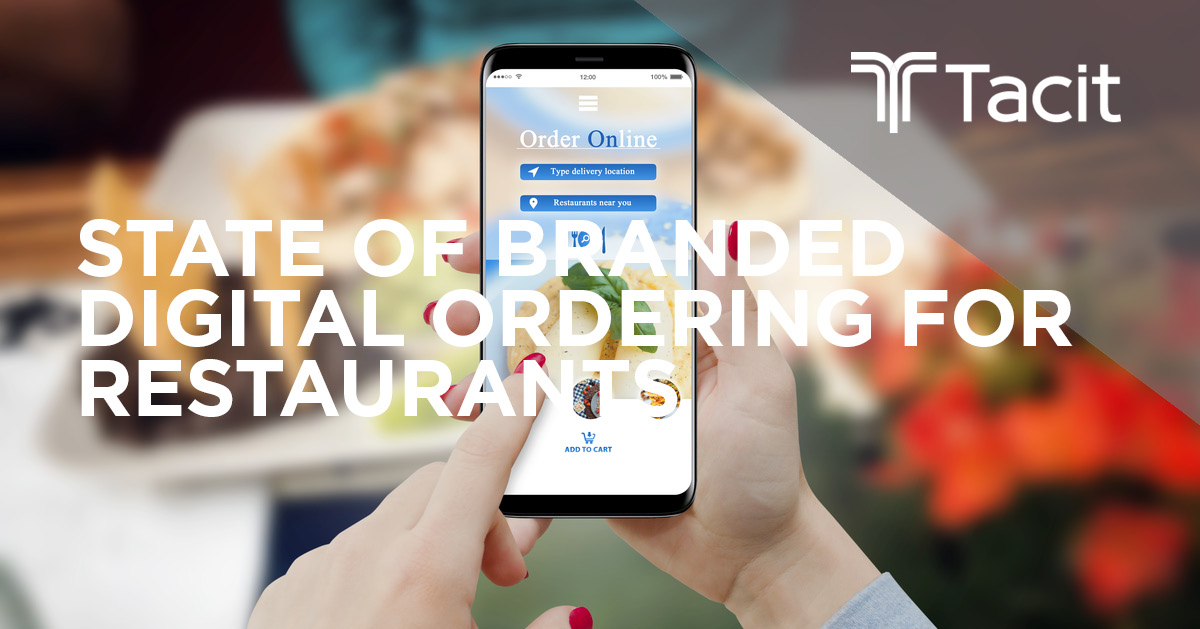 09 Jul

The State of Branded Digital Ordering for Restaurants

Branded digital ordering for restaurants is another area of focus for businesses looking to break into the digital hemisphere. The state of branded digital ordering for restaurants is advancing in tandem with the demand for omnichannel experiences. Unfortunately, this also means a flood of individual apps from multiple restaurants, and operators need to figure out how to not have their initiatives to offer an omnichannel experience by establishing digital ordering channels that are branded by customers not just as an opportunity to download another app on their phone, but as a branded ordering environment that is effective and a good experience that offers value. Before making a decision that could spell doom for your company and leave customers out of the loop, restaurant operators need to understand a few things about the state of branded digital ordering for restaurants.
What's Wrong With Using Your Own Branded Digital Ordering for Restaurants?
The problem with using an independent, company-branded digital ordering app is that it is limited to the users that will actually download the app. In today's world, customers have access to an army of apps, and the only apps that get downloaded are really those that stand apart. Moreover, customers that do download apps have likely already visited your brick-and-mortar locations, drawing on that experience as a reason for a repeat visit. Unfortunately, the available space on your customers' phones is limited. Thus, restaurant operators must be willing to additionally offer their services through an on-demand app, such as Uber Eats or DoorDash alongside any branded digital ordering channel in order to capture digital orders.
The Current State of Branded Digital Ordering
The benefits of branded digital ordering are realized through the integration of all ordering channels, including both branded channels and third-party channels, into a point-of-sale system. Integrated food ordering allows companies to tap into the omnichannel potential in a traditional brick-and-mortar space. Furthermore, according to Pascal Nicolas of QSR magazine, the leading benefits of integration between all other ordering platforms and a branded digital ordering platform to a point-of-sale system include:
Branded digital ordering has given rise to the increased efficiency within kitchen workflows

. Using a

branded digital ordering for restaurants

platform allows the kitchen to test new ideas and dishes all while gathering customer feedback and continuously improve.

Eliminates lost or dropped receipts

. Increase communication between the kitchen and ordering platforms effectively reduces the incidence of lost or dropped

receipts

, building customer service.

Integration of all channels, including branded digital ordering channels into the point-of-sale system, unifies ordering and reduces consumer congestion. Less congestion at your ordering counters and order takeout pickup areas will have the effect of allowing for faster turnover of tables within your restaurant, reduction of manual rekeying of orders which can lead to costly errors and lost time that come in from third-party delivery and aggregator apps, and building brand image as a fast place to get a good meal.
New technologies and branded apps replace traditional manual loyalty programs and point tracking or integrate into third-party loyalty programs

. Integration between systems also streamlines the loyalty point tracking and management of such programs, processes that were traditionally handled in-house and took extra resources away from what you're doing.
How to Maintain Consistent Branding Without Developing Extensive In-House Apps/ Systems
For any company looking to embrace the digital age, it is essential to maintain brand consistency. Instead of trying to develop an extensive, in-house app or system, companies must think outside the box. For example, restaurant operators may opt to work with a third-party service provider that puts the power of customer delivery at their fingertips, regardless of their ability to hire and retain drivers in-house. Applications from Tacit, as an example, allow for integrating your point-of-sale systems with these third-party delivery services, as well as in-store kiosks and web-based ordering platforms.
Know Where You Stand With the State of Company-branded Digital Ordering
The state of branded digital ordering for restaurants is moving toward a $38 billion future, and restaurant operators must implement the practices necessary to offer better service through third parties, as well as their own branded platforms. Gain control over company-branded digital ordering by working with an experienced restaurant technology solutions provider. Visit Tacit online now.