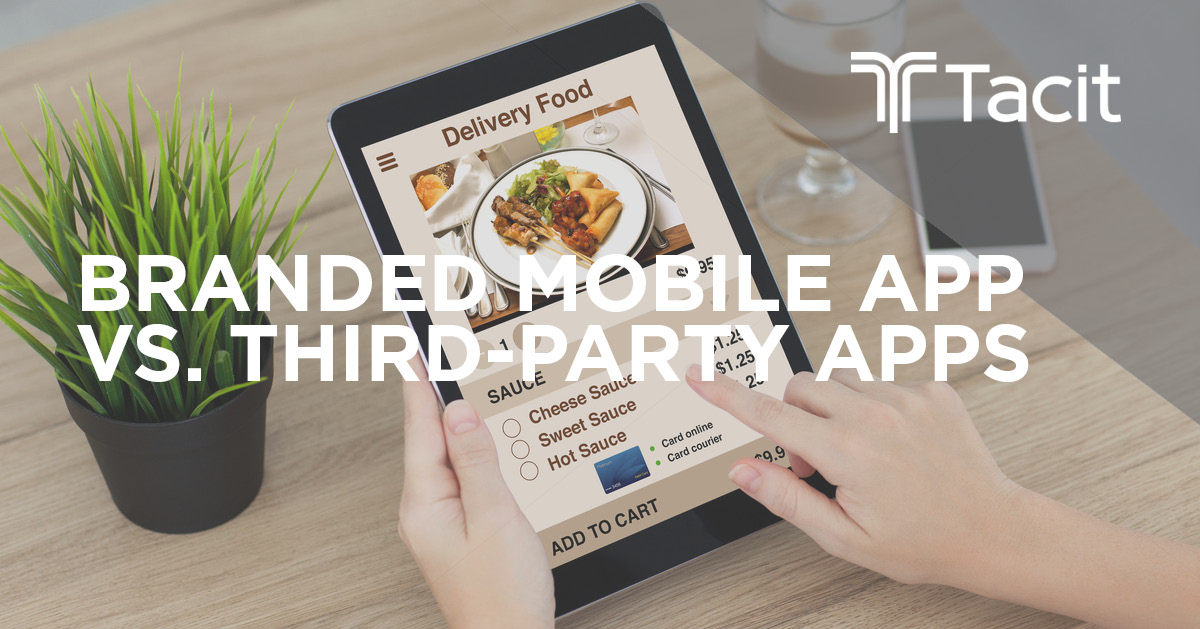 25 Jul

Branded Mobile Restaurant App Vs. Third-Party Apps: Which Is Better & Why?

The debate over whether to use a branding mobile restaurant app or outsource online ordering exclusively to third-party apps has heated up in the last few months with Uber Eats now available at a whopping 9,000 of fast-food giant McDonald's 14,000-plus U.S. locations and DoorDash receiving a new investment pushing the company's valuation over $12 Billon. Restaurants across the country strive for an ever-changing way to achieve lower operating costs and higher profitability. A branding mobile restaurant app offers this promise, but the rise of third-party delivery apps makes choosing the right path for online ordering more difficult. Restaurant operators need to carefully consider the differences between a branded digital ordering experience and third-party app to make the most strategic choice.
What Are the Limitations of branding mobile restaurant apps?
branding mobile restaurant apps seem like an ideal way to increase profitability. However, a branded app requires resources to design and implement new services. Services may include delivery, order online and pick up in-store, management of loyalty programs, and more. branding mobile restaurant apps give a company complete control over its digital ordering platforms. Therefore, a single, branded app remains the obvious and most cost-effective choice, but is it?
The answer might come as a surprise. A branding mobile restaurant app is a fundamental necessity for all restaurants. Customers want the flexibility to order through a dedicated app. In fact, up to one-third of restaurants have a dedicated, branding mobile restaurant app available. At the same time, the volume of restaurants with branded app experiences contribute to a growing problem; consumer phone space is finite. The restaurant must make their brand stand out enough to warrant a download from the respective app store.
A final factor influences customer use of apps—ease of use. If the interface is easy to use, such as the Domino's app, customers are more likely to use it. Furthermore, customers want to make the process of ordering food, for now, or in the future, easier. i.e., a seamless omnichannel experience. It's redundant AND essential to success, explains QSR magazine.
What About Third-Party Apps?
Third-party delivery apps are an excellent way for businesses to enter the digital landscape with zero upfront investment. Uber Eats and DoorDash both allow for immediate implementation, and their scalability is limitless. As long as a service provider operates in the area, customers can order their favorite foods anytime.
All third-party apps charge a percentage of the order total for servicing. For example, a $100 order may incur a $30 delivery charge, reflecting the industry standard for up to 30% surcharges, which is in addition to the initial delivery fee charged by the service provider. Businesses that do not integrate current systems with third-party platforms will then need to re-key the order into the Point-Of-Sale (POS) which could lead to errors and a poor digital food ordering experience by the customer. Moreover, limited integration results in reduced transparency. Third-party apps move the entire process of managing the online ordering experience to the third-party service provider.
The limited space on consumer's smartphones is still the elephant in the room. Even third-party apps come with challenges to implementation and use, comparable to in-house app development and launch. McKenzie, a research consultant agency, notes current demand for mobile ordering sits at 40%, but the organization expects that statistic to rise to 65% over coming years.
So, Which Is Best for Your Restaurant?
That's a loaded question. Both in-house and third-party apps offer benefits and challenges to implementation. Instead of putting all your eggs in one basket, consider a blended approach to online ordering. In a sense, this is the beginning stage of omnichannel online ordering.
Put the Right Blend of Apps and Service to Work in Your Organization
It can be challenging to evaluate third-party service providers, which must occur concurrently with ongoing operations to improve branding mobile restaurant apps. The solution is clear; create a blended approach. However, it is essential that restaurant operators integrate all systems with app-based solutions into POS systems, gain the right insights from data, and make decisions that improve productivity. Find out what your organization needs to succeed by visiting Tacit online today.