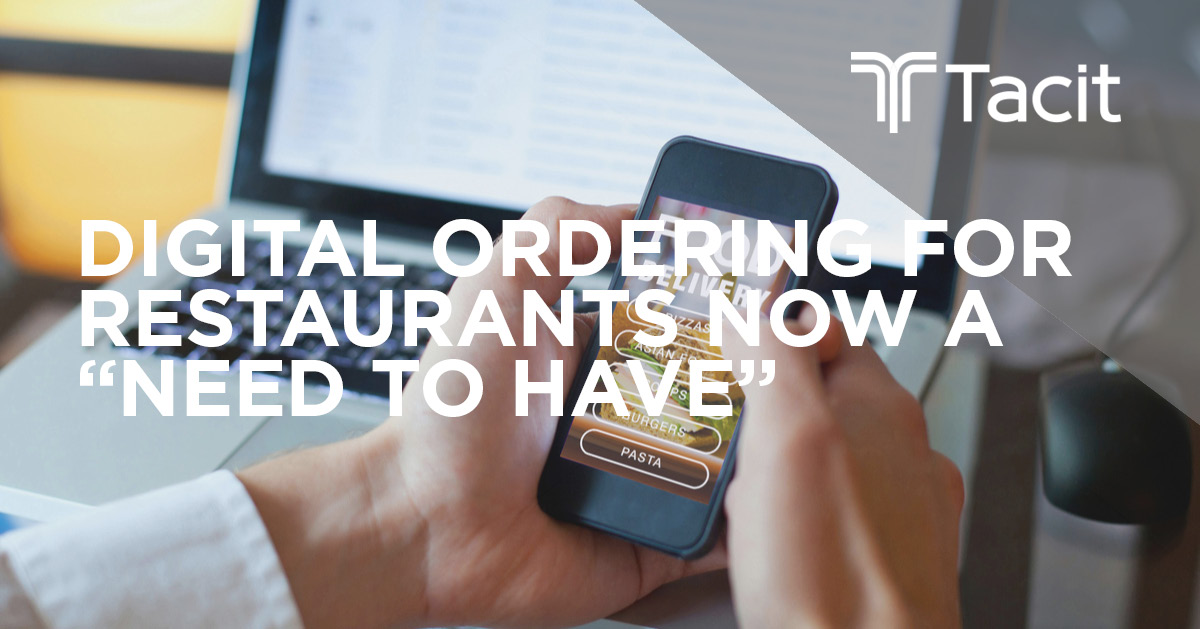 02 Jul

Digital Ordering for Restaurants: No Longer a "Nice to Have" But a "Need to Have"

Digital ordering for restaurants allows restaurant managers to collect more data about their customers and continuously improve. While big players were first in the game, the demand for digital ordering for restaurants has grown to encompass every brand and entity. It is not enough to simply want to embrace digital ordering for restaurants; restaurants must implement the processes and practices necessary to offer digital ordering capabilities fully. Meanwhile, digital experiences are rapidly replacing traditional brick-and-mortar, and those that fail to recognize the potential and value in digital ordering will face the uncertainty of an Internet-driven world.
Can Digital Ordering for Restaurants Really Replace Current Experiences?
Restaurants are highly experiential places. We all go with our families and friends to go out to eat for the experience and food, so moving that experience into the virtual world for digital ordering by restaurants may sound odd. However, digital ordering for restaurants, which won't remove dine-in experiences, will simply augment the overall experience with the restaurant brand by catering to the customer's preferences and needs, including chaotic schedules and more. In fact, the two most popular places to eat today are at home and at work, not in restaurants, and that narrative is evolving. As explained by QSR magazine, the value of digital food ordering will grow to more than $38 billion by 2020, forming 11% of all quick-service restaurant transactions. Over the upcoming years, that statistic will swell beyond imagination, becoming the majority of all food experiences. According to Andria Cheng of Forbes, the majority of meals prepared at home today will be replaced with meals ordered from restaurants by 2030.
Digital Ordering Also Improves Consistency in Marketing Messages
Digital ordering for restaurants is also useful in improving the consistency of marketing messages. Restaurant managers can control how information is presented to consumers by merely working with third-party delivery apps and developing a robust, in-house online ordering platform. For multi-site portfolios, this streamlines the entire marketing effort.
Digital Ordering Is About More Than Just Competing with Local Restaurants
Traditional restaurant operations faced competition from nearby establishments, but the rise of the Internet and third-party delivery apps have changed the game. Instead of just competing with local restaurants, businesses are forced to compete with meal kit delivery services; increasing movement for sustainably sourced foods and even Amazon. According to Erin McPherson of QSR magazine, digital ordering for restaurants improves the ability of the organization to leverage data to increase reorders and customer acquisition rates. Since the entire experience begins online, every detail must be accurate and thorough.
Digital Ordering Provides Immediate Visibility for Consumers
The use of digital food ordering also offers significant benefits to customers, who save time and money when ordering online and in a hurry. Furthermore, digital experiences and capabilities empower customers with more visibility into their orders, knowing when it was first logged in the kitchen system, how long it will take to repair, when it is dispatched for delivery or otherwise ready for pickup at the location. This level of visibility is part of what led to the growth of Domino's after it implemented digital ordering capabilities.
Millennials are more attracted to others cooking for them, not necessarily cooking for themselves. A study from NPD Ground found millennials view dinner as an experience, not just a daily activity. Furthermore, some millennials go the extra step of defining homemade to include easy-make meals and simply adding an extra touch to a pre-made meal, such as adding cheese to a salad. As a result, restaurants must take advantage of this opportunity to showcase how good food can be.
Make Digital Ordering the Center of Your Operation Now
Digital ordering for restaurants is here to stay; it is the continuance of digital industries powered by the Internet and web-based capabilities. Align your organization with the digital transformation of the restaurant industry by selecting the right provider of modern restaurant ordering solutions, Tacit. Learn how to get started by visiting Tacit online now.