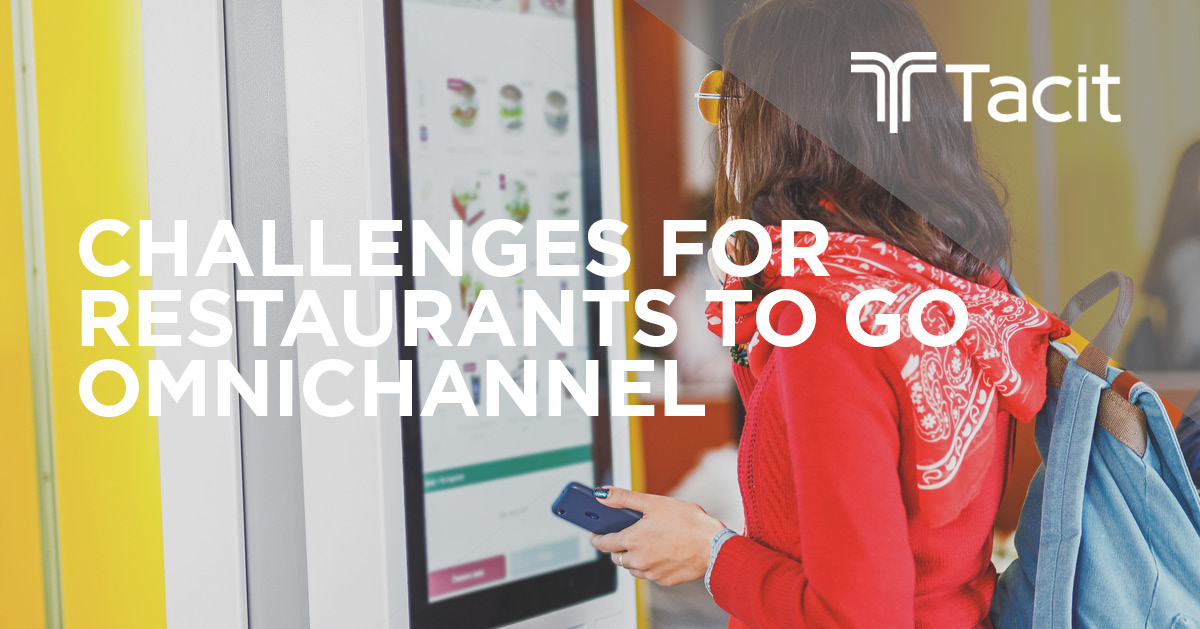 18 Jul

The Omnichannel Restaurant: What Are the Top Challenges for Restaurants to Go Omnichannel?

The term, omnichannel, is at the center of the retail and manufacturing world. A company can provide a seamless customer experience that goes beyond a single-channel approach. Customers enjoy the benefits of visiting brick-and-mortar stores; they can order online and pick up in-store. Customers have the power to broaden or narrow their experience to their preference, and the same concept exists in restaurants. Unfortunately, businesses still face significant challenges for restaurants to go omnichannel, even as the number of online orders soars to 6.6% of total orders, reports PYMNTS.com. Understanding how to overcome these challenges will be crucial to success.
Challenges for Restaurants to Go Omnichannel Arise From Disparate Systems
The primary challenges for restaurants to go omnichannel often result from the increased variety of systems in use. Not all systems in the restaurant industry were designed to function together, and poor integration between systems will result in lost efficiencies.
Failure to Manage Third-Party Service Providers Contributes to Problems
As more companies look to embrace third-party delivery services and work with third-party service providers, including data aggregators and delivery services, restaurants will face uncertainty as new systems come online. Even the best-laid plans will fail if new systems are not successfully integrated with existing systems.
Labor Management Is a Key Issue
Proper labor management is another factor to consider when implementing omnichannel capabilities. As the volume of orders increases from multiple food ordering channels, now including digital food ordering, companies will be forced to hire more workers to make up for increased demand. More importantly, an increased number of workers in your establishment leads to congestion and trouble managing workflows, so everything must go back to the proper management of processes for improved omnichannel success.
Rekeying of Orders Increases Risk of Errors
For restaurants that do not successfully integrate disparate food ordering channels into the point-of-sale (POS) system, the manual entry of order details, also known as rekeying, will increase the risk of poor order accuracy and tarnish brand value. Or worse, some operators decline to take some orders, resulting in lost revenue. Without integration, restaurants will face many challenges in digital food ordering and won't pull off an effective omnichannel experience for customers while competitors do.
Expanding Into Omnichannel Extends Delivery (Service) Area
Since omnichannel is built on giving customers exactly what they want, regardless of their location, more companies will embrace third-party delivery as a way of expanding the service area.
Reduced Access to and Application of Data Leads to Lost Opportunities
Omnichannel systems generate a mountain of data that can be used to improve customer experiences. Since systems function together, new insights can be gleaned from an analysis of data, including consumer behaviors and expectations.
Increased In-Store Activity May Deter Customers
A final challenge will arise, following customers that walk out of your establishment due to the perception of long lines. Unfortunately, more activity is good for the business, and it would be impractical to avoid omnichannel ordering for this reason. However, companies that clearly explain expectations for omnichannel ordering, including orders placed online and picked up in-store, using visible signage, can avoid this risk.
Omnichannel Ordering Logistics Can Become a Nightmare
According to Forbes, restaurant delivery is expected to grow 51%, and some experts suggest it may exceed 65% by 2025. Growth of restaurant delivery will force companies to re-evaluate real estate management, including placement, and opening up new locations or changing locations only increases the need for integration of all ordering channels into a Point-of-Sale system to give more enterprise, organizational visibility, and control. These changes will require a complete overhaul of logistics of managing kitchen orders from in-store, online, and third-party delivery services.
Subdue the Challenges of Omnichannel Restaurant Ordering With a Proven Partner
Omnichannel restaurant ordering will be a significant change for the multi-billion-dollar industry. Restaurant operators need to begin thinking about how they will offer delivery and enable omnichannel ordering today. Also, they must identify the challenges of omnichannel capabilities and develop solutions to overcome them. Find out more about how your company can rise above the challenges for restaurants to go omnichannel by contacting Tacit online today.