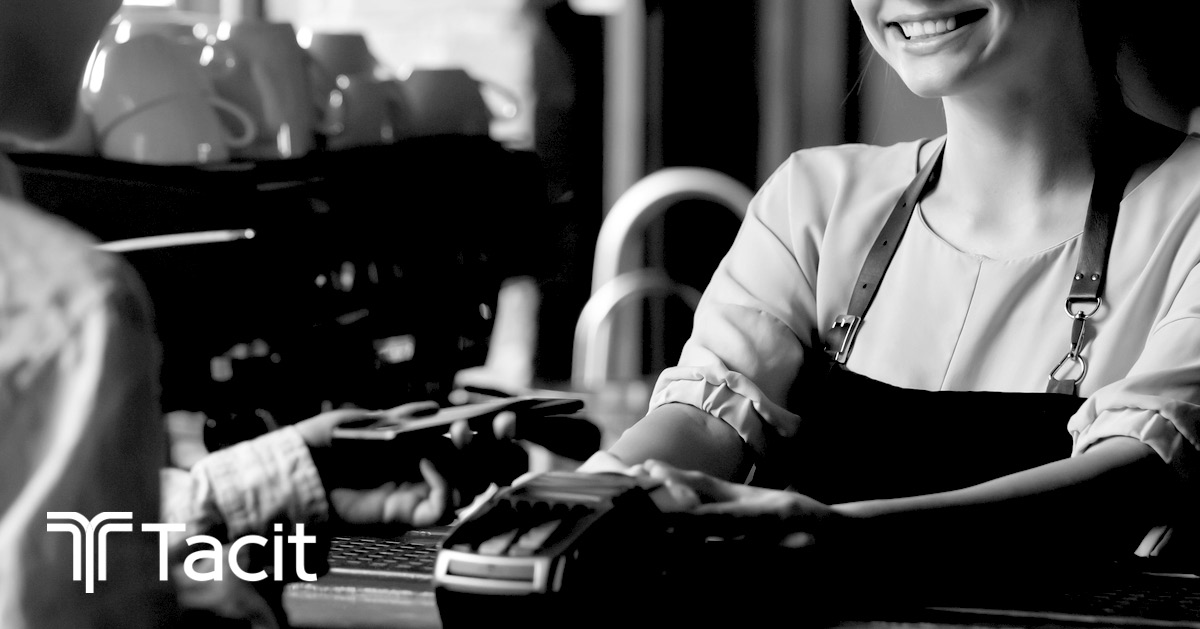 29 Jul

Hospitality Industry Begins Contactless Food Ordering in the (Post) COVID era

Contactless food ordering is the new normal in today's restaurant landscape. Physical distancing and minimal physical contact are the best options to reduce the spread of viruses. Meanwhile, the primary ways in which society operates have changed. More people freely on telecommuting to work from home and empty offices pose a risk for lost business during the pandemic, putting more pressure on restaurateurs to embrace digital ordering for restaurants.

Restaurateurs have to adapt to the change in consumer behavior, offering more contactless food ordering options either inside or outside the restaurant. A concurrent surge in demand for digital delivery and contactless options has pushed the industry, inclusive of entertainment venues, school campuses, and restaurants into an all-out push for more productivity. According to The Spoon, "NPD reported digital orders for restaurant meals increased by 63% and delivery orders by 67%" through March. However, bigger findings were revealed by an overall review of digital ordering between quarter one (Q1) and quarter two (Q2) of 2020, shown below and published by Restaurant Business: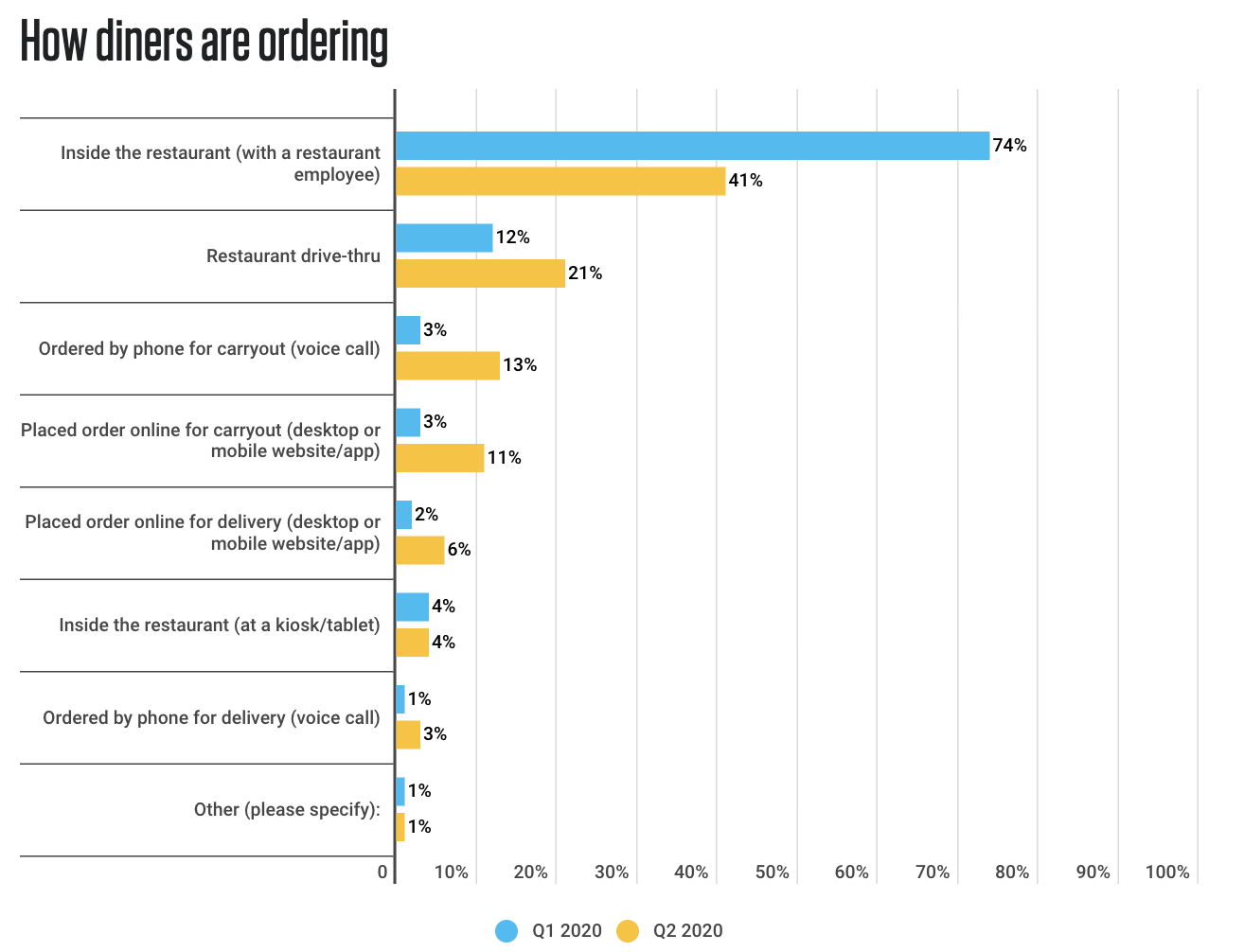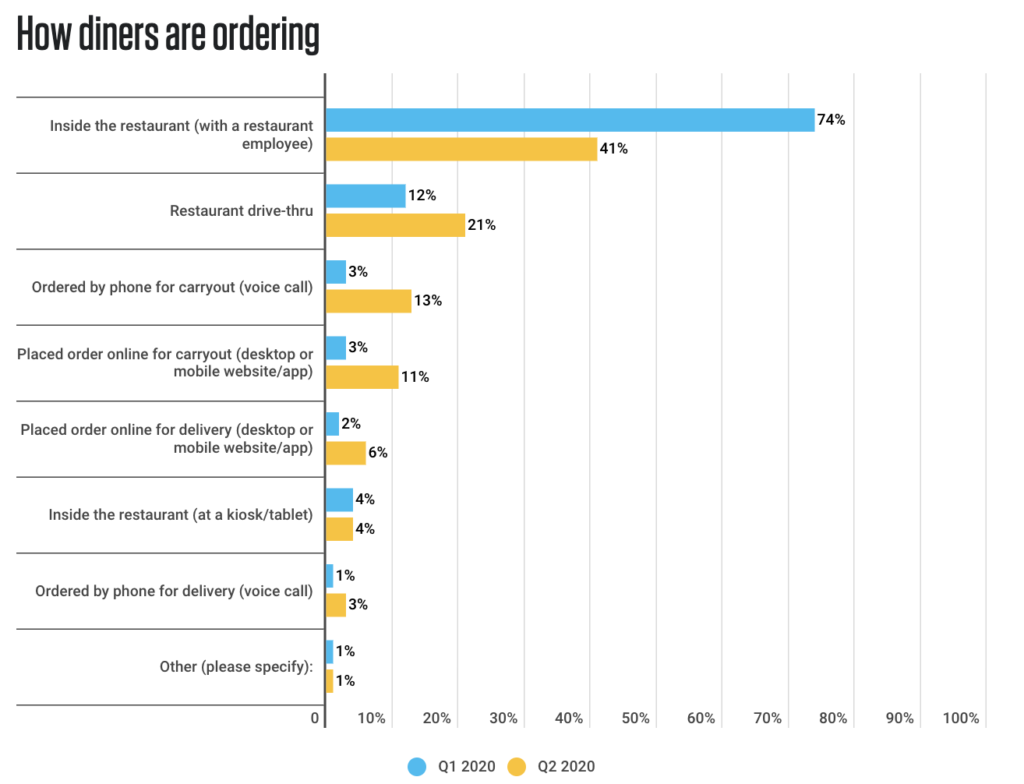 Delivering further into this graphic shows that overall online ordering grew from 5% total in Q1 to 17%. That's a total growth rate of 367%. Isolating both growth rates by online ordering for delivery and online ordering for carryout revealed 300% and 367% growth rates respectively. So, let's consider what's forcing these higher-order rates and their impact on the industry.
1. Business Campuses Re-opening Is an Opportunity to Reach More Customers
As business office complexes and campuses reopen, dining options for work cafeterias must evolve into contactless food ordering venues. Instead of crowded common areas, workers may be spread out across campus, requiring ingenuity and sharing of data to place accurate orders and manage the workforce. Of course, business food venues can also tap workers working from home, offering delivery to help staff make it through the day when the regular, fast-casual cuisine just isn't what's preferred.
2. University Campuses Re-opening Keeps the Blend of Third-Party and In-House Delivery Alive
While campus classrooms remain subject to uncertainty as to when students will return, school dining partners are stepping up. Major delivery service providers are working to bring delivery to these establishments. Still, even in such cases, integration between in-house ordering and third-party white label services will be necessary. As further noted by CR80.com:
"Together, Grubhub and its campus clients are thinking outside the box with some contact-free dining solutions designed to feed students whether they head home or remain on campus."
Remember that Tacit can further improve data sharing to streamline rollouts for Grubhub and other delivery service providers too. Also, more data allows for better planning of dining halls when students do return, helping to curb future outbreaks and improving student health along the way.
Also, a Tacit client further described how such partnerships are essential to success:
"While we offer in-house delivery, we cannot ignore the value and customers that want to order from third-party aggregator sites, such as Uber Eats and Grubhub. By bringing our systems together, we can reach more customers, including those on school campuses, larger business venues, and more."
3. Restaurants Must Also Leverage Contactless to Maintain Profitability Despite COVID
Restaurants have also taken stock of the need for contactless food ordering. Customers can view menu options online, order from personal devices, pay, and even send feedback in the contactless age. It is the same for both on-site guests and those ordering delivery. It is contactless. In turn, it is a significant revenue stream for restaurants to expand profitability when dining rooms do finally return to a fully open status.
Contactless Food Ordering Creates the New Normal for Restaurants
While COVID-19 may be temporary, its effects will last for years. Particularly, effects bringing more technology and integrated systems into restaurants will transcend all verticals and offer opportunities for food establishments to maintain their independence. Of course, the ability to leverage existing and new ordering platforms is essential to making this age of contactless food delivery, carryout, or other ordering work. And Tacit can help. Visit Tacit online to learn how to get started today.