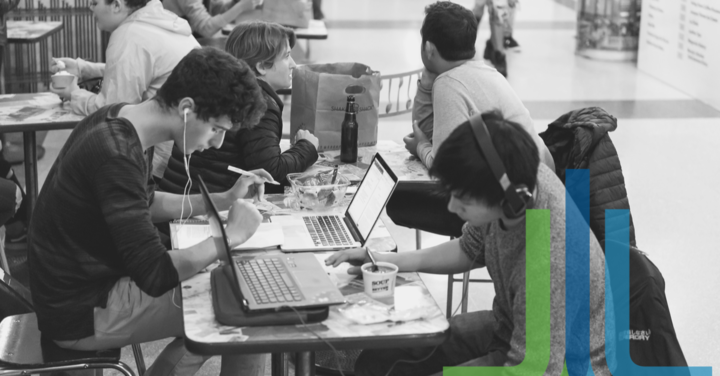 27 Apr

Budgeting Is Easier With On-Campus College Foodservice Because Automation Meets Student Needs

In a time of contactless, customer-oriented foodservice, digitized campus dining trends are redefining the conventional way of student dining. Budgeting is easier with on-campus college foodservice because of the high demand for virtual and automated foodservices. The need for food delivery is rising, and labor is becoming more expensive and hard to find, so all the preconditions are for automation.

When colleges are more diverse in their foodservice operations, they can better cater to the demands of their students and population but also more easily adapt to changes in supplies and foodservice options. According to Foodservice Equipment Reports, "Sodexo, the management company which runs dining services for many higher-education institutions worldwide, reported better-than-expected organic growth in quarter three of the 2021 fiscal year, despite the new variants of COVID-19 that emerged. Specifically, in its North American education division, the company saw a 61.3% rise in organic revenue compared to the same time period in 2020, attributed to the return of in-person learning….university foodservice is expected to drive more growth in the coming quarter, as more students return." Colleges, universities, and large schools must remain focused on the changing supply and demand balance that has long been part of the foodservice industry. With continued recovery still shaping the market, diversifying food-related services and options can help ease some of the joint pain points within this market niche.
Why Are Campus Foodservice Vendors Re-Evaluating Their Business Models?
Innovative campus foodservice creates a more budget-friendly option for students and the campus itself. The COVID pandemic has increased the need and demand for convenience, quality, selection, and food affordability. Budgeting is easier with on-campus foodservice because it allows for easier access and meets the demands of students' needs for quick service.
With the instability and employee shortage, it is imperative to do more with less. Automated and robotic equipment helps college campus officials, students, and the general public come together for more efficient foodservices. It enables tasks to be completed quickly and efficiently while keeping up with current demands and market trends.
How Automation Can Help Campus Foodservice Vendors Manage Orders, Help Students
As previously mentioned, the talent shortage has taken quite the hit since the pandemic's start. People feel safer at home and are not wanting to risk going to work in person. This has created a unique need for automation.
Budgeting is easier with on-campus college foodservice because the automation processes assist in tracking their meal plans and funds. It creates flexibility in their dining plans and provides a quick and straightforward process.
Colleges Are More Diverse in Their Foodservice Operations
Automation creates a more diverse option for menu items. It includes options such as dietary restrictions, allergy-related foods, and more sustainable products.
Dairy-free, low sodium, gluten-free, vegan, and local farm-fresh ingredients are just some of the growing needs of students. Colleges are more diverse in their foodservice operations and rising to the challenge and demands of healthier and allergy-friendly menus.
Budgeting is easier with on-campus college foodservice because automation allows for easy adjustments, substitutions, and overall management of orders and menus. Digital food ordering also provides quicker order placement and pick-up between classes with grab-and-go stations. Some campuses are even implementing delivery robots and food locker pick-up.
Colleges Can Track Student Meal Plans and Manage Payments in One Solution
Budgeting is easier with on-campus college foodservice because colleges can track meal plans and manage payments through their point of sales digital ordering technology. Providing a smoother, more straightforward process for students also enables the campus to be more efficient in what they offer. Meal plans and payment information are tracked, and data is automatically entered into the automated ordering system, creating a simple way to track and maintain the campus budget.
Digital Foodservice on Campus Helps Vendors Plan for Demand
Budgeting is easier with on-campus college foodservice because digital and automated systems can track student expenditures and trends in purchases. This allows for supply forecasting. When you know what is needed to meet current demands, you don't need to waste time and money ordering irrelevant items. Digital foodservice frees up time to focus on food preparation and customization.
Sustainable college campus foodservice is a trend on the rise. While students are growing more and more health-conscious, they also want to take care of the environment. Environmental-friendly, sustainable, fresh, and local are the key factors students are looking for.
Colleges are more diverse in their foodservice operations and can pay special attention to waste management, buying and using local ingredients and produce, and using organic ingredients. Budgeting is easier with on-campus college foodservice because campus management knowswhat needs you are meeting, which avoids purchasing undesirable ingredients or supplies.
Digital Foodservice Also Enables Virtual, Delivery-Only Dining on-Campus Too
The ability to choose a meal from a vending machine is impressive. Pick what you want, pay, and get your food without contacting anyone. Automated foodservices are bringing virtual, delivery-only dining to campuses.
This trend is popping up everywhere, including on college campuses. Students can place a customized online order and deliver it right to their door. While students are cramming for finals, this allows them to avoid the headache of heading to the dining hall, waiting in line, and sitting down to eat.
Autonomous Restaurants Are Heading to College
Students are looking for quick, easy, quality, and affordable options. Students are often in classes or studying at different hours and need flexibility in mealtimes. Autonomous restaurants meet these needs 24 hours a day, seven days a week, 365 days a year.
While COVID is still here, automation in restaurants creates a contactless experience leaving students feeling safe and healthy with online ordering. Colleges are more diverse in their foodservice operations and can more easily adapt to changing market trends and customer demands, even as pandemic disruptions still linger.
Unlock the Growth Potential of Automation in Campus Foodservice With Tacit
Budgeting is easier with on-campus college foodservice because of the ability to track and monitor meal plans and spending. Automated campus dining is altering the traditional style of student eating in an era of contactless, customer-oriented foodservice. Virtual kitchens and autonomous dining are growing more popular, and labor is becoming more expensive and complex; thus, the conditions are ideal for automation.
Ensure the health and safety of your campus while unlocking your automation growth potential. Contact Tacit today to unlock your campus automation!