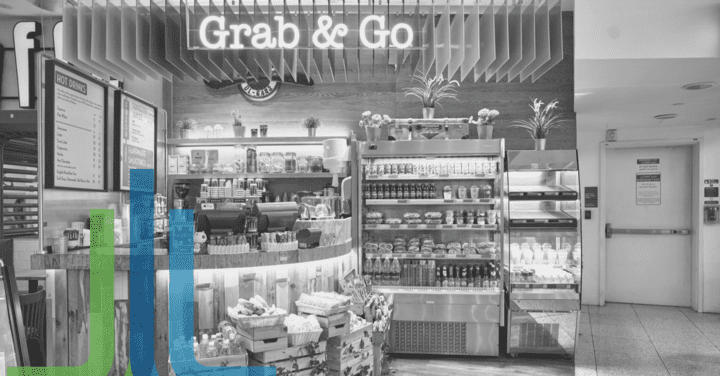 06 Apr

How to Build a Grab-and-Go Restaurant Business Plan for Tech Holdouts

A grab-and-go restaurant business is synonymous with technology. Building a business plan to fit the needs of a grab-and-go restaurant is vital in today's climate. Most restaurants take full advantage of the growing technology trends to serve their customers better and reduce restaurant operating costs.

A grab-and-go restaurant business plan is changing the future outlook of restaurants. Many customers just don't have the time to dine in and are looking for a quick and easy meal. Robotics and kiosk-type systems enable customers with prompt and accurate service without sacrificing the quality of the meal.

Below are seven ways to build a personalized grab-and-go restaurant business plan.
1. Know the State of the Industry as Pandemic Pressures Continue
Restaurants have had to change how they provide service and delivery since the COVID-19 pandemic began. They quickly realized that people felt safer staying home, which required fewer employees. This led restaurants to adapt and change the way they run their business.
Several restaurants are turning to robots and artificial intelligence to meet staffing shortages and customers' needs for a safer eating experience. Adopting new technology has allowed businesses to stay afloat and thrive. According to Restaurant Dive, "Half of US operators plan to adopt automated, labor-saving technology in two to three years, [and[. forty-one percent of US operators also report they are working with less staff than they require, and 87% of operators, owners, or managers believe technology adoption has been key to business survival amid the pandemic. "
2. Rethink Your Menu
As the health-conscious trend continues, it is important to reinvent your menu to meet these demands. It can seem intimidating when creating a grab-and-go restaurant menu that is healthy and also quick. Keep in mind that simpler is better. Small, simple menus have shown to be the most appealing to customers.
Remove processed food whenever possible and implement fresh and local ingredients. Consider dietary restrictions and clearly label these on your menu and packaging.
3. Tailor Marketing to Grab-and-Go Restaurant Business Needs
Marketing is a critical factor in a grab-and-go restaurant. From social media marketing to your to-go containers, every detail is vital. Marketing should be simple, attractive, and easy to follow. Your brand needs to remain consistent from beginning to end. Packaging should be engaging, leak-free, and labeled clearly. Market easy and customizable items for dietary restrictions.
4. Engage With Customers Through Social Media After Pickup
Social media is a trend that is here to stay. Take advantage of this and use it to build your business. Use it for engagement and free marketing. Engage with customers after their experiences by asking for feedback. This level of engagement will allow you to know what did and didn't work and why. Many businesses offer incentives for input by providing discounts, coupons, or free items.
5. Redesign Your Pick-up Area
Create a pickup area for your grab-and-go restaurant that is appealing and easy to navigate. Instead of having an outdated pickup counter, create a specific space for your grab-and-go restaurant. Pickup food lockers have exploded in popularity. Restaurants can assign a particular locker and code to customers for easy pickup. The interaction remains contactless and straightforward.
The New York Post reported that Starbucks "uses Amazon's cashier-less technology, allowing customers to order on the Starbucks app, grab their coffee, and leave without opening up their wallets or swiping a card." In the City that Never Sleeps, a grab-and-go restaurant creates a convenience for customers that allows them to quickly place and retrieve their orders, never having to miss a beat.
6. Use Technology to Better Manage Kitchen Workflows, Create Ghost Kitchens, and Lessen the Burden on Your Team
Robotics are used in many restaurants for food preparation, customer service, and checkouts. Tableside ordering and kiosks are a good illustration of this. When you input your information and order, the order is tailored to you. This process now eliminates the possibility of human mistakes. The technology to power a grab-and-go restaurant improves client service and reduces employee stress.
Ghost kitchens are also on the rise. Ghost kitchens offer delivery or pickup services only. This approach reduces the need for additional staff and reduces the financial burden of a dining area and parking lot.
7. Integrate Your Tech Stack to Enable Online Ordering and Payment
A POS software can help you make quick menu changes, cut expenses, and keep track of your money for your business. Implementing technology such as tableside pay ensures a smooth flowing business plan. Maximizing profits and staying on top of industry trends are essential factors in ensuring your restaurant's long-term success. Digital ordering tech will transform your restaurant and its day-to-day functioning.
Build a Better Grab-and-Go Restaurant Business With Tacit
Build a modern grab-and-go restaurant by reinventing your brand. Integrate the newest technology to create a brand and environment that will attract customers. Tailor your grab-and-go restaurant menu, marketing, and pickup area to the current trends in the restaurant industry. Connect with Tacit to build your next-level restaurant technology business plan today.