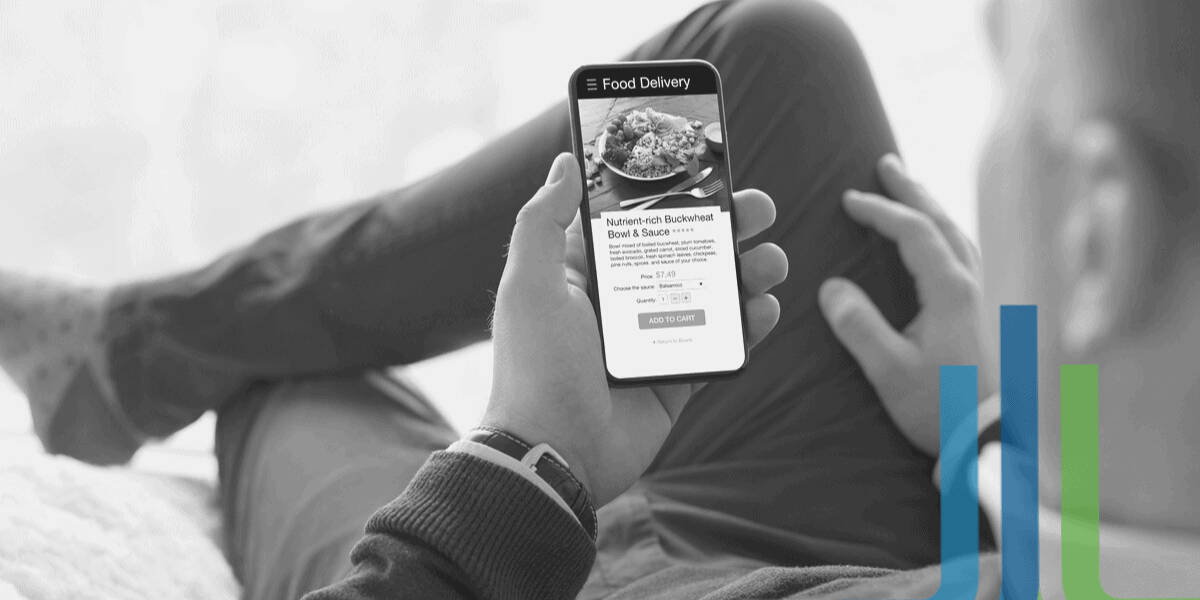 01 Sep

Online Ordering Statistics That Every Restaurant Brand Should Know

Today's restaurants are faced with massive uncertainty, including changing government regulations, economic instability, risks of manmade and natural disasters, labor shortages, and supply chain crises. There are many things that can lead to success or failure in this highly competitive landscape, but one thing is becoming clearer. Restaurants that successfully leverage technology will gain a competitive advantage. Let's look at 21 of the top online ordering statistics and how they indicate stronger demand for digital experiences and renewed investment in technology across all restaurant types.
1. The Majority of Consumers Plan to Order Fast Food Online
According to a Tacit report, Surviving COVID: The impact of lockdown on the foodservice industry in the US & Canada, 77% of US adults plan to order food from their favorite brands in the coming months. The demand for digital ordering apps is also on the rise, with 39% of brands reporting increased drive-thru pre-ordering over the past year, and an overarching demand for a social media presence among customers. Specifically, 33% of consumers said they make decisions on where to order based on the ease of online ordering, the brand's promotions, and its general online presence.
2. Restaurants of All Types Are Investing in Technology
The demand for more technology is not isolated to the fast-casual chains. Our report further revealed the following:
46% of family dining establishments have invested more heavily in technology since March 2020.
50% of casual dining brands have followed suit.
50% of fine dining restaurants have also invested more in technology.
39% of quick-service restaurants have implemented more online ordering systems.
52% of coffee and snack establishments have also implemented online ordering and technology within their POS platforms.
3. Customers Believe Technology Benefits Their Experience
The use of a digital platform is perhaps the most important of all online ordering statistics. Approximately 73% of customers responded that using technology improves their experience and that technology is rapidly becoming a must-have for all aspects of restaurant management. For instance, the number of brands offering a digital menu range from 13% among coffee and snack vendors to 54% among casual dining brands. These statistics indicate a stronger preference for a digital menu among customers, a trend that coincides with the demand for contactless experiences.
For instance, using a phone camera, a guest could scan a QR code and instantly get access to the menu, place the order, and pay for their meal online. This takes advantage of the full functionality of the mobile ordering technology while also creating more opportunities for upselling without sacrificing the customer experience.
4. US Online Ordering Statistics Indicate Increased Revenue Through 2021
The biggest player in online ordering is China, but the US is not far behind. Based on data from 2020, Review42 found that online food ordering and delivery will achieve a 5.1% annual growth rate in 2021. However, that data is subject to interpretation and varies by location. Due to the sheer size of the US, the average amount a person spends via online ordering with restaurants ranges from $579 in San Francisco to $773 in New York City. The differences come from the variation in the cost of living, but the reality is that online ordering is a vital trend throughout the US and Canada. The increased uncertainty through the remainder of 2021 could push the growth rates even higher.
5. Most People Prefer Ordering Without a Human Interaction
This is a strange callout in our lineup of online ordering statistics, especially since online ordering creates more engaging experiences. However, people love convenience, and a streamlined ordering experience, even if contactless and personless, results in a happier customer. In fact, up to 55% of customers prefer online ordering since it eliminates the need for person-to-person interactions, and 39% of customers view a contactless experience as an important factor in deciding where they order from, especially with respect to curbside service, according to Forbes.
6. Delivery Increases Profitability by 30%
Another surprising piece of the top online ordering statistics is the sheer improvements to profitability possible through online ordering and delivery. Offering delivery in-house is associated with a 30% increase per food order, according to a VROMO Report, but many brands may lack the resources to provide this service. It's equally important to realize that the increase is free of any commissions or charges. If a brand chooses to outsource delivery, it will come at a cost, a percentage of sales, which may be as high as 15% to 30%. Therefore, it is up to each company to find a way to lower their operating expenses wherever possible. At the same time, having a white-label solution, such as a branded site for ordering that's fulfilled by DoorDash, is crucial to meeting customer expectations while driving profitability. By aligning their POS system and online ordering strategy, restaurants can save time for staff, avoid errors in orders, encourage higher average spend among customers, and achieve stronger net profitability. Simply implementing a third-party aggregator and delivery service provider is not going to generate more revenue. The integration and meaningful use of technology to reduce costs and waste are where the true secret recipe for more profitability rests.
7. Consumers Want Alcohol To-Go
As reported in the National Restaurant Association's 2021 State of the Restaurant Industry Report, the majority of customers are more likely to order from a brand that offers alcohol to-go, and in meeting that demand, 70% of restaurants have added alcohol to-go as menu items since March 2020. Given alcohol sales' impressive boost to restaurant profitability, many states adopted new policies during the pandemic. Most surprisingly, many governments have also taken steps to ensure alcohol-to-go remains a viable option well after the pandemic subsides. In fact, Texas passed legislation this summer that made alcohol-to-go a permanent reality in the Lone Star State. It will not be surprising to see alcohol-to-go become a staple of any restaurant going forward.
8. Labor Shortages Will Continue
The issue of labor shortage is among the biggest problems for restaurateurs. The NRA's mid-year update also found that 75% of brands are struggling with recruiting and retaining employees. Labor shortages certainly aren't a new trend in the restaurant industry. Turnover rates have always been between 70% and 100% for the industry, according to Modern Restaurant Management. However, the turnover rates are extremely challenging in 2021 due to an increased demand for higher wages (hitting $14.96 per hour for nonsupervisory employees in April 2021, according to Restaurant Dive) and better benefits. In the past 18 months, Starbucks, Darden and Chipotle implemented enhanced benefits packages to attract workers.
9. Food Costs Are Driving Menu Prices Higher
Changes within the supply chain and limited ingredients are resulting in higher costs in restaurants as well. According to Bloomberg, the year-over-year increase in menu prices is at its highest level since 2009, reflecting a near 2% increase from May 2020 to May 2021 and a total 4% increase since May 2009. Chipotle is among the most prominent brands to have increased prices, hitting the 4% mark in year-over-year pricing in 2021 alone. This comes in tandem with the increase in employee wages to a $15/hour minimum. Cracker Barrel is another brand that has increased menu prices 2.8% and boosted wages by 3% this year. Meanwhile, commodity prices for meat have affected all chains through 2021, creating more instability and uncertainty as to where menu prices will land by the year's end.
10. Restaurants Are Also Rethinking Their Layouts and Typical Menu Items
The restaurant layout may seem trivial when discussing online ordering statistics, but remember, online ordering can be for dine-in, carryout, curbside or delivery. To accommodate more guests and promote a safer experience, more brands have also expanded into outdoor dining areas. This is true across all restaurant types as shown below from our report:
Family dining 48%
Casual dining 56%
Fine dining 62%
Quick-service 23%
Fast-casual 37%
Coffee & snack 30%
These combined efforts of dining area expansion and online ordering statistics mean brands have more opportunities to grow their customer base and deliver a better experience. Of course, there are also changes happening in how customers shop. In fact, 52% of brands have started offering grocery-like services, giving customers the opportunity to get dinner and do the weekly grocery shopping in one stop. This will further add value to the customer experience while also allowing for business model flexibility.
The Big Picture: Statistics Indicate More Tech and Opportunity in the Restaurant Industry
Uncertainty may be a staple of the restaurant industry, but all the online ordering statistics indicate growth and opportunities for improvement. Ensure your brand is following along with the industry trends and rates as listed above and continue the path by implementing more immersive and rewarding digital technologies. Connect with Tacit to learn more about how your team can be ready for the changing demands and put the power of technology to work.