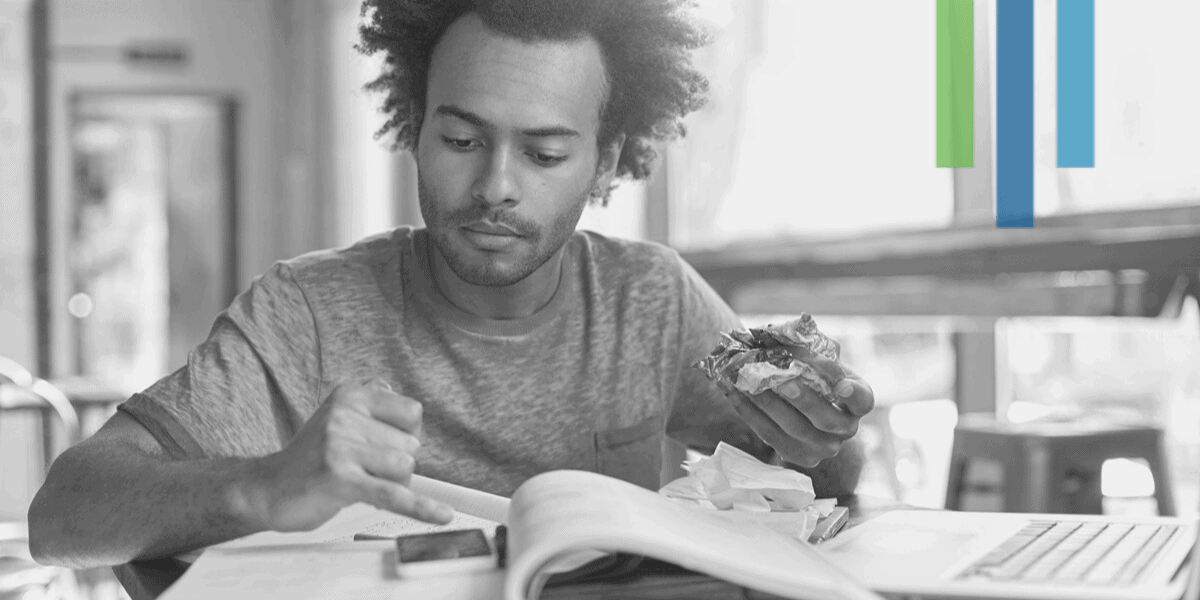 20 Jan

Why Modern University Foodservice Blends On & Off-Campus Digital Ordering Options

Much of day-to-day living has changed in one way or another, and people from all walks of life have had to adjust to new foodservice industry trends. University foodservice faces core, pre/post-pandemic, changes. Virtual classes are replacing many on-campus services. The foundation of campus services has been altered. Even now, as some semblance of normalcy is being achieved, the food services offered on campuses across the country have been forever changed. The push towards on and off-campus ordering is growing and that in tandem with enhanced delivery and pick-up are likely to become the norm for university foodservice ordering moving into 2021 and beyond.

As reported by FoodService Director, "Simply put: the student population is changing. Though enrollment is expected to stay stable over the next ten years, post-baccalaureate enrollment is rising faster than undergraduate, according to Technomic's 2019 College & University Consumer Trend Report. And more potential students are delaying higher education—or eschewing it altogether—in favor of other full-time employment, thanks to low unemployment figures. Finally, the student body is aging as more people work to earn degrees later in life, which means fewer on-campus students in general."

To deal with these shifting demographics, college and university foodservice directors will need to grapple with their students' changing food needs. Older students will likely require a smaller meal plan, for example, while younger students are more prone to replace a traditional meal with an on-the-go snack and leverage digital ordering.
Today's Campus Students and Visitors Want More Than the Traditional Fare
Another significant change that can be seen within the university foodservice offerings today is the demand for more food options. This simply has to do with the variety of foods that are being prepared and offered. Much has changed ranging from increased menus that include ethically sourced foods and dietary specific offerings to flexible meal plans and versatile meal size options. These new offerings stand out from traditional cut and dry, bland menu offerings. Add these changes to the continued needs for safe alternatives for dining in and delivery and university foodservice managers have a lot to consider.
What these changes mean for management teams is a renewed focus on efficiency. That includes proper training, better working conditions, enhanced ordering, and streamlined kitchens. It even includes improved digital workflow management systems like mobile order-ahead apps. Students find themselves in a position they have likely never been in before. They must be engaged students all while not spending a lot of time on the campus itself. This also puts campus-wide foodservice providers in a unique and previously unexplored position.
In turn, the need for updated and improved ordering experiences crosses into a new space. This is a new area where on-campus and off-campus digital ordering becomes one.
Modern University Foodservice Must Be Diverse, Safe, and Efficient
A wide range of new and trending options is available for universities for improving the foodservice that is available for students both on and off-campus. These can provide a diverse, safe, and efficient service that can help university foodservice survive the year ahead:
Ability to diversify the menu to include unique offerings not easily found elsewhere.
Opportunity to test new concepts with students who would prefer to deal with campus providers.
Improved ordering, delivery, food prep, on-campus dining, and off-campus services.
More control over the kitchen and staff to ensure safety with prep and customer interactions.
Enhanced protocols for dealing with social distancing, sanitizing, mobile services, and more through delivery and in-person experiences.
Chances to partner with outside brands to maximize both internal and external growth.
Improved overall university foodservice options for staff, students, and campus managers.
How Blended On- and Off-Campus Digital Ordering Options Add Value
Community growth and interest in on/off-campus spurs growth in university foodservice. It fills in the gaps created by lower on-campus populations. It solves the issue of reduced in-house dining and ordering. Blending these two services helps campus foodservice venues survive. And it offers the following benefits, according to a report by Higher Ed Dive:
Improved kitchen workflows that are not as tied up with in-house dining and serving traffic.
Lower overhead due to partnerships that lessen the burden and divide cooking and delivery.
Increased forecasting for reordering supplies that can reduce waste and improve profits.
Better use of data to prepare enough top-moving items to appeal to what students want.
Improved loyalty app programs to create more engaging experiences and boost student loyalty.
Digital marketing opportunities to maximize delivery and mobile ordering services, boosting revenue.
Increased accountability in foodservice management and better management in the kitchens.
Promotes overall satisfaction by meeting students where they are with what they need.
Works with existing student/visitor meal plans to reduce confusion and promote use.
Combined on and off-campus foodservice can be the missing piece of the puzzle. And it keeps students engaged and active on and off-campus during these uncertain times.
Recently, Tacit partnered with a major USA-based state university to implement a digital food ordering system that offered both on and off-campus ordering options. According to the customer use case and foodservice professionals at the university:
"The demand for digital ordering is also well on its way to proving itself as a viable revenue stream for the State University. While students were not on campus, the institution was able to approach the 5,000 order market within mere weeks. This proves Tacit's value in establishing a true partnership and working together with clients to maximize timeliness, eliminate disruption risk, and deliver a top-notch experience.
Through the partnership with Tacit, the University fully embraced digital ordering and committed its team members to a digital, seamless, and more productive work environment."
Become a More Strategic and Omnipresent Foodservice Vendor With the Right Technology Partner
Due to the global changes in 2020 that the pandemic brought and an already increasing demand for more convenient ordering on campus, university life looks and feels vastly different for many students. As the world slowly works to get back to normalcy, many campuses are still struggling to meet students' needs. When it comes to university foodservice options, combined and off-campus offerings are core. With enhanced order and delivery options, omnipresent foodservice has proven very enticing. Foodservice managers should be taking full advantage of it by implementing new and improved management systems. Request a consultation with Tacit to get started.