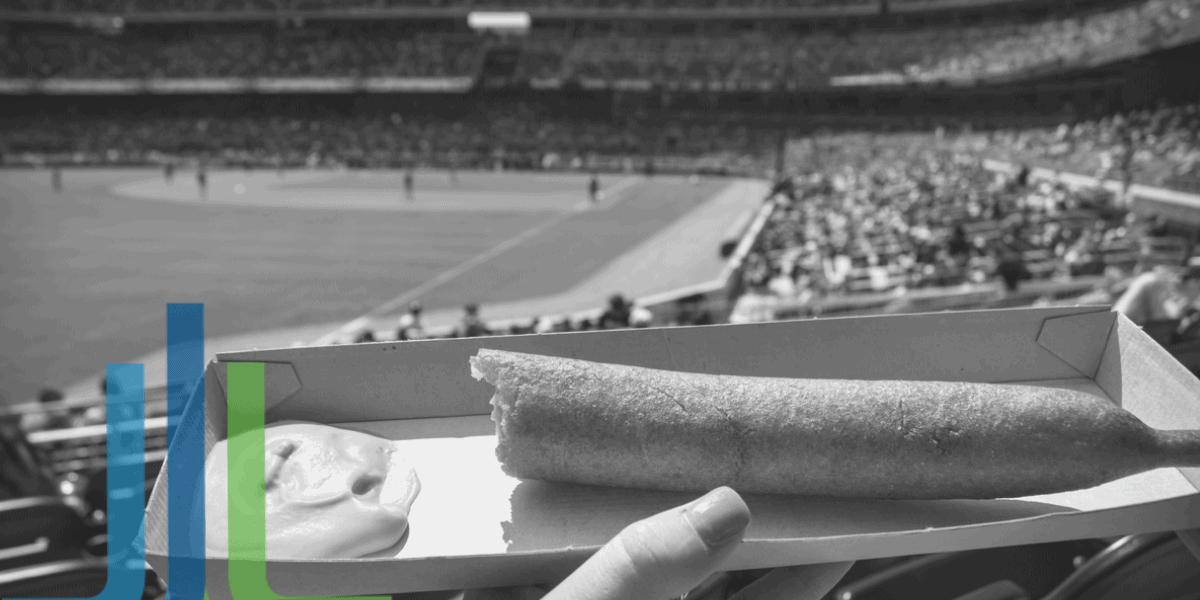 27 May

In-Seat Food Ordering Considerations as Stadiums & Events Get to Full Capacity

From Major League Soccer (MLS) to the National Basketball Association (NBA), reopenings of venues are continuing across North America. In Texas, a recent Rangers game had attendance at near 85% of total occupancy. And several National Football League teams already have announced they will allow full capacity in stadiums this fall, bringing up new hope for foodservice vendors and growth of in-seat food ordering. And even in Canada, says CBC, fans are starting to see light at the end of the tunnel and a way to return to the stadiums and sports arenas:

"The Quebec government announced Tuesday that indoor venues will be able to start hosting up to 2,500 patrons [about 12% capacity] starting May 28 and that the provincial curfew will be lifted the same day.

That won't be the case in Alberta and Manitoba, however, where the Edmonton Oilers and Winnipeg Jets will play their first-round series."

However, amid the euphoric fandemonium with this trend comes some concern. Coming off the lockdowns of the past year, getting back to normal has never seemed so close and within reach. However, the typical interactions between fans, staff, and players have forever changed. The concerns over reducing unnecessary contact during the pandemic will continue as the world recovers. Plus, fans are eager for in-seat food ordering and delivery. Take a look at these stats from The National Association of Concessionaires survey mentioned in our last blog on in-seat ordering:
58% of respondents cited they would spend more on concessions without lines.
30% reported that staying in their seats prioritized making the experience worthwhile.
68% would use mobile ordering to complete concessions orders.
69% would use loyalty programs when attending sports events.
51% want in-seat mobile ordering to avoid missing the game.
Only 18% want self-service concessions.
Approximately 26% plan to use a mix of the above ordering options.
With more venues planning to allow greater (if not full) capacity in the coming weeks, today's foodservice vendors need a new strategy to offer in-seat food ordering to meet those demands while also adhering to the right safety measures.
The History of In-Seat Food Ordering Is Older Than Many Realize
While in-seat food ordering sounds like a new trend, it's actually been around for years. In 2014, Madison Square Garden implemented in-seat ordering. According to Hospitality Technology, the venue chose to partner with a digital point-of-sale system that would enable fans to order drinks, food, and merchandise from their personal devices. The third-party software further engaged fans by:
Streamlining the full experience within a digital environment.
Increasing promotional opportunities by highlighting top line sponsors within the app.
Enabling the search for and purchase of souvenirs and themed merchandise.
Completing payments within the app.
Providing the option to have their purchases delivered to their seats.
It's easy to look at that list and think these are relatively new innovations that have come about as a result of meeting the demands of a consumer base growing accustomed to online, mobile, and web ordering. However, these functionalities were launched six years ago in Madison Square Garden. And now, it's that exact capability that was on full display at its official reopening on May 23, 2021. Additionally, attendees had to show proof of vaccination or a negative COVID-19 test to enter, all of which could be done from within an app. In doing so and offering a way to get orders directly to the fan without the typical concession stand experience, integration is really the key to reopening at near max capacity.
In-Seat Food Ordering Promotes Contactless Experiences
An additional benefit of an app-based fan experience is a contactless way to engage customers. In-seat food ordering depends on being able to bring the customer their preference of food and beverage for a convenient ordering option to stadiums. Earlier this spring, the MLS started hosting additional games with set capacity limits. Obviously, the venues have always had the ability to track their capacity. But with the added pressure to maintain social distancing depending on local regulations, these venues had a vested interest in maximizing the profitability per customer.
Increased profitability per customer is another Catch-22 situation for foodservice vendors. Customers want an immersive experience that will draw them back to future events. However, venues operate on basic profit margins. Therefore, up-selling the experience as a digitally immersive event is one way these stadiums have been able to reopen earlier, even before occupancy requirements and regulations were lifted.
The added benefits of a contactless experience have a direct implication for in-seat food ordering too.
Instead of dealing with long lines and delays at the concession stands, foodservice vendors can better manage kitchen workflows. In some cases, fans could even pre order their meals and items while on the way to the venue. As a result, it is simply a matter of sitting down and reaching for that ice-cold drink immediately. That is the advantage of digital ordering in today's stadiums. But, it comes with a few other implications for how this in-seat food ordering process is supposed to work.
What Food Service Vendors Need to Know about in-Seat Food Ordering
Any strategy for enhancing the fan experience is going to add to overall profitability as fans who are immersed in a good experience driven by digital ordering, tend to order more and increase average check size. However, the uncertainty over the safety of maximum occupancy brings up another issue. As customers have spent months indoors and refrained from attending their favorite events, they are hungry for a complete experience. They want the convenience of ordering, getting their items, providing feedback, interacting with the foodservice vendor, and paying for those goods from within a single device. As such, it is important for foodservice vendors to take note of the following considerations:
Each venue is unique and may offer different levels of service. Foodservice vendors can operate across multiple venues. However, individual venues often have the authority to stipulate additional occupancy requirements. As such, concessions vendors may find it difficult to accurately predict how much product is needed for an event.
Again, in-seat food ordering allows guests to pre order their concessions. As a result, vendors can know exactly how many ingredients to bring, reducing their risk of spoilage and promoting a more healthy profit margin in tandem.
Contactless also amounts to cashless. The idea of a contactless experience sounds great in theory, but the issue of using paper money remains. Some customers may prefer to pay with physical cash. However, the disruptions of the past year have reinvigorated customers with the need to maintain a cautious approach when it comes to health and safety.
Therefore, foodservice vendors that encourage digital payments can realize the benefits of promoting safety for guests, workers and venue staff, while also reducing the hassle of operating a physical cash register for storing money. In turn, that further reduces the risk for errors when processing transactions.
Pricing is of the utmost importance when reopening stadiums. The realities of the past year left many foodservice vendors struggling. However, in-seat food ordering is an opportunity to radically recapture lost profits. However, that does not imply it is okay to overcharge customers to make up for missed profits over the past year. The stadiums and teams they cater to need to make guests feel welcomed back, says Foodservice Director Magazine.
Therefore, foodservice vendors that offer in-seat food ordering need to consider lower pricing, meaning it's time to cut overhead by simplifying everything else! In turn, it helps pay for the lower costs while still generating a stronger ROI through in-seat food ordering, too.
Buffet-style service is now obsolete. In the past, in-seat food ordering came with the not-so-appealing need to pick up condiments from a concession stand or run to the buffet-style table to grab plates or utensils. These stands are vanishing as contactless becomes the new normal.
Communal containers of relish and chopped onions must go. And while that sounds like a disadvantage, think about it: foodservice vendors can finally control the flow of those communal items to guests. As such, it's easier to keep track of all inventory, repurposing inventory where needed, and reducing overhead costs.
Build the Next Best Fan Experience With Integrated Systems That Enable In-Seat Food Ordering
While the rest of 2021 will continue to bring a degree of uncertainty, the world is slowly but surely returning to a new normal. Still, the everlasting changes caused by the pandemic can be seen and felt in the world's sporting venues. Even while the U.S. works to bring fans back to stadiums, Canada may not follow suit as rapidly.
For instance, Canada's Deputy Chief Public Health Officer Dr. Howard Njoo, reports SPORTSNET, says that allowing fans into NHL games "is not under serious consideration." However, he did note that the cross-border travel for Canadian citizens that wish to visit American stadiums is not off the table.
Unfortunately, the arenas, for now, appear likely to stay empty in Canada, but even still, there is hope that by the late fall, stadiums might be allowing fans to return.
And while that can be detrimental to foodservice vendors that typically get value from the NHL arenas, they could bring the concessions straight to the fans' homes through delivery, offering a way to connect with fans today. Meanwhile, in America, the changes are happening faster. And American foodservice vendors need to work with stadiums to make sure the show goes on. And they can start that by upgrading and integrating their systems to enable in-seat ordering and eliminating the risks despite near-full occupancy rates. Find out how Tacit can help your brand achieve those goals by requesting a consultation today.