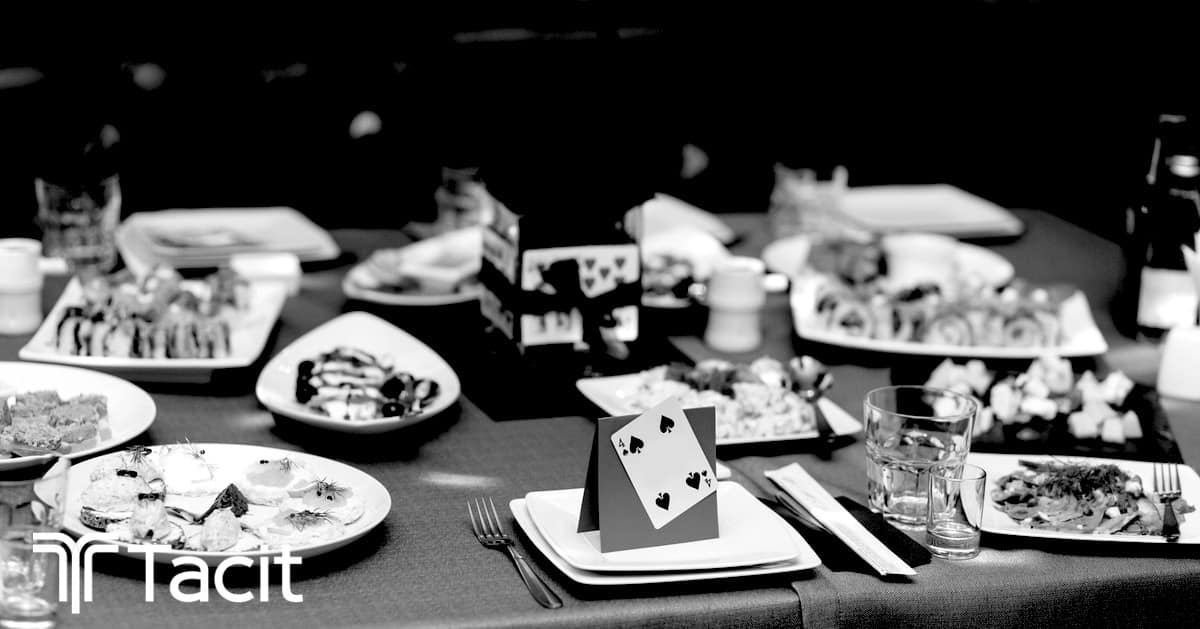 11 Nov

Digital Ordering Solutions for Casinos to Safely Serve up Food & Improve Customer Experience

Casinos are about more than just playing casino games as they offer great food and drink opportunities as well as at entertainment venues for concerts and shows. Despite COVID-19, those opportunities are still available, but there are still some issues. There are whole articles devoted to contactless ordering experiences, and guests expect safe entertainment in a COVID-frenzied world. But ordering must evolve to handle typical workflows differently than in the past. One way is through digital ordering solutions for casinos and food apps.

But digital ordering could have turned that example into something. Remember that digital ordering solutions for casinos allow customers to order food and get drinks on-demand right from their slot machines. Think about it. The pandemic changed everything. But even before, casinos were headed toward digital. Digital is a faster, smarter way to work that offers significant benefits to customers too.
Convenient way of ordering from across the casino, allowing the guest to experience more of what the Casino Offers
Allowing a customer to purchase without leaving their seat is one way to increase value. Slot-side ordering adds value through improved customer retention too. Consider this. It ensures that people who are already gaming continue uninterrupted. With digital ordering solutions for casinos, people get the best of both worlds. People who don't want to get up from their game to eat or drink will no longer need to leave their machines. Instead, they can simply remain at their device. They place a digital food order for what they want. And it will be brought to them—while they can continue playing. Let's look at a few other reasons; digital ordering is great for casinos.
Casinos Serve More Than Gaming Options While Keeping Patrons Safe
Many people eat and drink while at casinos. But remember that's in addition to playing table games or slot machines. Digital ordering solutions for casinos mean people get everything they need in one place. The guests can go throughout the casino watching shows, socializing at bars all while using digital ordering solutions for food & beverage. In turn, the casino sees higher profit margins as the guest spends more throughout their stay at the Casino. Going cashless using digital ordering also means that casinos reduce face-to-face contact, enabling safer and more enjoyable experiences. And their patrons can minimize health and safety risks during the pandemic too. Now, consider this. According to PYMNTS.com, 57% of casino visitors want digital payments and ordering. "A recent survey of casino visitors revealed 57% expressed a desire for digital or contactless payments on the casino floor as a way to be safe from the coronavirus." Therefore, people who use digital ordering solutions for casinos are more likely to visit. That's one way to help stimulate those businesses and help the economy. Without digital ordering options, people are stuck at home and less likely to venture out to a casino. However, digital ordering solutions change the game. Digital options can reduce risk during the pandemic. And that continues through any significant event.
Drinks On-Demand Keep People Gaming & Playing Longer
What's better than playing casino games? Eating and playing casino games. People who enjoy playing slot machines and having a drink at the same time. They want the convenience of doing both at the same time. Casinos that provide that convenience-driven experiences are more successful. They do it by getting people to stay in the casino. Let's look at an example:
Jack and Janie decided to visit the casino for dinner and play Texas Hold 'Em. After about an hour, they want to order drinks and dinner. However, the waitresses are busy. So, they decide to visit the slot machines for a while. During that time, they still see busy staff and are uncertain about what to do. Unfortunately, they leave early due to their hunger pains.
Now imagine how that scenario might have changed with digital ordering. They might have stayed much longer if they could have ordered from a mobile device or on a slot machine itself. And if things went well, they might have even stayed overnight in a room. That all adds up to more profitability for the venue.
So, digital ordering can help bring people through their doors and keep them in the building longer. More types of businesses are moving toward digital ordering solutions. And that means casinos can fall behind other forms of entertainment without digital ordering. Digital ordering solutions for casinos are the wave of the future. But they are also a requirement for continued success during the pandemic for these reasons.
Digital ordering is faster than traditional methods of food ordering
It encourages larger check sizes by using upselling strategies and recommendations.
Guests can save their payment methods and order history within a mobile device, reducing the time to order and avoiding paying by cash.
People enjoy using digital devices for everything, and they can earn reward points that are redeemable for games, meals, or other benefits, without increasing interactions with other people.
Mobile ordering is like a bar-tab as it tallies up all orders that guests conduct while playing. This aggregation of order total has the potential to help casinos streamline payments, increasing operational efficiency, and reducing cash touchpoints.
Of course, that's only the beginning. There are another million ways that digital drink ordering adds value.
More businesses are discouraging cash payments. Now is a natural time for gaming facilities to move toward digital ordering solutions for casinos. By doing so, customers get what they want and need, and the casinos get to build on convenience. They can then keep people as safe as possible. In some communities, that is the difference between staying open or being closed. COVID-19 is only growing worse. And as COVID-19 increases, that's key to success. It proves the ongoing success of mobile food apps.
Digital Ordering Solutions for Casinos Mean More Options
The value of digital ordering solutions for casinos lies in the safety and effectiveness they offer. To focus on that more directly, there are some specifics that casinos should consider. These include the following.
Additional options for those who want to visit the casino but are concerned about safety.
Reduced risk of virus transmission through a reduction in the use of paper currency.
Convenience for those who don't want to get up from a winning machine to get a drink or food item.
Considerations for servers who are also trying to protect their health during this time.
The ability of the casino to bring people in and keep them engaged through choices and a better ordering experience.
These opportunities encourage social distancing. They build on convenience. And they are going to stay valuable well past COVID-19. And one Tacit client further described how digital ordering solutions for casinos add value.
"By connecting with our guests, we create convenience. We add value through technology and build a convenient end-to-end experience. And since that experience is seamless, it connects our guests to the kitchen. Further, the digital ordering solutions, like ordering apps, connect loyalty programs, payment, and menu management, creating multiple operational and guest experience efficiency. Also, by using digital payment options, we offer a safer way to interact. Those are crucial as we evolve in a post-COVID world."
Choosing the Right Partner for Digital Ordering
Take a moment to think about these figures. According to QSR Magazine, about 66% of people use digital ordering per week, and mobile ordering is worth $38 Billion. The statistics are extreme and reflective of the mobile, digital ordering revolution. They offer ways to add value, such as helping casinos get and retain guests. Any casino or other business can benefit from cashless options and the upsell opportunities within mobile ordering. Remember that's true for giving customers what they want when they are spending money and enjoying themselves. Join the revolution now. Find out how businesses worldwide benefit from the digital ordering revolution in casinos and entertainment venues by visiting Tacit online today.