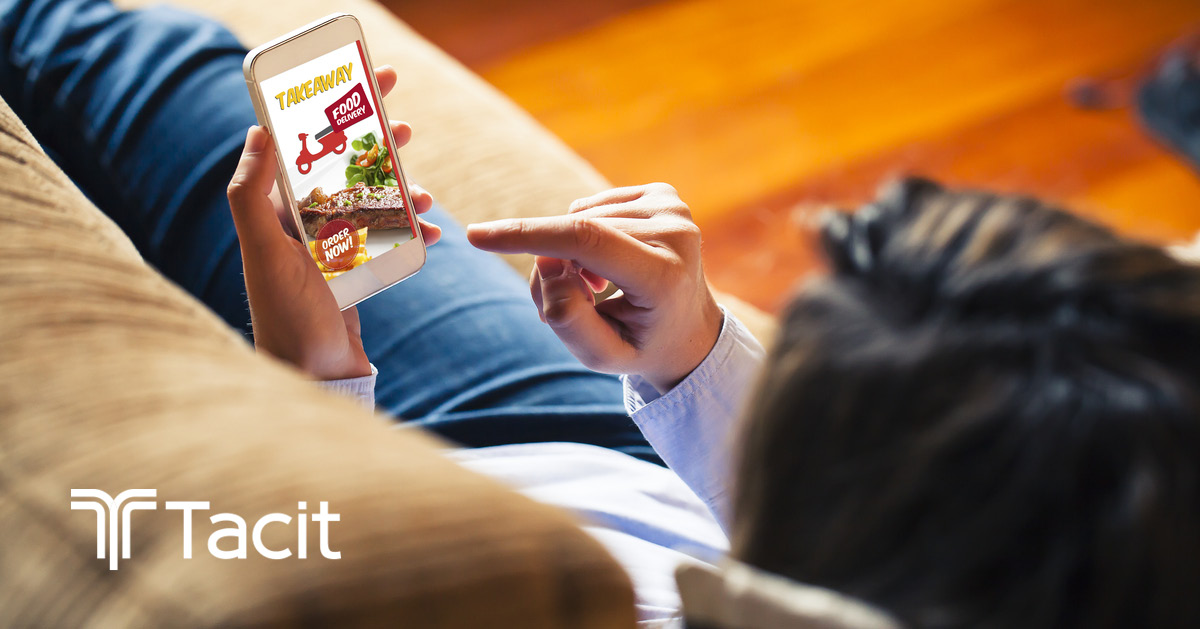 26 Mar

When Restaurants Use Digital Food Ordering, Check Size Grows

In a recent post on the statistics of restaurant delivery and digital ordering, up to 27% of diners will spend more for faster food delivery, and according to Gloria Food, one-third of customers spend at least $50 when ordering food online, compared to $16-$30 in a full-service restaurant. Restaurateurs need to understand the risks of failure to implement digital ordering capabilities, how digital food ordering promotes profitability, and a few tips to further increase revenue.
The Problem With Shrinking Check Sizes in Traditional Restaurants
Shrinking check sizes have been a problem in the restaurant industry for ages. Customers are just not willing to spend extra time in restaurants, and as with any industry, less time in the facility amounts to lower check sizes. However, part of the issue lies with convenience. As convenience increases, customers are more comfortable and likely to spend more money. And where is more comfortable than ordering from their couch in their pajamas, ordering from their phone? That's a convenient for the customer.
Digital Food Ordering Boosts Profitability
The implementation of digital food ordering capabilities can boost profitability in the following ways:
Customers get to make the decision on what to order, reviewing tailored marketing media along the way.
Customers can order from whatever device they prefer.
Customers are more likely to place larger orders to "justify" the delivery charge.
Times requiring convenience, such as ordering lunch while working or when spending time with friends, will lead to more people combining orders to "save money."
Moreover, digital ordering is not just a way to give customers the perception of power over the transaction. It offers real-world benefits to restaurateurs too. Take a Tacit case study example of a high-end burger chain with average check sizes of $35. After implementing digital food ordering capabilities, the restaurant realized sales growth rates of 19% across 10 weeks and an 8.8% increase in the average check size. Furthermore, some Tacit clients have also seen check size increases of 20% over orders called in or placed in person.
"So, what they sold us on pretty heavily is if you can get a consumer to not order through a phone [call-in] but to order through a digital device, you will see a higher check size. AND WE HAVE. We've got just a pretty considerable check size lift when you compare our call-in orders to our online orders. The one big trend is that it's [digital ordering] growing. All the time it's growing, and it's kind of here to stay. It's on the up every month, every year. The percentage grows and the numbers grow."
How to Deploy Digital Ordering to Increase Check Size in Your Restaurant
Deploying digital ordering capabilities can sound complex, but it is important to break down the specific types of ordering to leverage and how to do it right. These include:
Counter and Tabletop Kiosks—

Giving customers the power to order food even without a personal device caters to those interested in technology but unwilling to use their own devices. Kiosks are also excellent tools for putting the power to pay at any time in the hands of customers, literally.

Third-Party Delivery—Third-party delivery must be in use and available through integrated POS platforms. Using third-party servicer-provided tablets is a nightmare in the making. Do not make that mistake. Always integrate first.
Branded mobile apps and websites—Your branded apps and websites are essential in offering mobile-order ahead and giving customers the option to order delivery. Moreover, white label third-party fulfillment is another step to embracing digital ordering and delivery without necessarily investing heavily in in-store capabilities. For instance, Taco Bell and Chili's customers can order food online and for delivery, and while the individual restaurant processes the payment, DoorDash or another provider fulfills the delivery request. Again, this requires integration.
Social media orders—

Social media ordering and engagement is another step in the right direction. However, it is not yet ready for the emoji ordering that is in place in Domino's traditional business model. And, social media is an opportunity to work with third-party services too and recapture higher revenue and tailor marketing to meet customer expectations.
Leverage Technology to Improve Check Size and Repeat Visits Now
Today's restaurants are evolving in response to the growing demand for faster, more affordable, and more diverse food ordering preferences. As restaurants make this move, the average check size will swell and boost profitability, benefiting customers and restaurateurs alike. Find out more about what your restaurant needs to start offering digital food ordering by visiting Tacit online today.