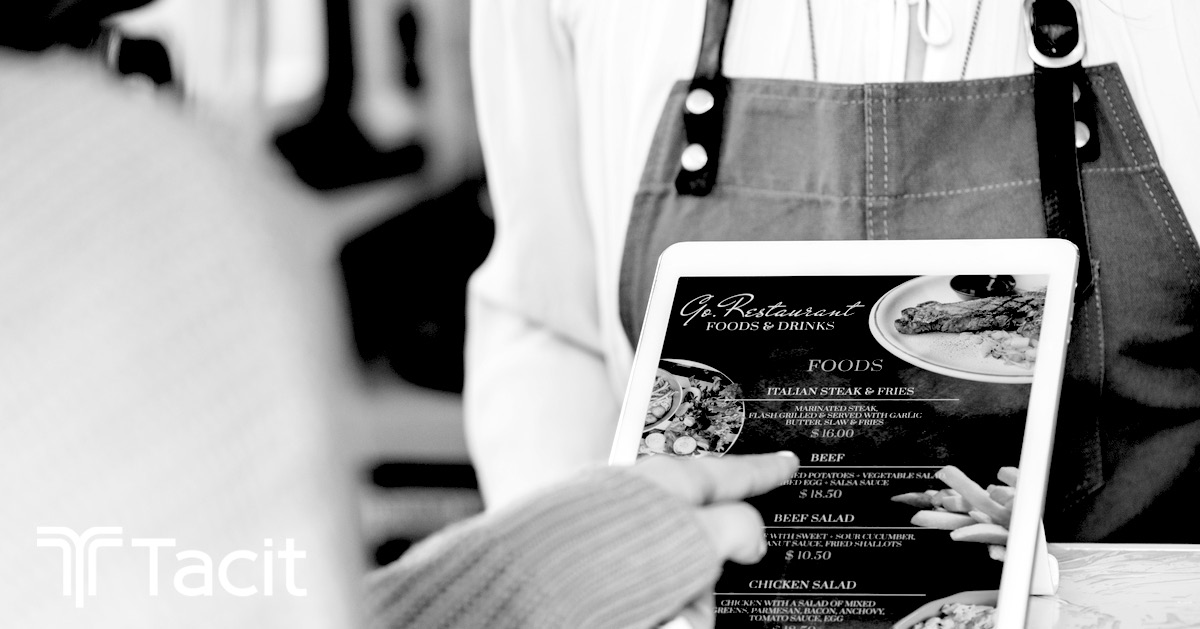 09 Sep

Digital Food Ordering System: The Features Operators Should Expect

There's a simple choice to make when it comes to a digital food ordering system. Build your own, working with a partner who has turnkey digital ordering solutions, like Tacit, or work exclusively with a third-party ordering and delivery service, such as UberEats. It's also possible to meet in the middle—working with third parties and still using an in-house system. According to PYMNTS.com, "Not every restaurant is encouraging diners to turn to third-party delivery aggregators. Many reasons inform the reluctance to rely on them, such as delivery fees and diners becoming loyal to the service rather than to them. As a result, some restaurants have their digital ordering platforms." Regardless of which approach you take, it's essential to know what a digital food ordering system should include. Let's take a closer look at the top core functions of the best systems.
Online Order Aggregation
The first feature is the most important. A comprehensive digital food ordering system must allow for online food ordering. It is vital to distinguish online ordering from simple on-site point-of-sale (POS) systems—even if the POS is not an analog device. A comprehensive strategy should collect order data and provide that information to the kitchen.
For example, a third-party delivery platform, such as UberEats, would aggregate order data and send that data to the appropriate restaurant. Meanwhile, an in-house system would work similarly, collecting data and routing orders to the proper location.
At the same time, offering an online ordering capability itself is associated with substantial financial benefits. As explained by a past Tacit client, "We've successfully reduced total manhours in the kitchen and improved efficiency in the front of the house without incurring major costs."
Ease of Ordering and Integrated Loyalty Program Features
Integrated loyalty program features are another critical component of a successful digital ordering system. Customers that use digital ordering will want the ease of use to reorder their favorites without a lengthy customization process. For example, do you prefer a burger, wheat bread, vegan patty, and no mayo? That will not be a problem with a simple, one-click reorder option, provided you have placed that order in the past.
Additionally, integrating loyalty program features allows upselling new menu items and increasing profitability. For example, guests could collect rewards points that can be redeemed for discounts or promotions during a subsequent order. Guests may also turn to integrated loyalty programs as a marketing tool, receiving notifications from a restaurant on new promotions and effectively using it to place a new order.
Payment Processing and Integration With the POS System
There was a time when an online payment processor was a nice-to-have feature for a digital food ordering system. However, the modern world is quickly moving past the concept of cold, hard cash. Besides, contactless ordering is the new normal. Therefore, this critical component lies within a digital food ordering system's ability to share data directly with the POS system. Besides, payment processing creates an end-to-end payment handling process that creates cashless transactions, removes manual entries, and ensures orders are not duplicated unnecessarily. In turn, it all makes a more sustainable, effective process.
Menu Management
Digital food ordering allows restaurants to manage a digital menu that gives the flexibility to refine, update, and change up menus on the fly and test new concepts.
Delivery Optimization
Digital food ordering system features go hand-in-hand with delivery. However, delivering one order at the time is inefficient. Poor optimization of delivery orders may result in food growing cold, extended delivery times, and worse. An advanced digital food ordering system should optimize the delivery schedule and effectively create positive customer experiences. Optimization also includes live tracking of the order progress and push notifications for customers upon delivery.
Branded Web and App Ordering Options
Any quality digital ordering system should have a two-tiered approach when it comes to how a customer may order. While a website is standard, the best ordering platforms will allow your brand to create its own branded app, using white-label software provided by the vendor. Offering both browser and app-based ordering ensures your customers have the luxury of ordering by an app or using a browser across multiple devices.
Built-In Marketing Tools to Engage With Customers
While similar to loyalty program features, restaurateurs can leverage digital ordering platforms to promote their brands further, upsell menu items, make food recommendations, and even offer a "refer-a-friend" link to guests.
Create Your Digital Food Ordering System With the Right Partner
The best digital food ordering system must be conducive to the nuances of running a restaurant, kitchen, dining room, and delivery service. It must transcend what individual systems fall short in unifying kitchen and restaurant management. And it should always empower your team. Start by looking for a platform that offers everything listed above. And kickstart your implementation by contacting Tacit online today.