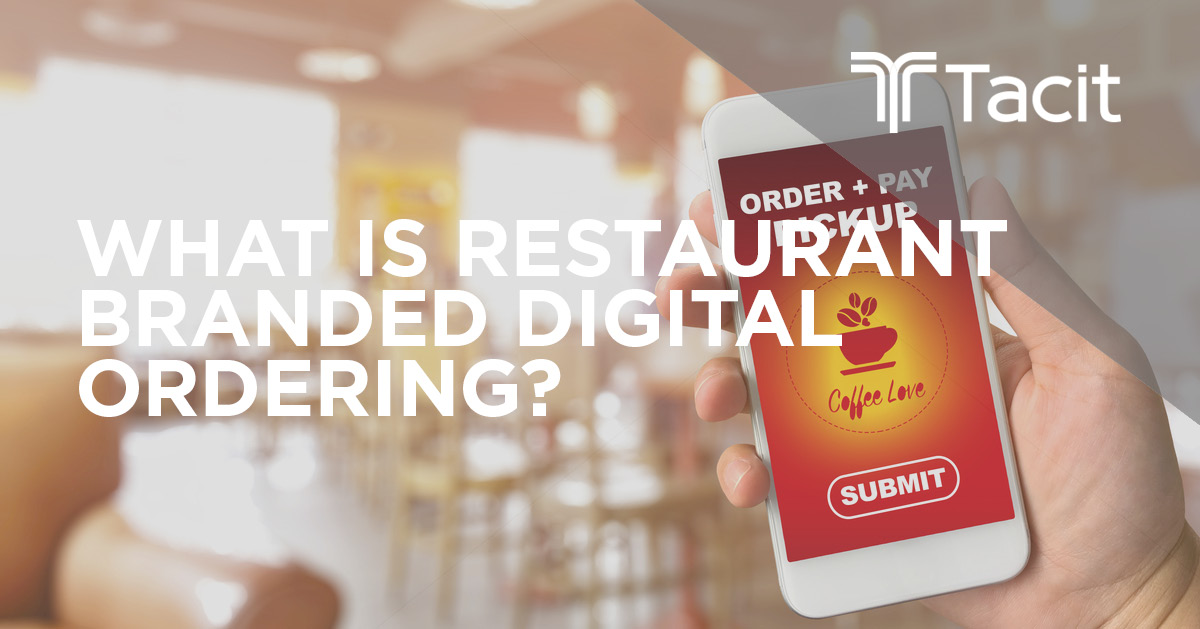 23 Jul

What is Restaurant Branded Digital Ordering?

Branded digital ordering is often described as the final frontier of restaurants. Unfortunately, it barely scratches the surface of possibilities in the industry. Despite the challenges of standing out among the hundreds of competitors listed in third-party apps, more companies are turning to these services to gain a more significant piece of the market. Meanwhile, the value of restaurant branded digital ordering continues to increase, presenting a delicate question; "does a business need a branded digital ordering experience?" To answer that question, restaurant operators need to understand the definition of Restaurant branded digital ordering, its various channels, and the benefits it offers.
Defining Restaurant Branded Digital Ordering
Restaurant branded digital ordering has a simple definition. It refers to the use of a company's own resources, such as its website and app, to enable online ordering. The use of a branded digital ordering solution can help mitigate some of the risks of working with a third-party services provider. Yet, the value of these growing third-party delivery platforms continue to change the game, and companies must look beyond in-house versus third-party service. It all plays into brand value, so branded digital ordering, which should focus on its independent online capabilities, must always include a nod to the use of third-party delivery services. Since third-party services may limit your brand messaging, it is best to focus on company-owned, in-house branded digital ordering capabilities first.
Types (Channels) of Branded Experience
Four primary types, or channels, of branded experiences, exist. These reflect the various ways customers may order food from your restaurant. Of course, brick-and-mortar stores will play a significant role in the online experience, resulting from customers that go to your online brand for its recognition and their level of comfort with your establishment. After making that initial connection, restaurants must focus on these critical online ordering capabilities.
In-Store Kiosks.

In-store kiosks might seem counterproductive in creating positive experiences, moving the experience further away from real-person interactions. However, their continuous operation enables faster service for customers and decreased labor costs for the company. Of course.

Mobile Access, Including Third-Party, and In-House Apps/Platforms.

Mobile access is based on branded apps, including those independent to your company and

partnerships with delivery service providers

.

Web-Based Access Via a Browser.

Depending on your target audience, they may be more inclined to use a web-based platform, so it's important to have a platform that knows your customer base. The key is to analyze the data coming from orders and optimize channels where you see more activity first.

AI-Driven Assistants.

AI-driven assistants are an innovative arena in

restaurant branded digital ordering

, and a few examples of it exist in today's world. Basically, Amazon and other virtual assistants should be integrated with your platform to allow customers to order their favorite foods by simple commands.
Benefits of Offering Branded Digital Ordering Capabilities
Creating a branded digital ordering experience offers key benefits for restaurants, explains QSR magazine, including:
Higher profitability.
Decreased risk for errors during rekeying.
Fewer delays in order management and preparation.
Improved customer service.
Increased order volume.
Fewer customer complaints.
Increased order total due to up-sells.
Implement Restaurant Branded Digital Ordering in Your Business
A branded digital experience is a go-to solution for restaurants looking to survive the increasing threat of competition from entrenched players who are making big moves like McDonald's, to the multitude of virtual kitchens, or those that only do delivery thru digital ordering. While choosing a single solution might not be the best idea for all restaurants, implementing a branded digital ordering experience is an integral part of building brand value in modernity. Find out more about what your business needs to do to succeed with restaurant-branded digital ordering by visiting Tacit online today.