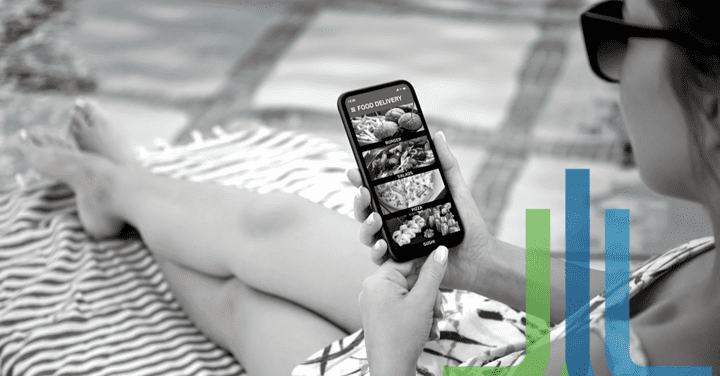 14 Apr

Hotel Technology Trends: These Resort & Hotel Room Technology Innovations to Drive Digital Food Orders

Since the onset of COVID, resorts and hotels have had to adapt to keep their businesses afloat. These adaptations have specifically involved hotel technology trends. The digital world has been a business saver to adhere to safety and health concerns and maintain client satisfaction.

A recent article by FiveStarContent.co states that "Globally, all industries were impacted by the coronavirus, for better or for worse. But hospitality? Well, these businesses are among the hardest hit. After all, hotels and restaurants rely on person-to-person interaction. You know… hospitality and all that. To stay afloat, hoteliers have two options: Shift your services and hotel marketing strategies or close your doors, perhaps for good. This kind of pressure resulted in levels of creativity we don't often see in a rather stubborn, sometimes slow-to-innovate industry."

Shifting the services and strategies to a digitalized world has proven successful and is a hotel technology trend that is here to stay.
Digital Menus Will Help Hotels Stay Flexible
Digital menus create a seamless process for not only the customers but also for the staff. Traditional, outdated restaurant menus often have many choices, while digital menus are much simpler and easier to make modifications. This technology allows kitchen management to easily track products and ingredients, enabling them to avoid an item or creatively adapt to accommodate.
Hospitality technology offers more flexibility by using smartphones and QR codes. The efficiency of digital ordering allows a customer to open their camera and have the menu appear. This hotel technology trend can test new menu concepts and track orders. With the simple click of a button, managers can determine which items are most popular and where adjustments can be made.
Contactless Payment and Roomservice Will Also Encourage Stronger Growth
Room service is the ability to order in and have it delivered to your door, all while staying in. This service has always been a luxury and wasn't always available at all hotels and resorts. While not a new technology in hospitality, it is now a desirable norm and more readily available. Since the onset of the pandemic. A downfall to room service is the fees associated with it. Eliminating the room service fees will enable you to compete with local delivery options.
Contactless payments have also become one of the most significant and crucial hotel technology trends in the resort, hotel, and restaurant industry. It provides a sense of security and is also highly convenient for customers. Many technologies have made it unnecessary even to carry a wallet. This hotel technology trend provides customers with feelings of safety while creating a seamless and stress-free experience.
Healthier, Customizable Meal Options Will Make Tracking Customer Order Details More Important
With many customers being aware of what they're putting into their bodies, there has been a change in dining trends. Customizable, healthier menu options are rising with a demand for more nutritious food and drink options.
Reimagining the fine dining restaurant experience and your meal options will satisfy these expectations as the health-conscious trend develops. Include gluten-free, low sodium, dairy-free, vegan, and other customizable options and substitute fresh, local products for processed foods.
Hospitality technology allows customers to create their orders and make their substitutions and adjustments. This allows for minimal human error on the part of the hotel. Technology makes it possible to know precisely what a customer ordered without a doubt.
Third-Party Ordering Will Get a Bigger Seat at the Hotel Restaurant Table
Another new technology in hospitality is third-party ordering. More hotels are eliminating the headache of in-house digital ordering and are using third-party ordering. This creates an opportunity for hotels to expand their business outside of just hotel visitors. It provides more business during slow periods by delivering orders to local communities.
More Tech and Data Will Help Hotel Restaurants Do More With Less
Hotel technology trends show that more tech and data enable restaurants to do more with less. Automation and robotics eliminate unnecessary staff and processes while simplifying meal preparation, customer service, and other hospitality tasks. Technology speeds up processes, eliminates rework, improves customer satisfaction, and reduces room for human error.
Grab-and-Go Will Rise to Fulfill the Gap Left Between COVID Concerns and Demands for Hotel Foodservice
Many restaurants are taking full advantage of the grab-and-go hotel technology trends to serve their customers better, and quicker while reducing restaurant operating costs. Since COVID, hotel food services have had to adapt their way of operating, constantly adjusting to customers' new needs and demands. Grab-and-go creates a safe, contactless way to continue serving and satisfying customers. Create a specific pick-up area and ensure that packaging is clearly labeled, especially dietary substitutions, for smooth pick-up transactions.
Align Your Brand With the Hotel Technology Trends by Partnering With Tacit
To stay afloat during the pandemic, resorts and hotels have had to adapt to fit the needs and demands of these unique times. Shifting services and tactics to a digitalized world has shown to be beneficial, and it is a hotel technology trend that will continue.
Align your brand with current trends and provide your customers with top-notch technology, healthier food options, and contactless services. Contact Tacit today for more information!