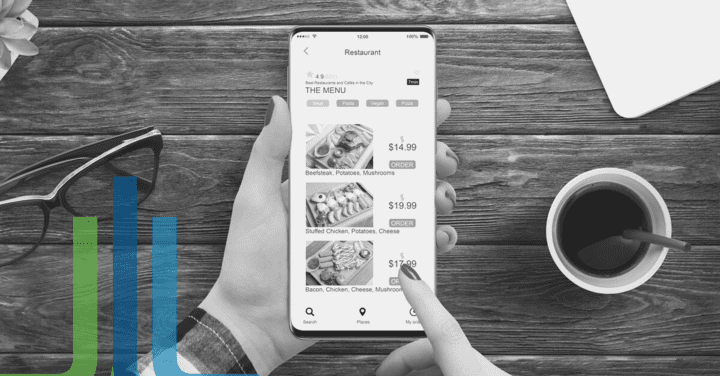 07 Feb

Why Outdated Restaurant Menu Management Leads to Problems for Restaurateurs and What to Do About It

The restaurant industry is constantly evolving. With the growth of digital management in the restaurant ordering process, it is becoming easier than ever for customers to order their favorite meals. Restaurants can use online restaurant ordering systems to manage their menus and make it easy for customers to place orders. In addition, digital kitchen technologies are being used more and more in restaurants to help streamline the cooking process. This allows restaurants to serve their customers faster and more efficiently. As a result, digital management has a significant impact on the restaurant industry, making it easier than ever for customers to get their food fast and enjoy their dining experience.

But that's only the beginning of how technology in the new-world digital kitchen could benefit your foodservice brand.
The Costs of Limited Food Inventory Visibility in the Digital Kitchen
The cost of poor restaurant food inventory visibility can be high. If items are missing from the inventory, or if the inventory is inaccurate, it can lead to lost sales and profit. In addition, it can be challenging to track down the source of the problem if items are not listed on the inventory. Such gaps can lead to wasted time and resources as employees search for things that are not even in the store.
Citing a study by US Foods, "One important restaurant metric to get right is your food cost percentage. In fact, 52% of restaurateurs cited high operating and food costs as a top challenge." Additionally, inflation since 2020 has led to all-time hikes on many everyday food staples. For restaurateurs, this means re-evaluating the menu to know what's profitable and what could be repurposed to drive more revenue.
For example, consider how digital solutions could help get your kitchen inventory in order.
Use Digital Restaurant Menu Items That Support Automated Food Inventory Management
Some digital restaurant menu software comes with features that streamline the process of taking, storing, and managing inventory data in real-time. As a result, restaurateurs spend less time recording their inventories manually, freeing them for more important business-critical tasks like pricing and marketing.
Invest in Digital Restaurant Menu Systems That Can Be Easily Integrated With Digital Kitchen Technologies
This approach will allow you to take digital restaurant orders and share the information throughout all your ordering systems. Also, digital ordering systems are compatible with most digital kitchen technologies, allowing restaurateurs greater flexibility in determining which devices they want to integrate into their brand's digital operations.
Use Digital Management Features to Create Food-Specific Lists For Quick Inventories
Think about the most significant benefits of digital systems and how they usually go back to doing more with less. In other words, restaurateurs could use automated inventory management solutions without wasting time researching what is listed within your digital software platform. Instead, it could all be easily presented and accessible with the push of a button.
There needs to be a streamlined process for ordering food supplies, and technology can play a significant role for that to happen. Having digital management tools makes ordering food easier and helps to eliminate any wasted time spent researching what is listed within your digital software platform. This digital kitchen should help to streamline the process and make inventory ordering more effective for restaurants of all sizes.
Digital Restaurant Menus Add Flexibility to Your Brand
The restaurant industry is constantly evolving. Restaurant owners and managers must order supplies quickly and efficiently to keep up with the competition.
It is crucial to have accurate and up-to-date information about your restaurant's food inventory to avoid problems. Digital kitchen tools such as online restaurant ordering and restaurant menu management systems can help immensely. These systems make it easy to see what items are in stock and what needs to be ordered. They are also great tools for quickly updating the menu when restaurant food inventory changes.
Get on the Path to Better Restaurant Management With More Digital Resources
There is little sign that prices will decline in 2022 throughout the restaurant industry and beyond. Meanwhile, the need to increase efficiency in food inventory management is intrinsically linked to understanding food ordering costs and using technology to make it easier. Many brands have already gotten on the path to better management through digital kitchen systems, and your restaurant can do the same. Connect with Tacit to get started today.