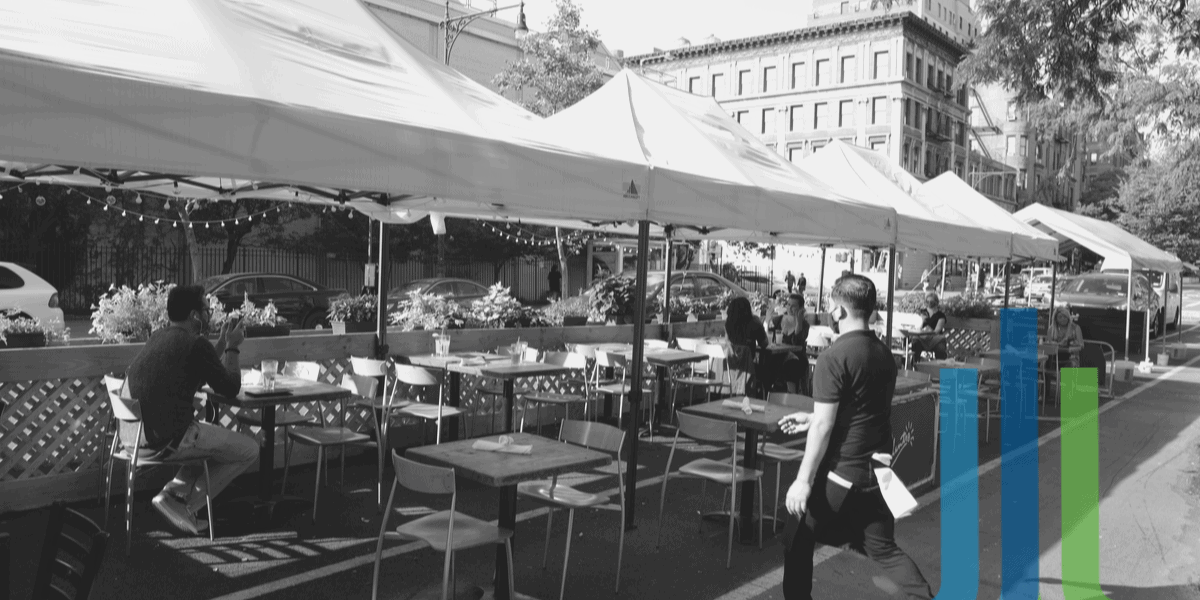 14 Apr

The Great Digital Restaurant Reopening: Steps to Meet Consumer's Pent up Demand

While it is true that the global pandemic has changed the world in many ways, one of the most obvious may be the rise of digital restaurant integration. It's been a chaotic year for the industry. The increased vaccination effort and somewhat confusing government recommendations are pushing people to be hungrier than ever to return to normalcy. People want digital and safe experiences that leverage their intelligent devices', i.e., smartphones and tablets, full functionality, enable anytime, anywhere dining, including outdoors and on patios, and more. As restaurants begin to reopen, managers must understand a few key things about the modern digital restaurant model, how it's bringing in new technology to the patio experience and what it means for reopening as a whole.
Why Restaurateurs Remain Cautiously Optimistic of the Reopening
The restaurant industry is still recovering from a rough last 15 months. According to estimates, more than 110,000 food services establishments permanently closed their doors in 2020. There is, however, reason to hope that 2021 will be a much better year for the restaurant industry.
Pent-up demand for eat-in experiences at restaurants is higher than ever. A recent survey from the National Restaurant Association found that 83 percent of adults said they aren't eating at restaurants as much as they'd like. In fact, a recent Constant Contact survey found that 44 percent of consumers listed restaurants as one of the first small businesses they dream of returning to patronize.
Many managers in the foodservice and hospitality industry faced a dilemma when dealing with lockdowns and heavy restrictions. Either they had to adapt to shutdowns due to pandemic limits and guidelines. Consumers across the board quickly embraced digital apps and innovative contactless food service options. Even as restrictions finally fall away, many consumers still desire that added safety and peace of mind from the new digital restaurant model. And outdoor dining is only one option for increasing the use of space, redesigning the layout and building in new models to improve service. It is a favorable balance between safety and a return to normalcy that fuels reopenings today.
Reopening Will Still Involve a Marked Shift in the Typical Dining Layout
According to a recent study by The Wall Street Journal, 53% of Americans want to return to dine-in restaurants. Others want contactless options. However, there's a clear need to evolve the model to use technology to replicate value and experiences regardless of how they order and get their food. The shift to a digital restaurant model requires some changes to how traditional dining experiences once were:
Moving from traditional buffet-style food services to grab-and-go or made-to-order food options.
Increasing use of outdoor dining areas to promote faster, safer service
Table-side digital ordering and in-seat mobile ordering for reduced face-to-face exposure.
Revamping restaurant interiors to allow for more space and better crowd control measures.
Expanded drive-through, delivery, and pick-up options to reduce dine-in congestion.
Utilization of food ordering apps and dashboards for easy custom ordering.
Advanced payment options to reduce contact and exposure during dining experiences, especially for guests dining outdoors, may further reduce the risk of walk-offs and help management track tables.
Integrated Digital Ordering Will Promote More Engaging Experiences while Limiting Contact Between Staff and Guests
The digital restaurant's innovative nature allows it to integrate quickly and easily with various technologies and tools regardless of whether dining indoors or outdoors. This allows for a more engaging experience for the customer while still ensuring safety guidelines get addressed. Examples of this include:
In-store digital menu-board synchronized with POS and online menu
Integration with Third-party delivery apps
QR codes to replace paper menus and advertisements.
Loyalty programs to promote customer engagement and participation.
Self-serve kiosks for order, pay and self-checkout
Order tracking for pick-up and contactless hand-off options on the patio.
Connected back-of-the-house kitchen display systems to capture and process orders
These possibilities represent just a few ways that integrated ordering helps restaurant managers meet customers' needs and demands today.
Digital ordering will continue to pave the way to recovery
After more than a year of unprecedented change and disruption, things can now start to improve as the digital restaurant concept continues to gain popularity. However, the past year's digital trends must be noted as they cannot simply be erased and forgotten. According to Hospitality Net, these digital trends will be a staple of the industry for some time to come. Experts predict that food delivery apps and mobile-based dine-in services will continue for years to come, whether patio season or otherwise. The best way to promote and preserve brand image is to keep up with these current trends and always stay engaging with the customer.
Outdoor dining was heading towards more use prior to and during the pandemic
In 2020, restaurants had to pivot to outdoor seating quickly as indoor dining was severely restricted. With many states and local governments imposing 25% capacity (or less) on indoor dining, restaurants struggled to find more room for customers outside their regular establishments. Many restaurant operators that had never gone into the realm of outdoor dining were creating outdoor spaces for their customers to have an option to eat at the restaurant safely. Restaurants were now spending resources to purchase and install awnings, pergolas, screens, heat lamps and other outdoor dining essentials in order to increase their seating capacity.
It turns out that the trend of outdoor comfort is just beginning to take flight. After a year of eating in the open air, restaurant customers have gotten used to the great outdoor dining experience. In fact, the same Constant Contact survey found outdoor dining was one of the changes that consumers most wanted to keep in the "next normal."
Additionally, working outdoors with patio service opens the doors to ample new opportunities, tapping the 37% of customers, reports the Office of National Statistics via BBC, that feel comfortable dining outdoors through recovery, while reaping benefits including:
Rehiring staff to support outdoor dining, especially following the winter months.
Maximizing revenue by taking advantage of more space.
Reducing the physical interaction between restaurants and guests.
Improved ventilation to further reduce transmission risk.
Provide an alternate experience by combining the outdoor experience with more features in an app such as seen in delivery that lets the customer know when the food is being cooked and on its way from the indoor kitchen.
Added Tips to Maximize Value at the Time of Reopening
Preparation remains essential for any business, but especially for those in the food and beverage industry. Some helpful tips to maximize value and success during reopening include:
Host a soft opening ahead of time to get consumer feedback.
Network with other businesses for promos and reopening deals.
Give away free food, gift cards, or other perks for the reopening.
Invite members of the media to a special VIP, outdoor opening event.
Market to local workplaces and businesses and offer special deals, like patio side ordering promos.
Prepare social media posts and press releases to stimulate interest.
Emphasize the "patio season" side of the restaurant, bringing interest and safety to the forefront of the conversation.
Preparing for a reopening is challenging enough in the best of times. Considering the nationwide shutdowns and restrictions, digital restaurant trends make it easier for these locations to open safely.
Hit the Ground Running With a Successful, Ready for Outdoors, Digital Restaurant Reopening by Partnering With Tacit
Digital options for food ordering and delivery services have changed the industry in many ways. The best way for managers to prepare not only for reopening but for the future remains by embracing technology and digitization within the industry. Pulling it together represents a critical step in reopening. To be as prepared as possible for both patio season and the reopening,, those in the foodservice industry need to prepare. They must fully embrace the digital restaurant concept and give consumers what they want—safe and convenient dining options. Connect with Tacit to get started.