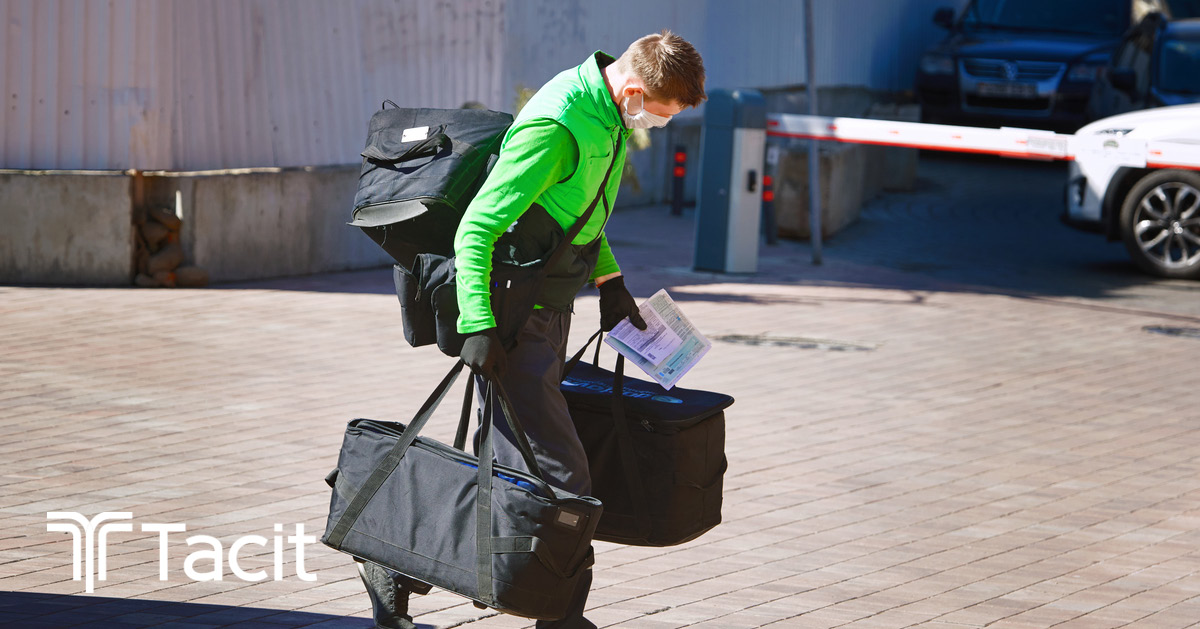 16 Jun

Contactless Food Delivery & Ordering on the Rise & Operators Need Solutions

The recent news over contactless food delivery sounds ground-breaking, but how new is it really? The contactless payment process has been around for years in the form of mobile order-ahead and payment. Guests that have visited restaurants and viewed menus online have also enjoyed these perks. Contactless is everywhere, and the idea of contactless food delivery is only amplified by recent events. Even before 2020 began, restaurants were on track to implement these capabilities, but now, the pressure is at its highest levels. Restaurateurs need to know the value of contactless food delivery and ordering, how those capabilities empower restaurants through technology, and a few steps for maximizing their value.
Driving Forces of Contactless Food Trends
The demand for contactless food options is well documented online. Customers want the safety and security associated with reducing their direct contact with others, and while delivery options have always promoted a degree of minimal contact, zero contact is now the expectation. Obviously, there are real fears behind the movement toward contactless food delivery. People want their favorite dishes and items delivered to their homes or in-restaurant tables without touching a menu, a kiosk, or another device. It's that simple.
Technology Is Essential to Offering Contactless Food Delivery
Contactless food ordering options have experienced strong demand in recent months. These contactless initiatives are also relatively new. And not all third-party restaurant service partners have figured out the best way to leverage the potential of contactless options. For example, according to Business Insider, "DoorDash doesn't have a specific contactless option, but it is telling customers to fill out delivery instructions in the app asking drivers to leave orders outside. Customers can also text a photo of exactly where they want the delivery left, and the company is working on expanding contactless options."
As a result of the surge in demand for contactless options, restaurants need help in implementing the kit and connecting it with the POS, third-party platforms, and more. And Tacit can provide those services, further noting:
"A contactless strategy is essential, but finding the best way to connect contactless ordering options to your existing systems is key to keeping costs under control. Through integration, Tacit maximizes the value-add and lowers barriers to implementation."
Tips for Reducing Contact and Easing Guest Concerns
Restaurateurs that wish to implement a contactless food ordering or delivery strategy should follow these starter tips:
Take advantage of mobile order-ahead and payment options.
Give dine-in customers a way to view your current menu on their personal devices.
Ensure delivery drivers receive all instructions for contactless delivery.
Use data to measure the performance of contactless options.
Integrate the POS with online ordering platforms and third-party aggregators.
Remember to add value to contactless ordering by encouraging enrollment in loyalty and promotional programs.
Be transparent on contactless food delivery and ordering options across your online presence.
Avoid extra touchpoints by integrating the POS with digital kitchen ticket displays.
Have staff follow proper handwashing and CDC guidelines.
Create a customized contactless food delivery and ordering strategy with a clear, proven partner.
Reap the Rewards and Safety Improvements of Contactless Food Delivery
It's a scary world for restaurants. Shrinking profit margins, uncertainty over dining occupancy, and other factors come into play. Fortunately, restaurants with technology-driven menus and ordering options are poised for success. Tacit wants to help you achieve your goals and ensure the safety of your guests, employees, and third-party partners. Learn more about how Tacit can help you reach those aspirations by visiting Tacit online today.