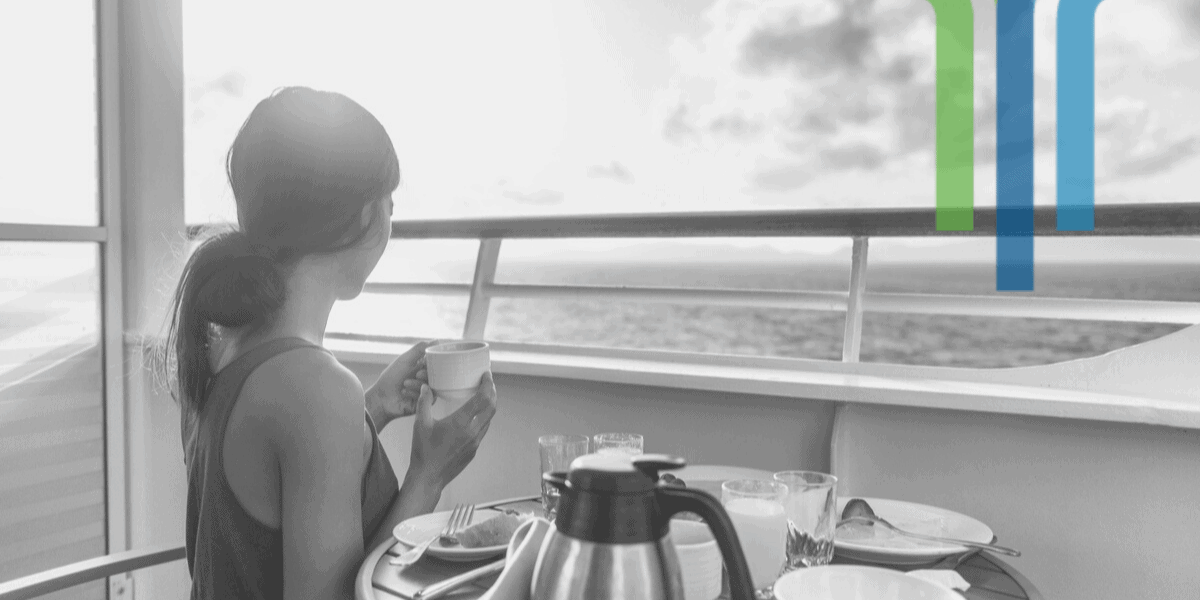 10 Mar

The Return of Cruises in 2021: Cruise Ship Hospitality Hinges on Digital Ordering

Today's customers are frustrated and tired following the continued pressures of the pandemic. While customers want to return to normal, key industries are faced with major challenges. There's the need to ensure customer safety and a gradual need to recoup the losses of the past year. Within the cruise industry, these concerns are very real and reflect the need to rethink everything. The age-old standards for buffet-style, packed-house dining and entertainment will need to evolve. The isolated nature of a cruise means that extra care must be taken to contain any possible risk to travelers. However, digital food ordering systems are offering a way to get back the sense of normalcy. It's important to know why contactless and cruise ship meal delivery is making a splash in this industry.
Cruise Lines Were Gearing up to Digital Ordering Well Before the Pandemic Hit
It's easy to assume the demands for digital food ordering came solely from the pandemic. However, the cruise industry was already well on its way to a digital future before the pandemic hit.
Royal Caribbean had made advances in the realm of digital ordering solutions in late 2019, says The Spoon. "Food delivery has made its way into college campuses, baseball stadiums, and traffic jams. It's been only ever a matter of time before cruise ships followed, and this week, Royal Caribbean announced it is testing a food delivery service onboard its Symphony of the Seas ship.
According to a post on the Royal Caribbean blog, guests can now order food from specialty restaurants onboard via the main Royal Caribbean app."
Clearly, the cruise industry saw a need well before it became an absolute must-have. That's the reality of today's world. It's not simply about meeting a need. It's about meeting a requirement by local, state, federal and even international authorities.
The New Normal Offers an Opportunity to Return to Cruise Lines for Enjoyment and Travel
The fundamentals of the modern world are simple. Cruise lines must and need to offer a safe, contactless way to give guests options without the traditional buffet style or fine-dining fare.
Customers expect contactless, safe sailing. The only way to offer that is to embrace a new normal. At the same time, that will have a resounding impact on the state of the industry. Think about the staff that works for cruise lines. Think about the micro-economies that come from the cruise industry. By leveraging digital ordering and avoiding the traditionally close-quarters of a cruise, these industry giants can regain those benefits.
Cruise Lines Must Align Cabin-Delivery Options With Other Fine Dining Trends
Cruise lines are also working to consider and invest in new digital ordering technologies that align cabin-delivery with other fine-dining trends. For instance, the rate of fine-dining has evolved and even includes delivery-only items. In other cases, customers may wish to prepare their own meals and order certain parts from a menu. In the old setting, that might mean ordering from different restaurants at a single table.
But now, it's a different process. Instead of ordering from multiple kitchens to a table or theater seat on the ship, now customers want the same experience but delivered to the cabin. That's a great way to further limit physical and social interaction while creating an enjoyable experience for travels. It's that simple.
CDC Guidance Mandates Cruise Lines Minimize Risk of Transmission, Meaning Delivery and Careful Care Must Go Into Meals Too
Cruise lines are not just creating these new standards from nowhere. They are following the latest guidance issued by the Centers for Disease Control and Prevention (CDC). As the world looks to the vaccines for hope and a better tomorrow, the CDC still urges extreme caution to cruise lines by asking for increased testing, safeguards and social distancing.
As further explained by NorthStar Meetings Group, that includes a plan with a "first phase [that] calls for testing and safeguards for crew members, 'while these cruise-ship operators build the laboratory capacity needed to test future passengers.' The next phase requires the cruise lines to operate test voyages to ensure that ships meet specific requirements and are able to minimize the risk of Covid-19 transmission. The agency has not issued any further direction for cruise lines since; as the pandemic continues, U.S. cruise lines have extended their operations suspensions again, as noted below. For further details, contact the operators directly."
Take a closer look at that last sentence. The industry is largely left to its own devices and innovations to find ways to minimize risk. It comes with a slight warning: "no further direction thus far." As a result, it's up to each brand to follow the recommended guidance and continue efforts to find the best way to return to operations without sacrificing safety. That's where new technology and digital ordering solutions are coming into play.
Robotics Are Also Helping Cruise Lines to Minimize Risks
Obviously, limiting guest interaction and exposure is ideal. But there's an exciting world of digital ordering adjacent technologies that are helpful in promoting contactless capabilities in cruise lines.
For example, imagine a future of robotic bartenders. That technology is closer than many think. That would immediately reduce the risk of person-to-person spread. There's also an argument that self-serve kiosks for dispensing beverages could be a form of a robotic bartender.
Foodservice managers and leaders at cruise lines can leverage food-ordering kiosks to further enhance and automate the dining and ordering process. After all, any way to reduce the person-to-person interaction will have a positive effect.
Even artificial intelligence-based assistants, like Google, Cortana, and Alexa, could be connected to cruise line systems to enable a near-human experience but using technology to make it happen. It's all part of advancement and creating that in-demand, contactless capacity to get back to some semblance of normalcy.
Cruise Lines Could Integrate Branded Food Loyalty Programs With Their Offerings Too
Another critical way for cruise lines to promote and encourage the use of new technology is simple. There are going to be guests that want to avoid anything related to mitigating measures. In other words, people will want to not wear masks. Some may express views that digital ordering is not good enough.
Rather than turning the experience into a negative, it's better to focus on ways to attract attention to digital ordering from people of all walks of life. In other words, cruise lines could emphasize the added value of digital ordering. How?
That's easy. Cruise Lines must follow a similar marketing strategy to that of restaurant digital ordering in brick-and-mortar and ghost kitchens. That may include prioritizing guest orders based on real-time interactions, promoting new services and meal options across social media, and integrating loyalty programs.
Of all these examples, loyalty programs are perhaps the easiest and most cost-effective way to connect with guests to build that personal touch into the experience. After all, cruise lines are about experience, so why should digital ordering after the ship embarks be any different? That's right. They shouldn't. Loyalty programs create a personal relationship between a restaurant and its customers. And loyalty programs also offer other benefits, such as gathering customer data to improve the experience by catering to their needs, gaining repeat sales, and providing an incentive to gain new customers.
It's a great way to build in more interaction without necessarily going against physical and social distancing measures.
Increase Value in Your Cruise Lines' Foodservice Vendors With Digital Ordering Solutions That Work
Cruise lines need a strong return to normal, but let's face facts. It's never going to be about getting back the identical normal we remember. We will always want to stay cautious. We will always want to ensure our safety. And digital ordering and solutions, like the integration of digital ordering to point of sale systems and other ordering technologies, make that a possibility and true reality in today's world. As the cruise line industry looks to these technologies for value, foodservice managers will have an opportunity to regain more normalcy and meet the challenges or disruptions of the future. But even still, it hangs on the ability to deploy and connect the right software and technologies. Fortunately, Tacit can help. Request a consultation with Tacit to get started today.