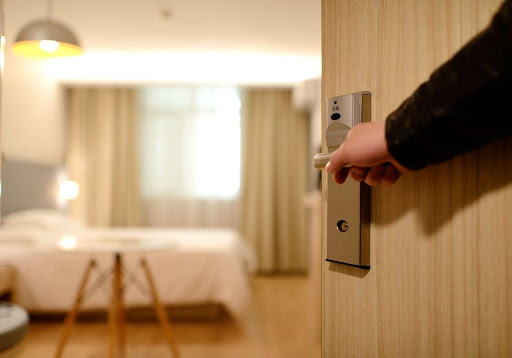 28 Feb

Three-Pronged Digital Strategy to Improve Hotel Revenues

Hoteliers are speeding up their digital transformation to provide safer and more convenient guest experiences post-pandemic. They're focused on digitizing internal operations, automating marketing and communication, as well as providing seamless tech-driven customer services, including hotel room service apps. If you're looking to modernize your hotel operations, this article is for you. Here's a full-proof digital strategic plan for you to satisfy guests and also increase your business bottom line.
Digitize internal processes
You can enjoy many visible benefits from the digitalization of internal processes, namely reservation, distribution, task management, guest engagement and maintenance. You can generate efficiency gains and savings with an integrated hotel management system that allows you to control all operations—front desk, housekeeping department, finance, and accounting—from anywhere, at any time. With the streamlined and organized process, hotel managers can increase bookings, improve finances, and ensure an elevated guest experience.
Automate sales, communication, and marketing
Seventy percent of hoteliers in Asia, Europe, and North America are inclined toward digitizing hotel information for their guests. Meanwhile, 57 percent are looking to digitize the check-in/check-out process. On that note, here are some proven ways to ace your sales and marketing game:
dedicated tools for digital lead generation, and prospect pitching;
AI-driven customer support and chatbots;
virtual hotel and room tours on the website;
automated emails about personalized offers, deals, vouchers, and rewards programs;
data-driven automated upselling and cross-selling of hotel products.
By automating communication initiatives, you can streamline routine work, enjoy more time for forging personalized relationships, and relieve your hotel staff of time-consuming processes. You'll also enjoy increased market penetration and hotel bookings.
Modernize guest experiences
Twenty-four percent of hoteliers in Asia, Europe, and North America believe that improving the guest experience is the main reason for using technology. Nowadays, customers expect contactless, personalized experiences to feel safer. And hoteliers who are quick enough to respond to the needs stay afloat by offering services such as:
mobile check-in and out services, contactless room access, and mobile concierge apps;
smart technology within guest rooms, such as voice-controlled access to in-room amenities like entertainment system, thermostats, and light control;
hotel room service apps offering smart delivery solutions.
By offering digital solutions, you'll reduce operational costs and improve guest satisfaction. And with loyal customers, you improve your brand positioning and hotel revenues.
Re-imagine the Guest Experience with Tacit
Only when you consider digital transformation outside the narrow window of processes and tie your transition to customer expectations and concrete business results – can you be successful. Smart delivery solutions are revolutionizing the restaurant industry and replicating the model in your hotel can bring results.
Incorporating digital ordering into your food operation system has many benefits. By leveraging branded hotel food ordering applications and QR-code ordering, you can offer safer and more convenient dining options to guests. And with customer data on food preferences and order history, you can personalize future offers and make re-ordering easier. It also positions your brand as a modern, evolving business optimizing for the future.
Are you interested in integrating digital ordering into your hotel's in-room dining or corporate dining services? Tacit can empower your hotel to provide seamless digital ordering experiences.
As a leader in omnichannel digital ordering for the hospitality industry, Tacit will help you set up and create a digital food and beverage ordering experience. Contact us if you're unsure how to get the digital ordering done right for your hotel. You can even speak to a specialist and get started with us now.