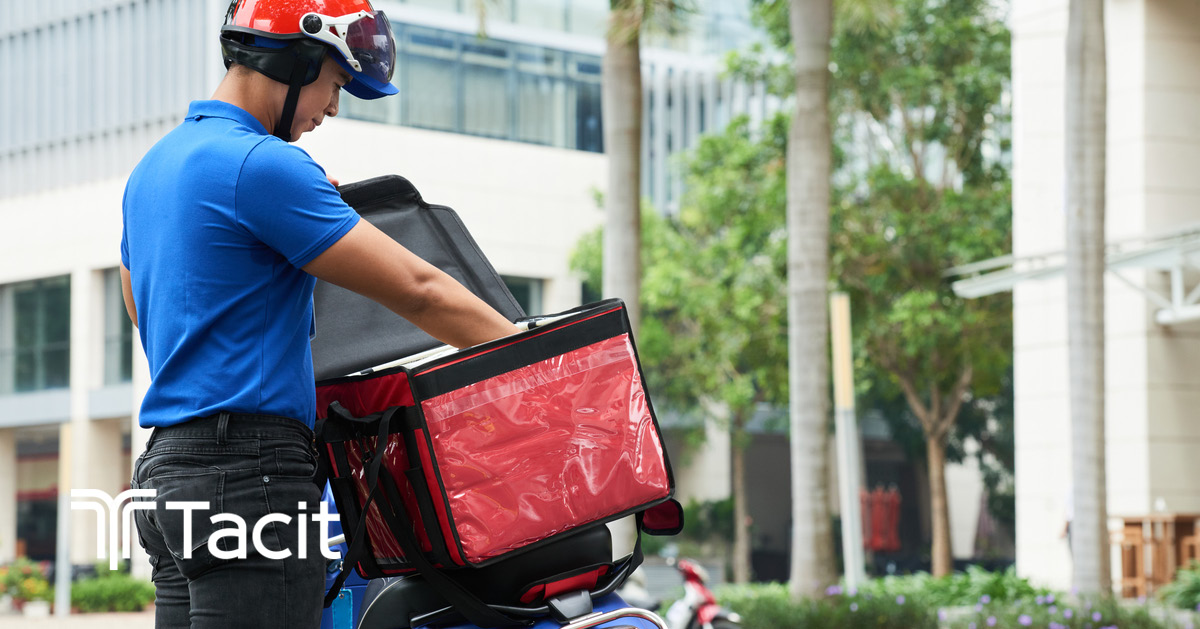 04 Feb

The State of Third-Party Food Delivery 2020

Third-party food delivery 2020 is about much more than just outsourcing for delivery to third-party aggregators and hoping for the best. Through advanced technology and a commitment to POS integration, more restaurateurs are finding ways to increase profitability, hold third-party aggregators accountable, and deliver better customer experiences. Even restaurateurs that have strayed from online ordering and third-party delivery know it is essential to their success.

A past Tacit client noted the intense demand for the use of third-party food delivery 2020 will see:

"You're a fool not to be involved in the third-party delivery ordering platforms because you're just not going to capture the consumer that's looking for something to eat and going into that online food court. You have to be available there. We've also found that a guest does not cross over that much. It's not as if that guest that was walking into the restaurant yesterday is now today ordering it through a third party. The consumer is different."

Clearly, the state of third-party food delivery 2020 is an essential steppingstone to continuing customer engagement and building lasting, positive experiences.
Third-Party Food Delivery 2020 Grow Rates Will Lead the Industry
The most astonishing factor affecting the third-party food delivery 2020 stage is the continued growth of third-party services. While a time existed when third-party delivery seemed like nothing more than a passing trend, it has become fundamental to the restaurant industry. Unfortunately, the aggregators remain disparate, localized to regional markets and unable to achieve nationwide coverage. Therefore, the industry will see the continued growth of existing third-party services in the attempt to achieve a nationwide balance of more orders and faster, better service.
A Modernized Drive-Thru Will Combine Pickup Options for Third-Party Drivers With Traditional Service
Restaurant renovations form another key trend affecting the state of the industry. Restaurants across the country have taken the steps necessary to remodel their interiors and exteriors to reflect a growing demand and capability in third-party food delivery 2020. For example, modernize drive-thrus will speed the pickup processes for delivery drivers and provide a way to avoid bottlenecks caused by such drivers. The end result is the same; restaurateurs need to ensure on-premise dine-in customers do not feel their value is put aside in favor of delivery and vice versa.
Meatless Options Continue to Highlight New Trends Among Customers
Changing menu options will be another key trend in the coming year. More restaurants will look to offer meatless and healthier alternatives to traditional delivery. At the same time, more options will naturally increase the complexity of food transport. Third-party food service drivers will need to understand how to avoid potential contamination and deliver fresh-prepared mills that do not lose their appeal.
Third-Party Restaurant Delivery Is Growing More Complicated
Did you notice the mention of them portents in not contaminating food? The past year saw multiple incidents where delivery drivers took malicious actions against customers of third-party restaurant delivery aggregators. To eliminate all risk, more restaurants are looking at ways to guarantee foods are safely transported and not contaminated when they leave their establishments. Yes, this will make kitchens and the work of drivers more complicated, but it is necessary for safety.
All Companies Are Expanding
The third-party foodservice delivery industry will continue to expand throughout the year. According to Second Measure:
"Sales across this industry are growing, but DoorDash's growth stands out. The company saw an unparalleled 97-percent year-over-year jump in December, and there's much speculation about whether the company will IPO or even do a direct listing in 2020.
In December, sales for the industry as a whole rose 31 percent year-over-year, as more Americans realize how much they like eating restaurant meals at home. In fact, by the end of 2019, 26 percent of American consumers had ever ordered from one of the services in our analysis, up from 20 percent a year ago."
Position Your Restaurant for Success by Understanding the State of the Third-Party Food Delivery 2020 Market Now
Today's restaurants already operate under shrinking profit margins, and, increasingly, demanding customer base, and the need to be everywhere. It is a tumultuous time, but restaurateurs are up for the challenge. By understanding the state of the industry and the real growth and trends within third-party food delivery service providers, they can achieve success and move their organizations into the next decade efficiently and profitably. Find out what your organization needs to do to achieve success by contacting Tacit to talk to us about digital ordering solutions, including third-party food delivery, today.