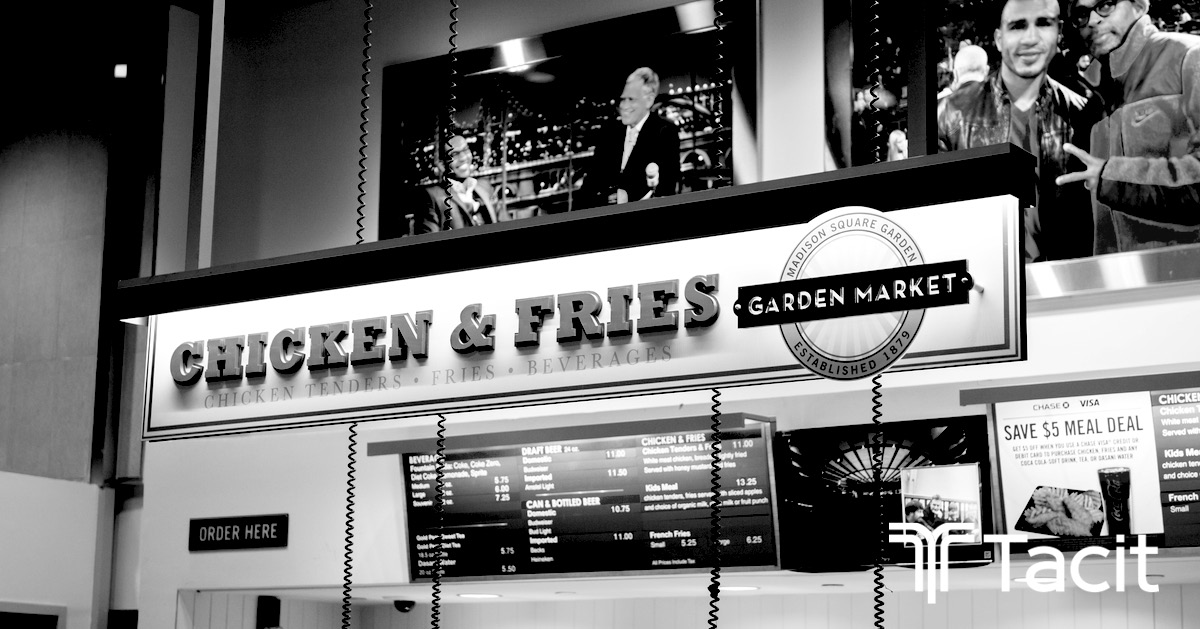 02 Sep

Digital Food Ordering for Entertainment Venues Make Customers Happy & Improve Experiences

Digital food ordering for entertainment venues is the next big opportunity for easing customer worries and offering a contactless, faster way to get their favorite foods. And that does not end solely at businesses based around restaurant services. Consider this; according to PYMNTS.com, "mobile order-ahead was once solely the domain of QSRs and coffee chains, but it is now reaching other industries. Disney is offering mobile concession ordering at its California and Florida amusement parks, and several universities are introducing similar options at their on-campus dining halls. Such services are gaining ground at sports venues, too, with teams such as the Detroit Lions rolling out options that help fans skip long lines and avoid missing big plays." Entertainment venue managers and food service workers need to understand a few things about how this new opportunity solves the challenges of traditional ordering, why it is a safer alternative, and it's added benefits for better management and service.
The Problem With Traditional Ordering in Entertainment Venues
Take a moment to think about traditional ordering practices in entertainment venues. It might involve concessions stands, placing an order, and waiting around in a crowded space until the item is ready. While that worked in the past, ordering has evolved in all areas of food orders during the pandemic. Customers want a contactless ordering and delivery option.
The irony of this is that customers and businesses often associated contactless ordering and delivery with deliveries to homes and third-party locations. That's not reality. Customers at entertainment venues want the freedom to order their favorite items, get them delivered to their seat, table, or location in an amusement park, and do everything with seamless ease.
Digital food ordering for entertainment venues is the solution.
Digital Food Ordering for Entertainment Venues Streamlines Workflows
Part of the reason that entertainment venues are so heavily interested in contactless, digital food ordering for entertainment venues goes back to the basic business needs of profitability. In recent years, stadiums and event venues have sought opportunities to increase profitability. Some operators, unfortunately, do not yet believe that entertainment venues are as apt for digital ordering as the quick-service restaurant space. Then, the pandemic changed the game. Customers and staff wanted a "frictionless, contactless service," says Patricia Cobe of FoodService Director.
In addition, the way food is served to guests at entertainment venues is changing. To keep up with contactless, health-conscious measures, more venues are looking to eliminate possible sources of cross-contamination. According to Cobe, "condiment stands will disappear, replaced by individual packets of mustard, ketchup and mayo, and communal containers of relish and chopped onions should be a thing of the past. In the luxury suites and dining clubs at sports and entertainment venues, lavish buffets and spreads won't seem as appealing to a public that just experienced a pandemic."
It's also important to consider that entertainment venues include casinos and the opportunity to reach more customers that may not necessarily be able to enjoy a big buffet in the post-COVID world. In fact, casinos are now taking advantage of online ordering from slot machines to afford another layer of convenience to guests. As explained by Jennifer Hamilton, Beverage Manager at Pechanga Resort and Casino in Temecula, California, reports CDC Gaming Reports:
"It can take 20 minutes to get to a guest, and you're on a hot streak, you don't want to have to get up and leave your machine to go get a beverage. But now, there's a new way to order drinks on demand, with a digital menu built right into the machine you're playing. It enables people to order drinks right from their slot machine. They never have to get up."
That ability to turn more orders and satisfy more customers is the core value of digital food ordering for entertainment venues.
How Digital Ordering Creates Additional Benefits and Revenue Streams for Entertainment Venues
Obviously, consumers that have a more pleasant, contactless, and convenient experience are more likely to spend more money at a given establishment. This is the same whether an entertainment venue is a movie theater, and live-action theater, an amusement park, sports arena, or a casino. The ability to get what you want, faster, and without added expense is simply the best path moving forward.
With that in mind, digital ordering does create additional benefits and revenue streams for entertainment venues.
For example, the concern over contactless ordering has paved the way for entertainment venues to fully embrace mobile ordering and payment processing. Essentially, customers still place orders online, and they complete the purchase during the transaction. This eliminates the need to manage physical currency and streamlines reporting. Those reporting capabilities are not just vital to the financials of the business. Depending on the type of venue, such as a franchise location within an amusement park, that reporting helps to reduce fraud. It creates a traceable record that can be integrated with existing systems to test the new menu concepts, provides tailored, customized marketing materials to potential consumers, and encourages better check sizes. This was further reiterated by a past Tacit client:
"In the past, we have experienced problems keeping reporting straight due to the sheer volume of servers and customers at our venue. Working with a digital ordering solution and bringing the traditional concessions experience closer to consumers, we are better able to manage workflows, keep financial records intact, and maintain healthy year profit margins by pivoting to a data-driven mindset to improve business decisions based on reliable, real-time data."
Choose the Right Technology Partner for Digital Food Ordering for Entertainment Venues to Reap All the Benefits
Creating a competitive advantage in entertainment spaces is going to be even more challenging in the post-COVID world. For the food component in entertainment venues, digital food ordering for entertainment venues will help to attract and retain customers, grow profit margins, and maintain a safe environment for customers and staff alike. Learn more about how your brand can embrace digital food ordering for entertainment venues by visiting Tacit online today.