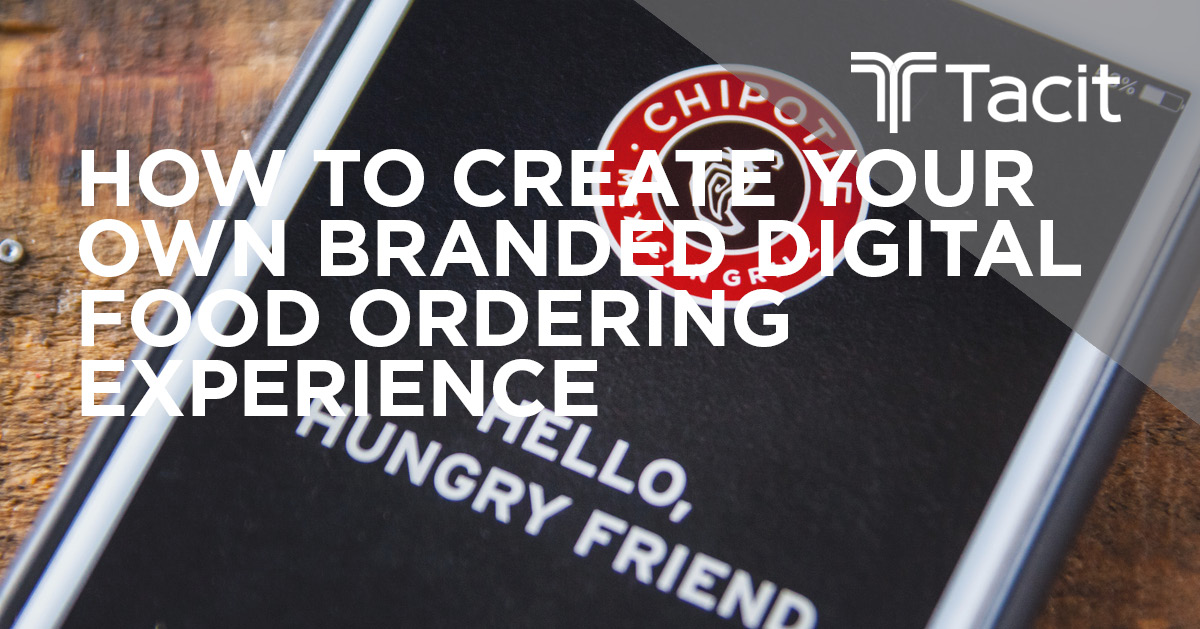 01 Aug

7 Steps to Create Your Own Branded Digital Food Ordering Experience

Developing your own branded digital food ordering experience, including developing your own mobile app, ensuring your online ordering platforms work seamlessly together and are integrated into your existing point-of-sale (POS) system, is a complex undertaking in modern restaurant management. In fact, a recent Restaurant Times report found 40% of consumers prefer online ordering, so restaurants that do not implement online ordering capabilities and branded digital food ordering experiences will face setbacks and stiffer competition from their competitors. Instead of risking the future success of your business, follow these steps to create your own branded digital food ordering experiences.
1. Enable Online Ordering, Payment, and Delivery/Takeout (If Applicable)
The ability of a company to create branded digital food ordering experiences depends on the ability to enable online, digital food ordering. Although this might seem like the apparent need for restaurants in today's world, some companies still believe outsourcing the entire process to third-party delivery services, including Uber Eats, is preferable. However, consumers will want to have at least the option of downloading a branded mobile apps and accessing the company's online ordering platform.
2. Deliver to Customers, Regardless of Location
An often-overlooked aspect of branded digital food ordering experiences is the limited area for which they serve. In today's world, it is not enough to limit your delivery service area to the immediate area adjacent to your restaurant. As a result, it may be necessary to implement processes and programs for delivery within your restaurant and tap into the value of third-party delivery service providers to expand your delivery service area.
3. Ensure an Accurate, Amazing Menu
You branded digital food ordering platforms should reflect the latest details and changes on your menu. Most importantly, the menu should be consistent across all available food ordering channels. Furthermore, strive to keep the menu simple in its initial presentation, giving customers abilities to drill down into menu items to customize preparation, cooking, and more.
4. Give Customers Order Tracking Tools
The recent revelations of online ordering capabilities are built on the years of experience from major brands across the country, including Domino's. Although customers are happy with the ability to know when an order is dispatched for delivery, more information about the preparation and packaging process, including when foods are first prepared, when they enter the oven, when they leave the store and where the driver is currently located, give restaurants the ability to connect with consumers and offer a fantastic experience. The added peace of mind lets customers know when their orders will arrive, further refining their personal preferences for online ordering.
5. Implement Quality Control Initiatives, Including Verifying the Accuracy and Completion of Add-Ons and Extras Within the Order
One of the biggest mistakes companies make when creating branded digital food ordering experiences derives from the lost opportunities when add-ons and extras are missed. Restaurant operators need to implement a standard procedure for verifying all orders have the appropriate add-ons, explains QSR magazine, including those that come with each order, such as utensils or condiments. Furthermore, restaurant operators should take the extra step of giving customers the option of adding specific extras to their cart before placing an order.
6. Ensure Customer Information Is Accurate
The wrong information within your branded digital food ordering platform will lead to an upset customer. Instead of waiting until an order arrives to check it for accuracy in the address, your branded digital food ordering platform should verify customers' addresses, including recommending changes to that address based on GPS addresses and more.
7. Incorporate Digital Food Ordering/Management into Employee Training
Developing branded digital food ordering experiences also depends on the consistency of the experience. Therefore, it is essential to train all employees on how to manage digital food orders, including directing delivery drivers to the appropriate pickup counter, giving customers more information where possible, and consistently communicating with the kitchen to maximize workflows.
Develop the Best-in-Class, Branded Digital Food Ordering Processes Now
Digital food ordering is the new standard for modern restaurant management and how customers interact with staff. Stop wasting time trying to capture the digital market with sub-par programs and platforms. Instead, choose an experienced partner for improving your digital food ordering capabilities, such as Tacit. Learn more by visiting Tacit online today.