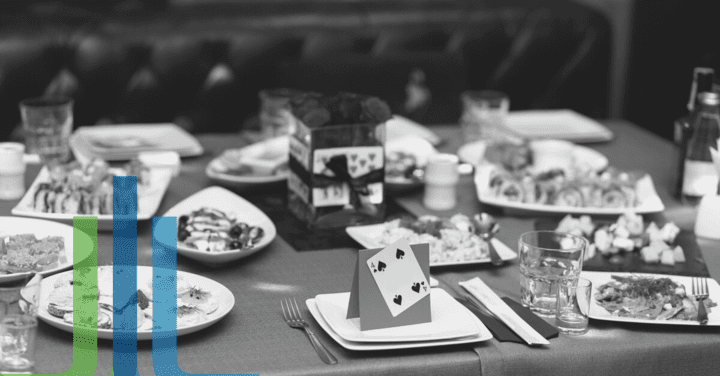 26 Jan

Benefits of and Considerations in Implementing a Casino Loyalty Program for Foodservice and Beyond

Casino loyalty programs have long since been available for gamers and those interested in staying at the venues. However, the past two years have dramatically reshaped the industry. Now, casino brands face the need to encourage customers to stay, play and enjoy their time through loyalty programs.

A casino food loyalty program goes a long way toward this goal, but the real value lies in integrating all customer service offerings under one rewards program. And major brands, including MGM, have recently announced plans to do just that. As reported by the Las Vegas Review-Journal in early January 2022, MGM Resorts International made its MGM Rewards program permanent, saying "participants can earn points when they play, dine and stay at MGM Rewards destinations. They also get discounts to shows and are guaranteed the lowest room rates available when booking directly […] In addition to earning credits for dining, entertainment and hotel stays, players earn 'Slot Dollars' for slot-machine and table-game play that can be used for resort transactions."
The Core Benefits of a Casino Foodservice Loyalty Program
That opportunity directly leads to the major benefits of operating a loyalty program at a casino, which closely mirrors restaurant foodservice loyalty programs, reports RestaurantWare. Such benefits, therefore, include:
More access to and acquisition of customer data. Customer data is powerful. It helps individual brands know what customers want from each experience, enabling brands to tailor guest experiences accordingly.
Increased customer spending. Rewarding customers is not simply about encouraging a repeat visit; it also includes spreading brand awareness. Creating and nurturing brand ambassadors is critical in an industry where profitability fell steeply during the uncertainty of the past two years. Furthermore, changing brand needs, such as redesigning the dining areas or offering new ordering options, can be put front and center to customers to help increase such awareness.
Better customer experiences. Customers are creatures of habit, and using technology to offer a "freebie" creates reliable customer experiences. Casinos can also offer referral rewards to attract new customers, provide discounts, free delivery, and perhaps even a secret menu. There are many ways that today's casinos could create more engaging experiences through a digital casino food court loyalty program.
Higher average ticket sizes. Much like the restaurant industry, casino food service depends on encouraging customers to add more to their carts. With the mounting pressure for digital ordering and diverse dining options, casinos could use such pressure to encourage customers to order foods and drinks for take-out or delivery. Through more casino loyalty, brands immediately can increase the number of tickets fulfilled, and by connecting to the loyalty program, casinos can encourage customers to place bigger orders. After all, customers that value comfort and convenience are more likely to place a larger order, especially if an existing promotion is available.
Promotion of other casino events and entertainment experiences. Promotions are not limited to food service in casinos. As entertainment venues, casinos could offer loyalty rewards and perks relating to concerts, conferences, and hot-ticket shows. The whole idea is to simplify and streamline the guest experience. Imagine how easily customers might be encouraged to purchase a souvenir if they can do so from the convenience of their smartphone, pay for their meal and concert ticket, and still gain rewards to redeem on the game floor.
Considerations When Implementing a Casino Food Loyalty Program
Even with that in mind, there are still a few factors that casinos need to consider when launching a rewards program, including:
The ease of digital ordering for customers. Customers will want an easy, digital ordering experience. A user-friendly solution is essential to creating contactless and stress-free ordering experiences that have become standard in today's world. Further, digital ordering eliminates the risk of errors in orders and helps to ensure customers get exactly what they want.
Ensure it's easy to enroll in the casino food loyalty program. Even with the best-laid plans for creating rewards and encouraging enrollment, casinos also need to consider how easy it is to enroll. RestaurantWare further explained, "Another issue you'll want to keep track of is the enrollment process. Make sure that signing up for your loyalty program is quick and easy. Many customers turn away from loyalty programs simply because enrollment is too difficult or too long of a process. Even millennials will turn away from their screens if the enrollment process takes up too much of their time." Therefore, more brands are turning to integrated systems that make enrolling an automatic process when ordering a meal or booking a room.
Integration between POS and gaming systems to track spending. Any plan for a casino food loyalty program must prioritize integration. Customers will inevitably be spending money on both gaming and foodservice. Therefore, they should have an easy way to "log in" to individual machines, have dealers scan their digital reward cards, and track it all in one place. This is likely the casino's app, but everything still requires integration to be successful.
How customers can redeem available rewards. Another factor is how casinos will allow customers to redeem rewards. A seamless solution with integrations will be integral to the customer experience. For example, customers that receive automated alerts for available rewards are more likely to visit the establishment, place an order and stay for a game. Plus, there is no limit on what type of rewards are available. Casinos might offer bonus plays, student discounts, free desserts, buy-one, get-one items, gift cards, and more through the app and program. It's up to each brand to decide what offers will yield the best benefits.
Customer preferences for dine-in, take-out, or gaming floor orders. Lastly, casino food loyalty program implementation should have clear standards and accommodations for different customer preferences. While primarily an entertainment venue, casinos must not rule out customer experiences. Some may prefer to dine-in, order take-out, or perhaps order casino room service. The options are limitless, but the key is for casinos to recognize what each customer wants and use that information to their advantage.
Get on the Track Toward Casino Food Loyalty Rewards for Your Brand
Any plan for success in the casino and entertainment industry must evolve with the times. Implementing an all-inclusive rewards program is likely the best option for attracting and retaining customers through waves of disruption. Brands that wish to put the power of technology to work need only recognize the value of choosing the right technology partnerships. Tacit can help with that need. Request a consultation with Tacit to get started today.