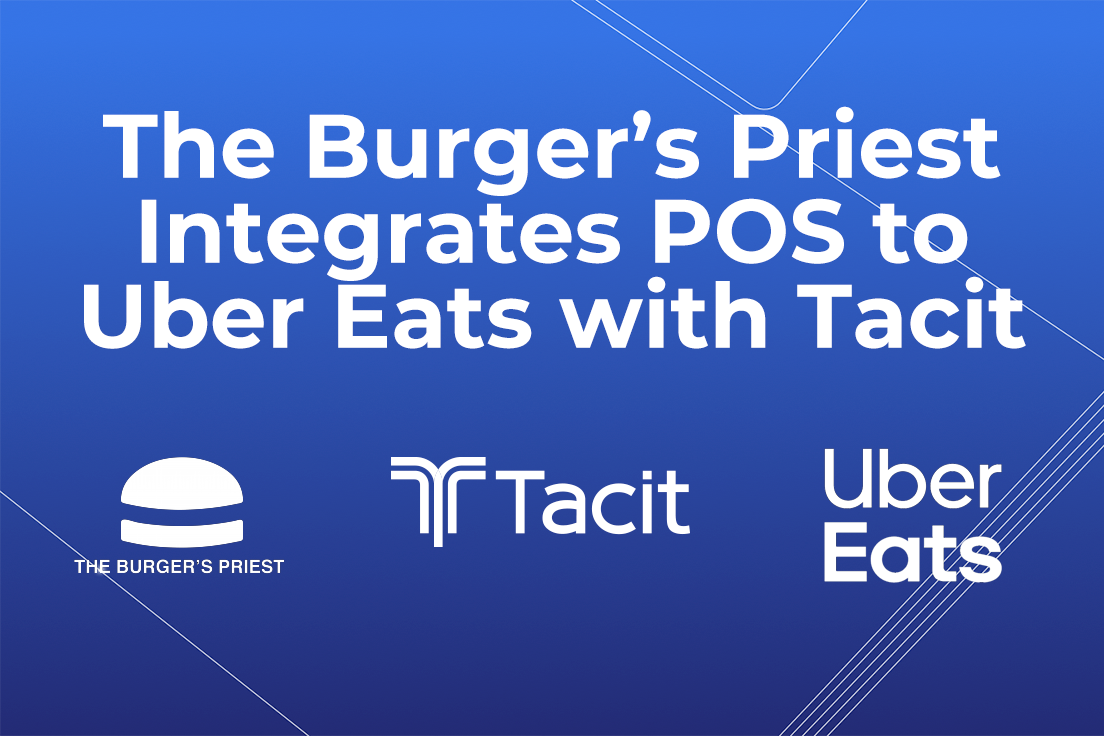 23 May

Tacit Corporation Announces Launch of POS Integration with Uber Eats for The Burger Priest Restaurants

Restaurant chain increases efficiency at the store level by 90% by processing Uber Eats orders directly into the Point of Sale

Toronto, Canada. May 22, 2019 — Tacit Corporation announced today that they have successfully launched an integration that enables Uber Eats orders to be entered directly into Burger's Priests' Point of Sale (POS) system, reducing errors and increasing efficiency.

This integration marks an improvement in the current system that most restaurants use to process orders from third-party food ordering systems like Uber Eats, whereby an employee receives the order and then has to re-key it into the restaurant's POS system. Recent market research study carried out by Tacit found that it takes a restaurant employee between 90-105 seconds to re-key and process these incoming orders; additionally, during peak time there can be up to a 15% error rate on re-keyed orders.

Tacit has years of deep experience with POS integration for hospitality companies. Alex Rechichi, CEO of Crave It, the multi-brand restaurant group that owns The Burger's Priest, introduced Tacit to Uber Eats to integrate its in-restaurant systems.

"We are excited to expand our vision of improving restaurant efficiency in the delivery marketplace segment," said Cris Jucan, CEO of Tacit. "We are looking forward to expanding our omnichannel ordering platform to increase the operational efficiency of our clients"

"We are excited to announce our integration with Tacit and Burger's Priests' Point of Sale system," said Matt Alexander, Head of Canada Partnerships for Uber Eats. "We look forward to working together to increase efficiency to this space."

"We couldn't be happier," Rechichi said. "Any time you can take steps out of your ordering process, it's a win. This one is a big win because the customers are now effectively entering their own orders directly into our POS. It has helped eliminate the costs associated with human error at the restaurant level".
Digital Ordering & Payment Made Easy
Tacit helps the largest hospitality companies in the world increase revenue and lower operating costs with its multi-channel, easy-to-implement digital ordering solutions. Tacit's self-ordering solutions are delivered via digital channels, including fully branded apps, websites, tablets, in-store kiosks and customer service applications. For more information, please visit www.tacitcorporation.com
About Uber Eats
Uber Eats is an on-demand food delivery app and website that helps bring millions of people around the world the food they want, at the tap of a button. We partner with over 200,000 restaurants in more than 500 markets across 36 countries and six continents to offer meals for every taste and occasion. From specialty local favorites to everyday national brand names, Uber Eats offers millions of dishes, reliably delivered fast and fresh in as little as 30 minutes.
Burger's Priest
We are a classic cheeseburger joint. We grind a custom blend of ultra-premium beef. Our beef is always fresh. We cook our cheeseburgers on a flat top griddle not on a charcoal broiler. We believe in purity, simplicity and over a hundred years of grilling and grinding techniques.