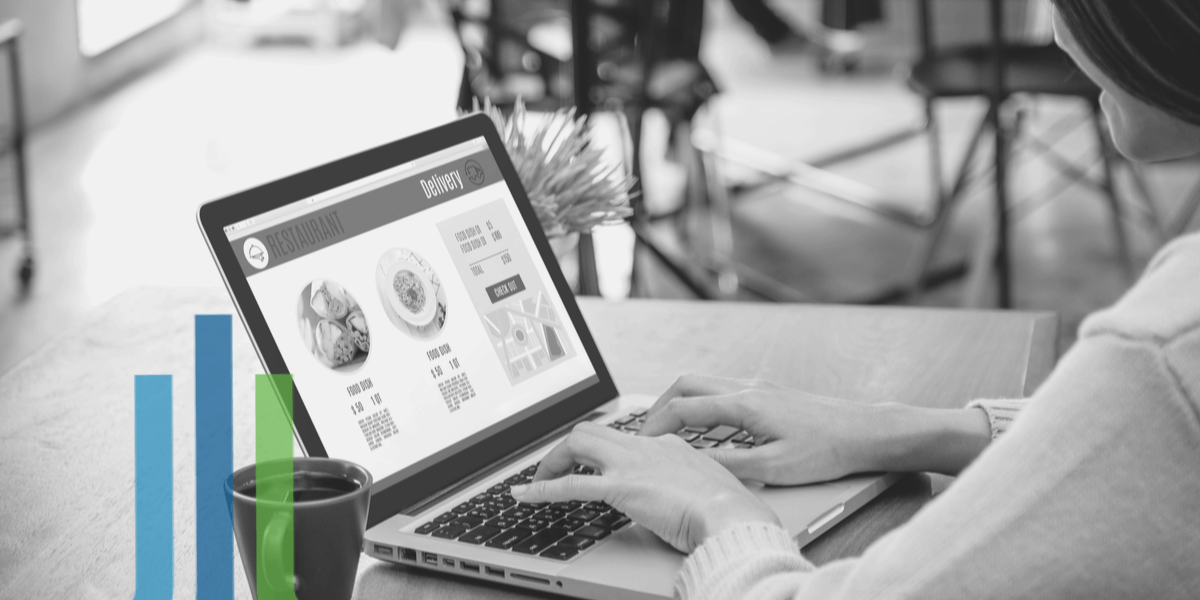 30 Jun

How to Prepare Your Foodservice Operation for an Online Ordering System

The move toward a more digital and automated online ordering system continues to be a driving force in the foodservice industry, creating a need for digital transformation of foodservice operations. Foodservice operators need to prepare now more than ever for these changes as digital ordering, contactless delivery, and remote foodservice options. Implementing any new system and managing the onboarding process for new software is always challenging, but there are some simple steps that can make the entire process more streamlined and efficient as your team embraces this new digital frontier.
1. Reassess the State of Your Menu
Everything in the foodservice space starts with the menu and seamlessly accommodates online orders. That includes bringing them directly into your workflows.
In other cases, the existing menu might be flexible and work well in online ordering system rollout, but more extensive menus may need to be scaled back. It's all about whether the menu will work properly across both brick-and-mortar and online orders.
Another factor to consider is the overall design and functionality of the Point of Sale (POS) system that is being utilized. The POS system should be a central hub, complete with integration which will make it easy to use, easy to navigate, and easy to scale up or down as needed. There are some key points that need to be thoroughly evaluated in order to make the most of the online ordering system integration:

Is your KITCHEN ready? Consider all the ways mobile ordering and food prep can differ from traditional dine-in services.
Is your ROUTINE ready? Consider what menu items have been served in the past, what dishes were easy for the kitchen staff to prepare and handle, and which items presented more of a challenge.
Is your STAFF ready? It is important to ensure the staff are able to accommodate and keep up with the addition of demand from digital channels
Are your CUSTOMERS ready? How likely will they respond favorably to using an online ordering system? Do they need some extra encouragement or assistance? Will they need incentives or a little more time to make the adjustment? This can all have an impact on how well and how fast the shift occurs.
Is your TECHNOLOGY PARTNER ready? The right technology partner should be able to scale with your business and adjust to changes as they occur.
2. Choose the Right Online Ordering Platform Based on the Level of Your Needs
Does your chosen platform and ordering process match your kitchen's ideal flow and operational workflow levels? Can the platform be adjusted so service and features are more made to order? Many restaurant owners are working on ways to add capability as needed with either a basic, intermediate or advanced online ordering system:
Basic – short and simple menu of the most popular items, easy payment options, and a delivery/pick up option that works best for the restaurant staff.
Intermediate – more extensive menu selection, divided menus for breakfast, lunch, or dinner times, and expanded options for delivery and pick up options.
Advanced – full menu availability, rewards program, deals and discounts, and full range of ordering, delivery and payment options available for online ordering.
3. Look at What Your Competitors Are Doing
Customer demands dictate the competitive trends in this industry, so restaurant operations managers should consider how their competitors are changing to offer online and traditional ordering. That may include:
Types of delivery services offered.
Menu selection and availability.
Costs and fees associated with delivery.
Availability of food items and special requests.
The cost model of online ordering systems. Monthly License vs. Transaction Fees.
Breakdown of dine-in, pick-up, and delivery options.
Delegation of tasks among team members.
Hours of operation and special service windows.
Capacity limitations for dine-in customers.
Continued safety practices for customers and staff.
Utilizing mobile ordering for dine-in orders.
Self-pay and remote pay options for faster transactions.
Integrating mobile and remote order and tracking services.
Meanwhile, online ordering stands out from the crowd of possible digital advantages for foodservice operators.

According to FSR magazine, a PYMNTS study of personas among restaurant visitors found that online ordering ability ranked 32.3% as part of a connected home, followed closely by loyalty and rewards programs at rates from 21.6% to 33.1%, for smartphone-centric individuals through a "connected me" view of technology.
Even more so, the greatest difference is that "operators need to deliver an omnichannel ordering and loyalty engagement experience…the takeaway is that consumers have vastly different needs and expectations when it comes to ordering food online, just like they do in-store."
When it comes to setting up the optimal online ordering system, cues can be taken from the competition and current market trends can also help highlight and pinpoint the most important areas to focus efforts to prepare your foodservice operation for online ordering and remote reopening.
4. Set Clear Goals For the Implementation and Use of Your System
Each type of provider will have its own unique needs and goals, so it is important to choose a system that meets those needs and is easy to implement within the current market and existing systems and procedures. For instance, the systems may need to support:
Restaurants that combine on-premise and off-premise services.
Corporate cafeterias implementing mobile ordering and grab-and-go options with pick-up food lockers.
In-seat or in-room ordering and delivery
Support for order and pay at the table
Casinos with limited sit-down dining, extended delivery options, and other digital ordering considerations, such as ordering and getting loyalty points added to membership cards.
Hotel services may include mobile ordering, grab-and-go pick-up, and contactless room service.
Higher education institutions that offer on-campus and off-campus dining options with the ability to pay with student cards.
And that may all need to operate across online, websites and mobile apps. . And together, it helps to build out:
A stronger focus on creating an amazing food experience and establishing a well-rounded and delightful menu, rather than all that time and energy going to maintaining delivery services and coordinating drivers with delivery windows.
Establishing a configurable solution that is easy to use and learn, so managers can continue to deliver the best possible service while also still holding brand integrity to the usual high standard — all without the cost of hiring, training, and managing drivers. This, in turn, will create more profitable online foodservice options.
Creating an ordering system that can scale and adapt to growth and changes in the industry.
Managers should also consider how the metrics will improve as online ordering and mobile food service apps become more and more common. That may include tracking average check size, cost to service, customer service ratings, perfect order rates, and more.
Keep in mind how you may want to approach the rollout of an online ordering system. Which features will be priorities to offer at first, and which ones can be add-on capabilities as your organization absorbs new programs? Integration and onboarding, especially when making the move to a more digitally-based platform, is an ongoing progress. Growing and adapting in stages allows foodservice providers to meet the evolving and increasing needs of customers during reopening while also keeping expenses and risks as low as possible for themselves and their team.
5. Think About What Features You Want to Integrate and Configure Within the Online Ordering System
With the idea of slow and steady integration and improvement in the bag, the final step for successful integration of online ordering systems is to pinpoint specific features that you want to include as part of your ordering and delivery services.
Integrating with your POS to simplify menu management across multiple channels.
Ability to connect and use payment processor for both online and in-store
Additional payment options such as paying with a student card, payroll deduction, or debit.
The POS should also integrate with your loyalty program and allow users to save past orders, details, and preferences, as well as payment methods.
The system should further match your brand and accommodate changes to your online presence, including adapting your menu with drag-and-drop, turn-it-off, or -on functionality.
Starting with basic services and necessities and expanding upon those once they have become established and ironed out is the best way to grow and maintain high levels of customer service and satisfaction with any online ordering system combination you may be looking at implementing.
Work With a Technology Expert Like Tacit to Streamline Online Ordering System Implementation and Rollout
Online ordering works because of ease of use and the ongoing demands for a digital way to interact with customers. Customers will prefer a quick and easy experience to the traditional approach to ordering a meal. And using technology, it's easier for staff to manage workflows, track orders from start to finish, review order details, complete payments and follow through with guests. It's all about using technology the right way to create a more effective restaurant workflow regardless of the customer's ordering preference and meeting customers on-site, for delivery or through another option, such as catering or business cafeterias. It's time to use technology to promote a more efficient restaurant ordering strategy. Connect with Tacit today to get started.